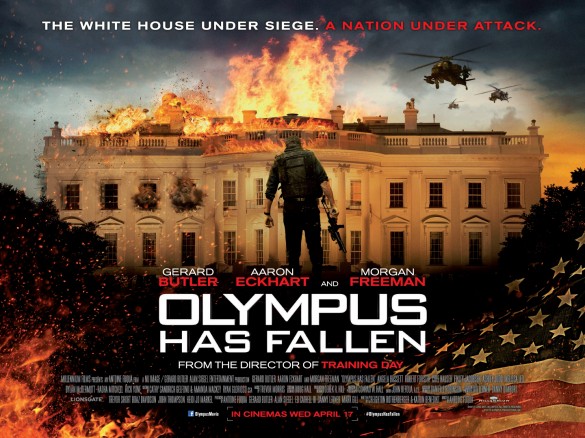 "Olympus Has Fallen" feels like a movie based on an old script from the 1980s, updated to fit our current geopolitical climate and technological advancements, but containing the same jingoistic overtones that permeated many of our country's action movies during the Cold War with the Soviets. This is basically "Air Force One" mixed with "Under Siege" and "Executive Decision," which are all riffs on "Die Hard" anyway. So let's just call this movie "Die Hard in the White House."
This movie is all about a day in which a small yet well-armed North Korean regiments launches a full scale attack against the White House in Washington, D.C., ultimately taking the President (Aaron Eckhart, The Dark Knight) hostage along with the Vice President and others, leaving Speaker of the House Trumbull (Morgan Freeman, The Dark Knight Rises) in charge of securing the White House and the President inside. But of course the real hero of the day is the lone guy who is in the wrong place at the right time, disgraced Secret Service officer Mike Banning (Gerard Butler, Coriolanus), who manages to be the one guy loose in the House and able to sneak around and pick off terrorists one at a time and feed information back to the House Speaker and everyone else in the war room.
It is totally a "one man loose among the bad guys" scenario, seen over and over in so many movies, so I guess this is the first time the main setting has been the White House (though it won't be the last, not with "White House Down" set to come out later this year. Seriously). Butler does a fine job as the ex-Ranger secret service guy running away killing everyone, but also like all of those 80s and 90s movies, there is a lack of real character development for this guy. He's a nice guy, he's married, seems to love his wife, he's just a little distracted by his job and his career stalling out, but otherwise he's just a plain old guy who happens to be quite proficient in the disarming and killing of baddies.
Really this movie is all about the action and the set up, which is done okay enough, but really isn't anything special. The action is kind of shaky and quickly edited, so it's not really easy to follow along and see what's going down. So that's one thing they updated from the old school action movies for this particular film, and that is this new style of making non-decipherable action sequences.Which is a shame because there is a lot of action, and every now and then some of it is cool and interesting, but most of it is the same old stuff we've been getting these days.
And then this makes for the second movie this year to have North Koreans as the main threat in the story, and this feels like old school style propaganda, making a movie about the evil North Koreans killing innocent Americans and how Americans get their revenge in the end, I don't know, it feels like a film from a by-gone era, because stuff like this now feels like of icky. The situation over in Korea is pretty tense right now, so is it the best course of action to make a movie in which they are the violent bad guys already? What's the point in that?
This movie is just okay, it could have been better but I guess it could have been a hell of a lot worse. It's dumb, it goes through all the typical motions and beats for your average action movie, and it's slightly racist as well, so that's not exactly a ringing endorsement. Maybe it was just the good cast that kept me interested, because while Butler, Eckhart and Freeman do just fine, there is also some nice work done by Dylan McDermott, Angela Bassett, Melissa Leo, Radha Mitchell and Robert Forster, so at the very least this film has that going for it. But still, it's not that good. Definitely the type of movie one would catch on television late at night and would find worthy of killing a couple of hours with, but otherwise it's kind of a waste of time, considering it is just copying so many of the films that came before it and is unable to do it as well.
Although let is be known that "Die Hard in a White House" is more of a "Die Hard" movie than that recent abomination "A Good Day to Die Hard." So there's that.