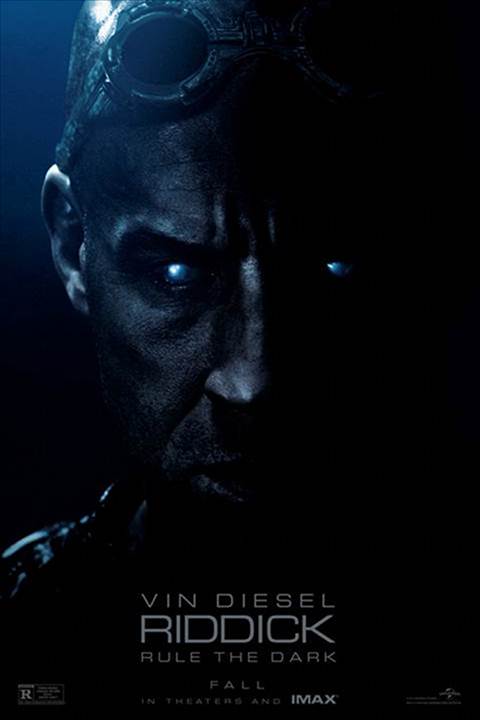 So I saw the latest further adventures of Richard B. Riddick but I realized I didn't write anything about it so here we go, a little quickie review in which we decide whether or not the movie "Riddick" is actually worth anyone's time.
And I think this might come down to your enjoyment of the Riddick character himself and whether or not you give any sort of crap about this space outlaw and his mission to find his home planet of Furya, but then again it may also come down to whether or not you like sort of entertaining sci-fi movies that are just a couple of steps above Sy-Fy Channel original movie quality.
While there is a short recap towards the beginning of the film that recaps the very ending of "Chronicles of Riddick" and attempts to explain how Riddick is lost in the cosmos and can't find his home planet (because it's all about family…wait a second…wrong Vin Diesel movie…), you really don't need to see either movie that predates this one in order to follow along with what is happening (but if you haven't yet, you really should see "Pitch Black," as it is genuinely quite good).
Basically "Riddick" is split into three short movies: first Richard B. Riddick (it is never revealed what the "B" stands for so I am going to go with…Barnard) wakes up on some crazy desolate planet that is simply called "Not Furya" and the first 15 minutes of the movie is actually ole Dick Riddick going around and trying to survive on this strange planet, which mostly involves him trying not to be eaten by the various aggressive and carnivorous animals native to that planet. I actually really liked this section of the movie, as it was very interesting for me to watch this character silently move around and simply try to survive, figuring out that he can't drink the water and coming across different creatures and finding ways to NOT be eaten. Included in these hungry alien creatures is a pack of alien dingo-dogs that all look like Bubastis from Watchmen, so of course it only follows that after Dick avoids being eaten by them, he steals one of their alien dingo dog pups and puts it in a cage made of bones and domesticates it and turns it into his pet. Because we ALL get lonely sometimes.
This opening section is interesting because it was so unexpected, but the gears then shift pretty hard when there is a time jump and suddenly Dick Barnard Riddick is totally acclimated to the planet and he's going around exploring with his now fully grown pet alien dingo dog thing. And he sees some rain in the distance, and somehow he knows that he has to get off the planet before this giant rainstorm makes its way to him (a rainstorm that apparently takes at least more than a day to reach him despite being huge and within his sight), so he activates an emergency beacon at an abandoned mercenary outpost, which he knows will result in ships filled with bounty hunters coming to the planet to catch him, and whom he plans to use as his own emergency taxi service off the planet.
And then the bounty hunters arrive and Riddick disappears while the movie becomes the story of these bounty hunters and their bickering and how they are trying to catch Riddick, and ole Dick goes from being the main character of the movie to the monster-in-the-shadows, the horror movie slasher, picking off the bounty hunters one at a time, while they all speak of him in hushed tones about how bad ass he is. And this section isn't as good as the first section just because it all seems more rote and conventional, and its all fine but just seems kind of weird coming off the set up of the film. Hell, after that intro I was ready for a movie about just Dick Riddick trying to survive and get off the planet, and introducing a large group of characters twenty minutes into the movie and then focusing almost exclusively on them for the drama and tension is a mistake because we don't care about these people and very little is done to make us care about these people.
Finally after the bounty hunters manage to capture Riddick (which is revealed in all the trailers anyway, hence robbing the first two-thirds of the movie of this dramatic tension), that huge rainstorm catches up to them, and the rain soaking the desert like ground causes crazy underground monster things to come up out of the ground and go hunting for food, which means they go hunting for Riddick and his captors. So the final twenty minutes or so of the movie then turns into "Pitch Black" redux, complete with anti-climactic ending that had me thinking they got kind of lazy with how they decided to resolve this thing.
This final section with the monsters coming out of the ground thanks to the rain (a rain that conveniently comes at night) should have been it's own lean, mean little movie. But it was just tacked on as an ending to this movie, and it just doesn't have much punch. The same goes for the first two sections, each of which could have been their own films, and probably should have been. The way these stories are rolling out, this character should probably be on television, because Vin Diesel and David Twohy seem to have a bunch of different stories and ideas that they'd like to explore with this character, and short of making this a three-hour picture, the only way this could really be done is via television. Or comic books. Or regular books. Or interpretive dance pieces. Or cave drawings. Anything that can more easily serialized really. I can practically hear the booming voice over guy doing the show intro now: "This week…on The Galactic Adventures of Dick B. Riddick!"
I wouldn't begrudge Mr. Diesel or Mr. Twohy for wanting to make more of these little sci-fi yarns, and I'd even watch them as they come out, oh so slightly interested in the next adventure for Richard Barnard Riddick, but with low enough expectations to not really expect the next "Star Wars" or anything like that.
At least the movie was rated R and featured some gnarly action violence and just a touch of gratuitous nudity. That counts for something.
Tune in next week, kids, for even more … Galactic Adventures of Dick (ick…ick…ick) B. (ee…ee…ee) Riddick (dick…dick…dick…)!