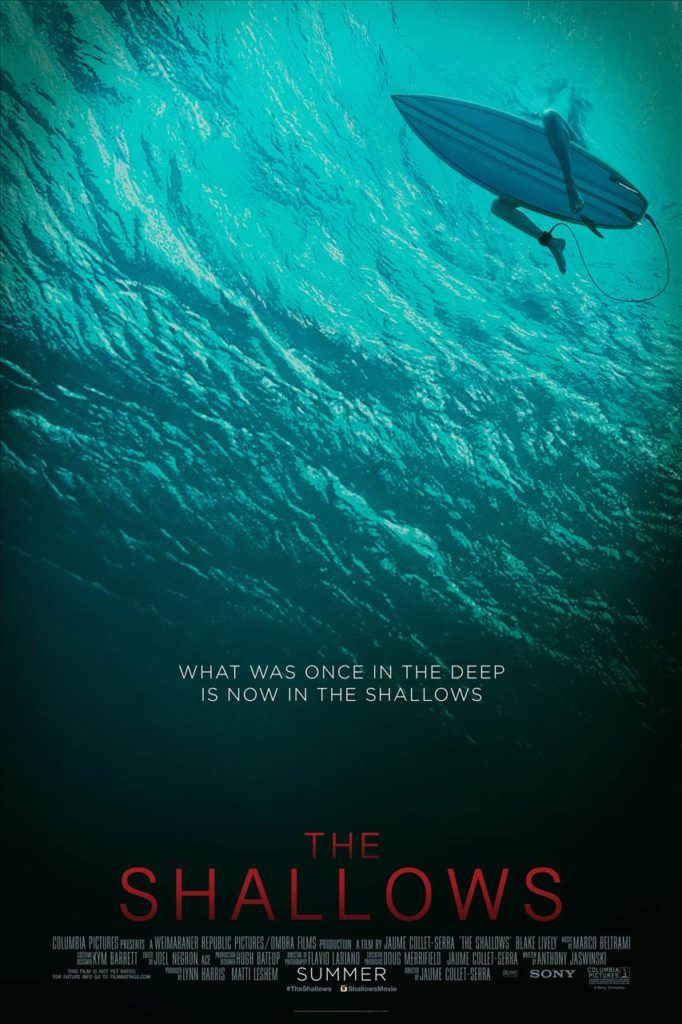 "The Shallows" is a surprisingly good killer shark thriller, a straightforward story of survival against all odds, a classic mankind versus nature tale, well shot and well acted by the one actor tasked with carrying a huge chunk of this movie on her own. It gets tense and exciting and even a little scary here and there and at just under 90 minutes long, this is the kind of movie that gets started quick, hits the gas pedal the whole way and slams headlong into a pretty spectacular ending.
Outside of "Jaws," the killer shark movie bar has been set VERY low and "The Shallows" does a good job of elevating this bar much higher, eschewing the goofiness and campiness of the much more baffingly popular killer shark movies out there and going for more of a naturalistic approach, allowing the intensity of the situation and the bleakness of our main character's odds to be the prevailing characteristics of this story.
Nancy (Blake Lively) arrives at a secluded "secret" beach in Mexico, following in the footsteps of her dead mother who told her about this beach, and apparently this trip is all linked to her grieving process regarding that dead mom. She has her surfboard and hits the beautiful water and spends the day surfing. And of course, just as she is getting ready to catch one more wave before calling it a day, a giant killer shark shows up and causes some problems. She ends up stuck on a rock during low tide with a bad bite on her thigh and some coral stings all over her body and a large shark circling her incessantly. Her goal at this point becomes survival.
It is a simple set up and they take about 20 minutes or so to get to the point where the danger really hits. They economically set up the character and give her a little bit of depth before dropping her in the water with a super efficient killing machine, and there is also about ten minutes of surf footage which is often very beautiful to watch. Other filmmakers might have been tempted to spend a few scenes with this character before even getting to the beach, trying to squeeze in as much as possible, but between one conversation with a driver and one phone conversation with her younger sister and father, we learn a surprising amount about Nancy and why she is there to begin with.
A movie that is on the surface all about survival than takes on a subtext about moving forward in one's life in spite of the obstacles placed in the way – Nancy is tempted to give up on herself and her medical career and she's stopped moving forward because she's scared and disappointed, but she has to learn to persevere and continue in the face of something horrible.
With that simple theme set up, "The Shallows" now has a reason to exist, and it makes this particular tale of survival that much more satisfying. A solidly entertaining film, this is definitely one of the biggest surprises of the summer.