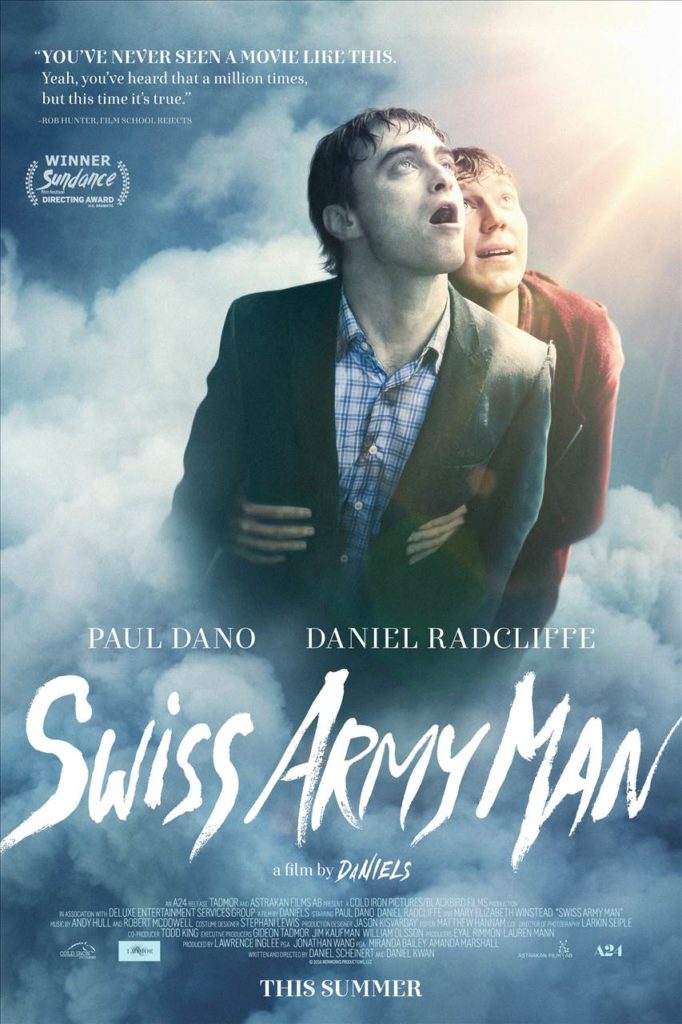 In "Swiss Army Man," a young man, stranded on a deserted island, finds possible salvation in the form of a corpse, washed up on the shore in front of him, a lifeless body which may be imbued with specific abilities that seem hard to believe and yet can enable this young man to find a way to survive.
The absurdity of this movie is made apparent within the opening minutes, but so is the ambitious and particular vision on display, coupled with just the right amount of odd beauty, all coming together to make one of those movies – either you are along for the ride or you are not. And people who choose this ride may find themselves oddly affected by this strangely touching story of a lonely man and his multi-purpose dead body.
Hank (Paul Dano) drags around the corpse (Daniel Radcliffe), somehow finding out his name is Manny, and together they get off that deserted island and make their way through the woods, trying to find civilization before Hank dies. Along the way, Hank starts talking to Manny, and at some point Manny starts talking back to him.
What ensues is an odd friendship, in which Hank has to retell Manny things about the world he left behind, and Manny asks questions of Hank that have uncomfortable answers. So as Hank hauls this stiff around the woods, he's probing deeper and deeper into his own mind, refusing to admit fears and mistakes to himself until he can't anymore, as he subconsciously breaks himself down to his essential base elements, his emotions and fears and desires and regrets. Like the talking corpse in his arms, Hank wants to rejoin the world of the living, though he doesn't necessarily seem sure exactly how.
"Swiss Army Man" does have a pretty interesting and unique voice, a consistent control of tone that elevates the whole movie. As so much of the story does involve over the top depictions of what happens to the human body, it acts as an ode to the wonders and beauty that makes up who we are as living, breathing, eating, singing, shitting creatures. Whereas other filmmakers would have taken the idea of a "farting corpse movie" and sunk it right into the gutter with nothing but gross out humor, here the gross absurdity is coupled with a real emotional journey and a sense of actual gravitas befitting the story of a young man set adrift in a sea of loneliness and regret.
It is definitely the type of movie that stands apart from the pack, something with an infectious energy and unique voice that makes it something which will leave an impression, whether bad or good, because there will be no denying that this is a unique movie, the likes of which most people have not seen before.