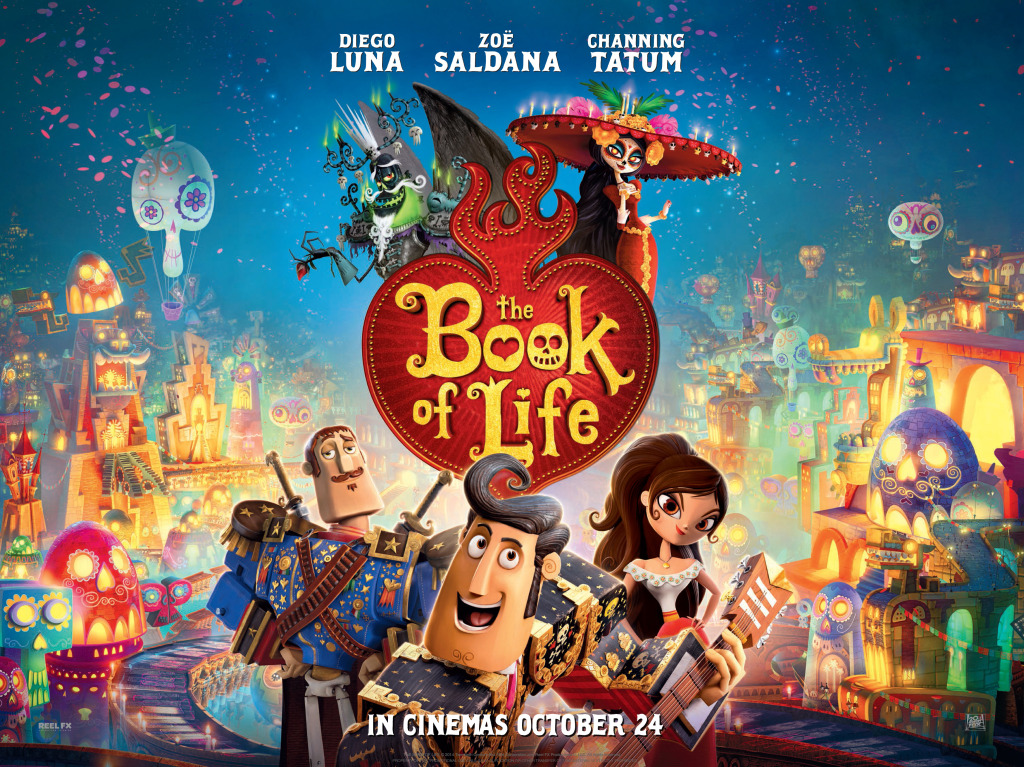 "The Book of Life" is a few stock stories smashed together into one story, and while none of these bits are original and perhaps the overall story suffers a little from there being too much going on with the various characters and general plot lines, this is still a pretty enchanting film thanks to the lush and intricate visual style and an earnestness and heartfelt approach to the movie.
The story centers on three friends – Manolo, Joaquin and Maria. Manolo comes from a long line of bullfighters and his father expects him to be one as well, but Manolo would much rather play the guitar and sing, which his father looks down upon as a lowly and unfit vocation for his son. Joaquin, meanwhile, wants to follow in the footsteps of his father, who was killed fighting against a bad guy named Chakal and whom the town venerates as their greatest hero. And then Maria is a free spirit kind of person, one who resists gender stereotypes and wants to be seen as an equal to her male counterparts and not just some prize to be wed off by her father. The three of them grow up together, and of course both Manolo and Joaquin love Maria and both vie for her attention. Meanwhile, Maria has no problem with leading both boys on and giggling and laughing at both of their advances and going a very long time without showing her hand as to which person she prefers.
So there is the story about the sons stepping out of the shadows of their fathers, and then there is the story of the two friends eventually becoming at odds with each other over their desire for the same lady (so much for Bros Before Hoes, amiright fellas?), and this second story ties into a thing between two underworld gods who establish a wager. There is Le Muerte, who rules the Land of the Remembered, which is the place where the dead party and have a good time together, and then there is Xibalba, the ruler of the Land of the Forgotten, which is a place for dead people for whom there is no one who remembers them in the land of the living, and apparently when those who are living forget about you, then you end up in this horrible, grey, ashen hellscape of just depression and lifelessness and it is definitely unpleasant. Xibalba is tired of ruling this craphole and wants to take over Le Muerte's position, so they make a bet over Joaquin and Manolo and which one will win the hand of Maria, and they both do little things in the beginning to try to swing the balance in their favor. There are also a few hints about the backstory between these two, as they apparently were in love many years prior and then fell out of love but still associate with each other, but this is barely touched upon.
"The Book of Life" is loaded down with bromides and clichés, among them "no retreat, no surrender" and "always play from your heart" as well as "write your own story" and just a general plea to be yourself and live your own life as opposed to trying to live your life for others. All very nice messages, and probably good for kids to hear as they are young and developing into fully functioning members of society. There is also something that comes up towards the end of the story about how a hero needs to be selfless, and they actually do an okay job of linking all these sayings and ideas together into one story, though maybe (okay, most likely) the movie would have benefited from focusing on just one or themes and really exploring them. But then again, this IS a family movie so maybe getting too deep would have left the kids behind in the dust a little. So things are kept relatively simple.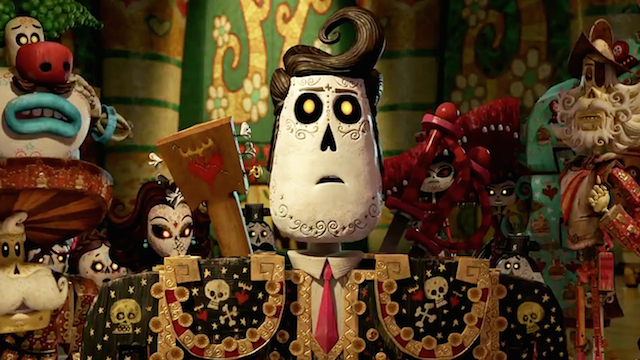 But things also get a little dark here and there (just a little), which is good for children's entertainment because they can't be and should not be sheltered from the world and it's horrible possibilities. Hence, this movie has a few moments that could be considered a little intense for the youngsters, like the whole Land of the Forgotten thing, or the designs of the crazy-looking bulls that Manolo must fight, including one gigantic underworld bull made of the bones of thousands of other bulls, with fire-spitting dragons for horns. Or how about how Xibalba's pupils are actually little red skulls which look damn creepy, or even the moment in which Manolo in the underworld must confront a giant gatekeeper with a huge sword for judgment, or how the bad guy Chakal shows up with giant swords that look like sharks. I really do appreciate them going the extra mile in coming up with some really crazy interesting designs and not shying away from the more intense aspects of their story that could have been scaled back or even excised in order to protect the sensibilities of the wee widdle children. Sometimes kids need to be freaked out just a little, and even for just a moment, in order to really appreciate the hero's journey, to really understand the obstacles that they overcome to get what they want. Life isn't easy, so let's not like to the kids about that.
The one problem I really have with this movie is how they use a good amount of contemporary songs throughout the movie, like Radiohead's "Creep" or Biz Markie's "Just a Friend," albeit usually with a Latin spin to the music, but still it just pulls me right out the movie. I was getting into the characters and their plight and then all of a sudden Manolo starts singing "Creep" and I'm just like "whaaaaaaat?" It was distracting, to say the least. I would have liked to have heard original songs in these spots, or even no songs, because musicals kind of suck. But then again, this movie features a character who wants to play guitar and sing so he was going to have to perform a few times no matter what. Anyway, distracting like I said but ultimately not a deal breaker.
So "The Book of Life" is a gorgeous and interesting movie, and while the story isn't as original or detailed or painstakingly created like the actual art of the movie and the design of the characters and the world, it is still a good enough story to make the journey worthwhile, especially when Manolo enters into the Land of the Remembered halfway through the movie and has to deal with all of that craziness. Will it be a new classic for future generations? Probably not. But it is a HELLUVA lot better than many of the cynical, cheap animated movies that get pushed on families every year. At least we can feel that this one has a heart beating within it and it has good intentions and wants to tell a positive and uplifting story, and that is definitely something worth applauding.