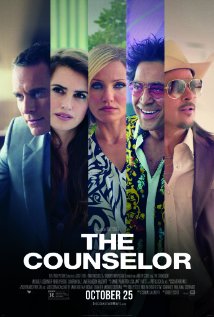 What on Earth happened to this movie? How did so many extremely talented people get together to make such a muddled movie? How come no one saw this coming? Why should we have? A ton of money was given to Oscar winning filmmakers and a Pulitzer Prize winning author to make whatever they wanted to make, and what should have been something great and worthwhile is instead, well, instead we got "The Counselor." What a shame. What a crying out loud god damned shame.
There is a plot to "The Counselor" but the movie does not focus on it so much as it does the emotional and psychological ramifications on the different characters in the film. You see, there's some sort of drug deal set up that involves shipping cocaine from Mexico to America, and somehow a lawyer only referred to as Counselor (Michael Fassbender) gets himself involved with this transaction, though it is not explained in any way, shape or form how he is involved with this deal. And then when the deal goes wrong, it is somehow linked to him tangentially, which is apparently enough for the Mexican Cartel behind this particular deal to come after him and everything he holds dear, which is personified in his new fiancée Laura (Penelope Cruz).
The drug deal going bad has direct consequences for other people as well, like the Counselor's buddy and partner in crime Reiner (Javier Bardem), and his new business associate Westray (Brad Pitt), a character surely regretful of the day he decided to work with the Counselor, who through no fault of his own brought all of this shit down on them all. There is also Reiner's girlfriend Malkina (Cameron Diaz) who is the one character in the movie positioned as the smartest and most ruthless of them all, the real hunter among a bunch of sheep in wolf's clothing, ready to take out the weak.
I am willing to bet that this movie works better as a screenplay than it does an actual movie, as acclaimed author Cormac McCarthy scripted this thing himself, and probably without many notes or much help from other people, because it is a wordy, speechified film, with some tangents and side scenes that serve little purpose, and which does not spend enough time making sure that the plot points and the characters'  relationships to one another are clear enough. Reading a plot summary of this movie the story makes perfect sense but actually watching it all unfold this way leaves a feeling as if there were scenes cut out that would have helped everything make more sense. The Coen Brothers have stated a few times that their method of adapting "No Country for Old Men" from book to screen was simply to have one person holding open a copy of the McCarthy book and the second person types it into the screenplay, but in truth they did much more than that, as they know how to tell a story visually and even how to make an oddly structured story like "No Country For Old Men" into a mostly mainstream piece of slick entertainment.
Now while very talented in his own right, director Ridley Scott is not one of the Coens, and as a matter of fact it is evident now that he has cultivated a filmmaking career spanning five decades that Ridley Scott's movies are only as good as the screenplays themselves, as all of his visual mastery and trickery is not enough to elevate the written material into a stronger movie. For every awesome film like "Alien" and "Gladiator" that he has made, he also has flat movies like "Black Rain" and "Body of Lies" and flat out bad movies like "Hannibal" and "Robin Hood." Unfortunately "The Counselor" falls into this latest category because it is just not very good.
Oh and I wanted this thing to be good, too. I wanted to love it. In an age where people constantly bemoan the lack of originality in Hollywood and abundance of movies made for teenagers, here we have a decidedly adult film getting into some heavy things, made with a bunch of a movie, based on a totally original screenplay, one of America's best teaming with one of England's best, so many things were put into place to make this movie work, and alas we get this thing. Want to see a pointless scene of Cameron Diaz's character trying to say confession to a Catholic Priest who doesn't want to hear it? This is your movie. Want to learn a little about how diamonds are graded and rated? Step right up to "The Counselor!" Have a strange need to see three beheadings in one movie? Get thee to the theater immediately!
And while it is no surprise, this movie is downright bleak. Just dark, bleak, sad, all the stuff that actually has defined Cormac McCarthy's work over the years, so this should have been a given. But in case you are not ready, this thing is fucking BLEAK.
What a shame. This could have been a new classic. Instead it's just a hunk of crap. Maybe in twenty years people will look back on this movie and see something great. But right now all I see is a jumbled mess of a movie that doesn't make much sense and is nowhere near as good as it should be.