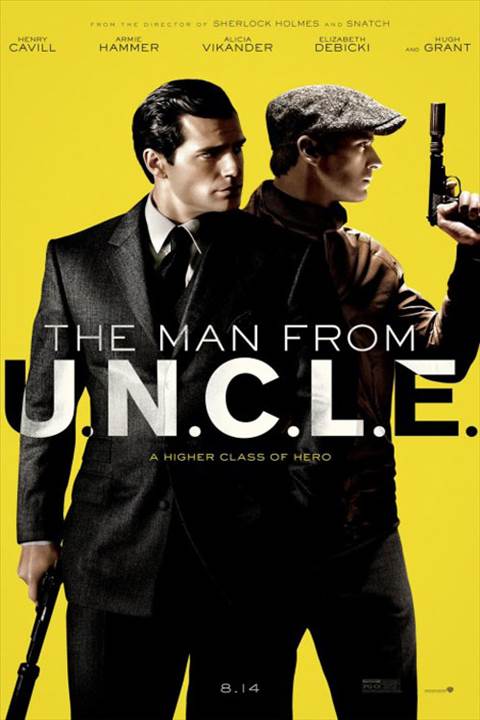 Based on a popular television show from the 1960's featuring spies doing cool stuff with nifty gadgets, teaming up to overcome a shady global terrorist organization, action mixed with comedy, and sex appeal galore, audiences this summer have been treated to the well made spectacle known as "Mission: Impossible – Rogue Nation."
We also got "The Man From U.N.C.L.E."
To be fair, "The Man From U.N.C.L.E." is not a bad movie at all, as it is actually quite an entertaining and fairly breezy romp. The preposterously named Napoleon Solo (Henry Cavill) is a CIA agent who is forced to team up with a Soviet KGB agent named Illya Kuryakin (Armie Hammer), and they are tasked with finding a kidnapped Nazi scientist who is likely helping someone create the world's first nuclear bomb.
To get to him, they use his estranged daughter Gabby (Alicia Vikander) to try to track him down, and they get all wrapped in a big ole plot involving an Italian heiress and a fake engagement and faulty torture equipment and an old fishing boat, the whole time with the two agents trying to one up each other and also with Illya and Gabby maybe sort of falling for each other along the way.
Like I said, a romp.
The whole movie is pretty high energy, so even when there is a scene of Illya and Gabby just sitting around in a hotel room killing time, it has to involve Gabby doing lots of drunken dancing and horse playing around. So when there is actual action going on, of course things gets ramped up because this is a Guy Ritchie movie and if he does anything, he revels in stylistic excess, which seems to work for him (most of the time). For example, when there is a raid on a compound, a majority of this raid is done in a Kung Faux style montage (remember Kung Faux? That was awesome stuff), and when there is a car chase, the camera ZOOMS back and shows the cars from a distance and then ZIPS in to the driver of the first car and then FLIES over to the driver of the rear car, lots of over the top digital camerawork like that, and when that stuff isn't happening, then a short sequence of events will be presented in a way that keeps information away from the audience only to then show this withheld information at the end of the scene in the hopes of getting that "so THAT'S how they did it" sort of reaction.
The story itself, like how it is for most of these spy movies and TV shows, is secondary to the characters themselves and whatever unique hook the team has going for it. Were they setting out to take on supposedly impossible missions? Is this a squad of the best men roaming around in a van together righting wrongs? Are we talking about MI6's most lethal and legendary secret agent? What's the hook to make this generic story of arms dealing and war mongering even matter? Well in "The Man From U.N.C.L.E." that hook has always been the teaming up of political rivals, done covertly, to save the world from disaster. And during the 1960's, when Cold War paranoia was running rampant and the Soviet Union and United States were duking it out to be established as the world's lone dominant global empire, coming up with a piece of entertainment that plays off this feud and makes these enemies into partners and friends was risky and even a little subversive. But now in 2015, the Cold War is a thing of the past as the Soviet Union has been broken up and the U.S. entered into an uneasy alliance with Russia, so the idea of seeing these two world powers teaming up isn't exactly the same as it once was.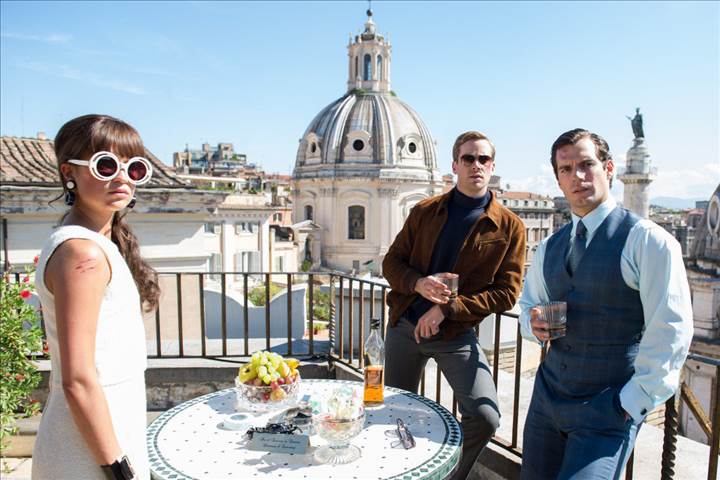 Once and future Superman Henry Cavill was a pretty good choice for Napoleon Solo because he has the swagger and demeanor of a movie style super spy, as he's totally going for that suave playboy persona, a kind of American version of James Bond, all expensive suits and watches, trying to get laid whenever the mission allows for it, showing uber confidence in his abilities, the character has it all and Cavill is pretty believable in the role. It will be hard for him to get out of the shadow of the red cape and boots, and I can see why he would take this role between Supes movies, because it does give him a chance to showcase a different side to him that isn't uptight Clark Kent or invincible boy scout Superman. Armie Hammer, meanwhile, is a little miscast as the cold blooded Illya, because this is a character that is pretty low key in the way he speaks and acts, and this requires Hammer to actually rein in his personality and charisma instead of use it and exploit it. The guy is very watchable and comes across well in movies so to have him be so subdued here for the most par is a bit of a bummer. It's like they couldn't decide between Cavill and Hammer for the Napoleon Solo role, so they gave it to Cavill and just had Hammer play Kuryakin because they still wanted him in the movie, but it just doesn't work as well as they were hoping for.
This is a fun movie but also inconsequential. It really doesn't have anything to say, it's just a story that would fit well in the pantheon of scripted-for-television spy shows, a plot that gets twisty and turny but also gets wrapped up neatly, leaving everything in place at the end for the continuing adventures of our heroes. Obviously Warner Brothers looked at this TV show and saw potential for a whole series of films based on these characters, but after a pretty dismal opening weekend, don't expect that to happen any time soon. Which then makes this an origin movie for a franchise that won't be continuing, joining the likes of other franchise hopefuls like "John Carter," "The Lone Ranger" and any number of Lord of the Ring rip offs like "Eragon" and "The Seeker: The Dark is Rising." This movie got the greenlight by studio execs with dollar signs in their eyes, and now they are just seeing red. Maybe if they decided to make this movie from a place of artistic integrity, it would have more substance. But as it is, "The Man From U.N.C.L.E." is just a cash grab and it feels like it, entertaining enough in the moment but ultimately quite forgettable. It's a perfect rainy Saturday afternoon kind of movie, you just watch it, it distracts for a couple of hours, and when it is done, it doesn't take up any valuable space inside your mind normally reserved for more important things like "where did I put my car keys?" and "are we out of beer?" This isn't a bad thing at all, sometimes people need entertainment like this, so at least it isn't stupid or insipid. Forgettable? Yes. Predictable? A little. Stupid? Naaah. And that's something.