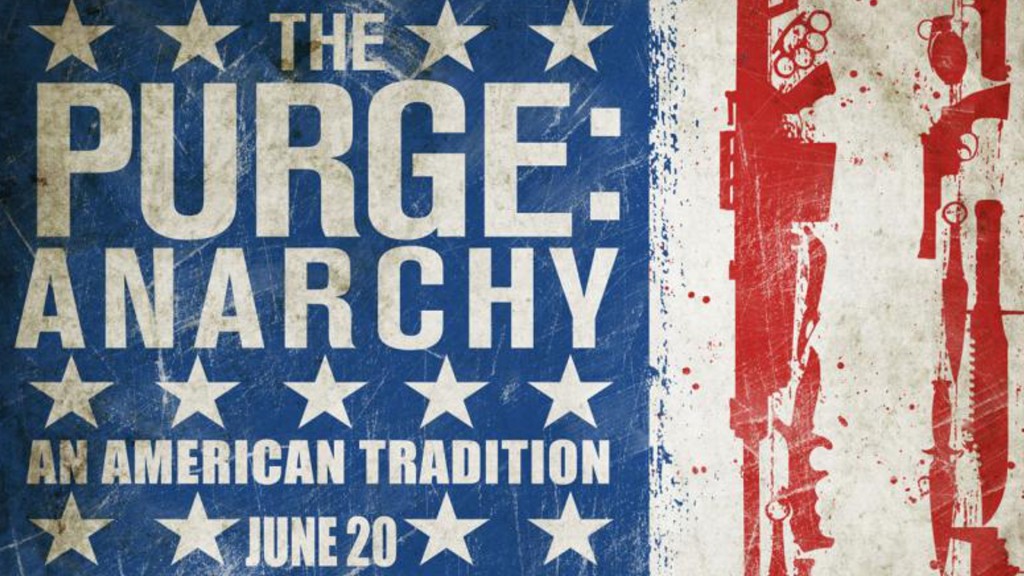 "The Purge" was a 2013 horror movie, in which it was posited that America would have extremely low unemployment levels and crime rates if all crime was legal one night of the year. Somehow if people were allowed to do anything they wanted, including murder, for 12 hours out of 365 days, then they would be totally chill the rest of the year, due to the release of their aggression. This is a bunch of bullshit, because one does not follow the other. Aggressive people are aggressive people year round, and people with criminal tendencies can't just sit on them for the other 8,748 hours of the year. So the premise of that movie was BS and then the movie itself didn't do anything with this premise and instead was just a run of the mill home invasion film (albeit one with Ethan Hawke totally giving it his all and classing up the joint). So in summation, "The Purge" was bullshit through and through.
But this low budget movie BANKED and here we are, a year later, with a whole new installment in the next unlikely horror franchise, "The Purge: Anarchy," and maybe it was my low expectations stemming from the wackness of the first movie, but dammit all to hell, this movie was actually pretty damn decent. But why? What did this movie do differently than its predecessor?
Well first off, they took the premise and actually thought it out. You see, "The Purge" very lightly touched on the fact that only the rich can afford to protect themselves on Purge night, but then a rich family ends up a victim of the Purge and the whole socioeconomic thing is really meant to be more of an ironic thing than anything else. But writer/director James DeMonaco finally took this premise to its more logical place and presented it in the only light possible, which is that of full on class warfare. As people get ready for the latest Purge night, we learn a good deal about how this whole thing really works, how "stay safe" has become a throwaway saying like "goodbye," how people find ways to make money off the annual Purge, how people try to protect themselves and even what they do to get through the night.
And most importantly, we really get into the idea that the Purge only happens so that the poor can kill off each other, because if they are less people in the country, that's fewer people with whom the rich have to share their money. It is to the point where there is an active and organized rebel group, posting videos online and trying to get people to "wake up" to what the purge is all about, how the "release of aggression" thing is all a load of crap, and how it is all a design to wipe out those in the lower classes of this country.
Then instead of focusing on just one character or one family, we get a disparate group of people who all find themselves out on the streets and who band together in for mutual safety. This allows for a few different views of Purge night and we finally get what we wanted with the first movie to begin with, as we get to see different groups of people go about their night in different ways, and of course a lot of it is shot in slo-mo with throbbing music in the background, creating a surreal sense of place, a nightmarish world of infinite violent possibilities.
Leading this small group of hopeful survivors is a guy with no name, he's using the Purge for his own purposes, and even though he's a nice guy at heart, he's also a total bad ass with a helluva itch to scratch, and he rolls through the violent city like the fucking Punisher, which then raises the question, why is there not a Punisher movie being made for this Frank Grillo fella, like, right now? He is the real deal. Make it happen, America.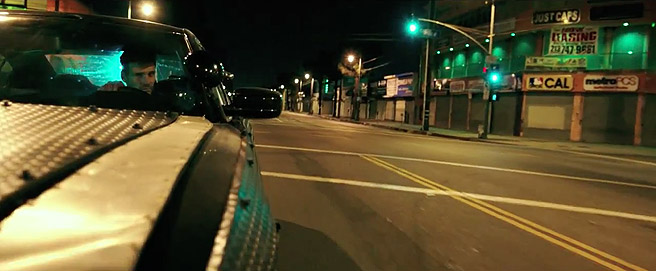 Shit, make me a Punisher crossover movie with Judge Dredd, and put Frank Grillo in there with Karl Urban, and just sit back and watch the macho magical mayhem happen.
Anyway, so we got Frank Grillo being a total bad ass and actual exploration of the themes within the story, and then making this actually work is some solid direction. There really isn't anything remarkable about the direction, but it is solid, and most of the action is actually shown without shaky cameras and quick editing so we actually get a sense of what is happening, and that is a great thing. And much of the movie has a VERY strong John Carpenter – Walter Hill, early 80's vibe to it, what with the characters running through a violent, deserted city landscape a la "Escape From New York" and "The Warriors" and roaming gangs of psychopaths doing their thing, and again with the aforementioned throbbing, electronic score, and it all just works. It may not be great direction, but it is pretty much the direction this movie needed, and it makes for a movie that is kind of up my alley.
I also have to wonder if James DeMonaco happened to have read Michelle Alexander's "The New Jim Crow," because it definitely feels like he made a couple of very deliberate decisions in his portrayal of the Purge and more specifically, the true purpose of the Purge, the government's role in it, and the racial make up of the anti-Purge rebels. Often throughout the movie, the wealthiest and most well armed purgers are white, and the victims and the poor who engage in the purging activities are black or brown, and we even find out that some poor folks agree to do some kidnapping on Purge night for the money, because what better way for the rich to make the poor turn on each other than to introduce a little money into the equation? Just like how there is a racial caste system set up in this country that happens to revolve largely around poverty and the 1%'s accumulation of wealth, the Purge is set up against the racial minorities, a government sanctioned and officially "colorblind" ethnic cleansing. And if some poor whites get killed in the process? Well again, that is still less poor people for the rich to share with.
Now, as much as I would actually like to see another Purge movie continue the story of the rebels against the government and true purpose of the Purge, I would also like to see a sequel in which there are people who use the night to do some OTHER than murdering. In this movie, the term "to purge" has even become synonymous with murder, so people end up saying "I want to purge" when they really mean "I want to murder." The only other crime portrayed in this movie is kidnapping, and really that's only done to facilitate someone else's murdering. And there is one guy who is in a gross, rape-y movie, but we never go there in the movie, which is fine by me, because we all know the rape was going to end in murder anyway. So how about a Purge sequel in which people do some graffiti, or maybe just steal some stuff, or just steal some cars and go for a joy ride? How about kids sneaking out to drink underage? Or open prostitution right there in the streets? Why does everyone just want to murder, murder, murder? Seriously guys, use a little imagination.
So not a bad movie at all, "The Purge: Anarchy" is actually what the first movie should have been the whole time. I think it's pretty cool and I'll be revisiting it one day on home video or streaming or whatever kind of distribution system we have set up in the future. And someone make Grillo the Punisher already! Gawd, how many times do I have to say it?