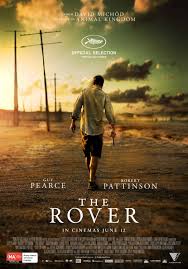 "The Rover" is an Australian western set in the future, but that doesn't mean sci-fi in any way, as actually they go in the other direction, depicting a world totally collapsed and depressed, a harsh world with no amenities or benefits of technology, but instead a barren land of little food and less hope. This is the world in which this story exists, and it is a brutal world, one in which the rule of the land is merely survival of the fittest and nothing more.
And in a scenario like this, one must be wary of people like Eric (Guy Pearce), a man whose sole possession is his car, and who has nothing else in his life, and definitely nothing to live for. The movie starts with him sitting in his car in the heat of the desert as flies buzz around his face, and he can't even be bothered to swipe them away, he just lets them land on his face and mouth and he doesn't care at all. So when three dumb criminals steal his car and use it as a getaway vehicle, he sets out to find the guys and get his car back because he's got nothing else, nothing to lose, no loved ones waiting for him, no place to go, he has all the time and hate in the world, so off he goes, looking for his car.
Early on, he ends up meeting the younger brother of one of the three dumb criminals, a fella named Rey (Rob Pattinson), and lo and behold, Rey was left for dead by the other guys cause he got shot in the gut, but when Eric finds out that Rey is the brother of one of the dude's who stole his car, he gets him medical attention to keep him alive in order to use him to find his brother, hence finding his car. The only problem? Rey is a bit of a dodo, a water head, a dummy, whatever you wanna call it, he is downright slow and needy and doesn't make for the best accomplice on a mission of revenge like this one. Yet here he is, being dragged along by Eric, but also wanting to confront his older brother for leaving him for dead so he kinda goes along willingly, informing Eric of where they need to go to find him.
Really that's the whole story: in a post-apocalyptic wasteland, a man tries to find the criminals responsible for stealing his car. Somehow that one seemingly small incident resulted in a string of events that is kind of staggering in their relative epicness, as Eric travels apparently hundreds of miles and MANY people die as he goes after these fellas. And yet it is a relatively epic story because the overall consequences are very small, effecting only a handful of individuals, and even the final reveal of why the car is so important to Eric is what could definitely be described as understated and subtle.
We also don't get any sort of explanation for the worldwide collapse, we only know that it is ten years later and for whatever reason only American dollars have any value in Australia, though Eric does wisely point out to one purveyor of petrol and ammunition that American dollars, Australian dollars, Monopoly money, it's all just paper, and really it's all worthless, but still even in this world people still hang on to some sort of semblance of an economy, even if that means forcing a person to purchase items at gun point. So while this is a post-apocalyptic setting, it is not a movie about the event or events that led to this state of affairs, but instead just about a small group of people leaving in a small section of what is presumably a thoroughly ravaged world.
One wouldn't call "The Rover" a fun movie, though it could be called thoughtful, even meditative at times, reflecting on a world in which life and death mean so little. Eric and Rey have plenty of time to talk, and they actually use some of that time just for that because what the fuck else are they going to do? And as they learn a little about each other, they also learn a little more about themselves. Due to his dimwitted nature, Rey has the most to learn, and it takes Eric telling him to his face that he is dumb and got left behind by his brother for Rey to kind of snap out of his delusional state a little bit. But then things go pretty morally askew from there for both Rey and Eric, thanks to a sense of retribution, an ill-timed knock at a motel door, and a passing Army guy ready to take down some criminals on the run.
Later on Eric gives his little backstory to someone who arrested him and is set to deport him to Sydney, and we learn what set Eric down this path of amoral living, what left him a broken man with no real respect for life or the rules of society, especially after said society has broken down to the point that it has, but for Eric this isn't really about him learning something new about himself, but instead it is about reinforcing his view of the world around him and the true value of life in a world where it can be taken away so easily and without retribution or punishment. But then again, when one takes a life and goes unpunished for it, perhaps they punish themselves, always remembering their deeds, knowing that they are now damned because of their malicious actions, roaming the Earth as cursed people with their sins weighing them down, like a yoke of guilt which they are compelled to carry for their rest of their lonely lives.
So this is a small yet epic movie, subtle in its story but heavy in its emotional implications, and very well made and interesting, one that I would definitely recommend to people who are interested in such intense, grim and gritty crime dramas.