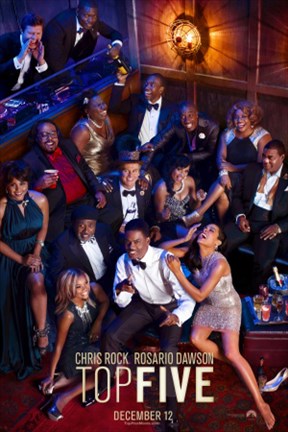 Chris Rock has been in a ton of movies, from small roles to leading roles, and he's even directed some of these movies himself, but for the first time we have a movie that actually feels like we are getting the cinematic equivalent of one of his stand up routines in all the best ways – the surety of the storyteller, the confidence in the delivery, the attention to detail, the wry observations and interesting twists on everyday things, "Top Five" is the Chris Rock movie we've all been waiting for, though no one has been waiting for this more than Mr. Rock himself.
"Top Five" is about a day in the life of famous comedian turned famous actor Andre Allen (Rock), and this is a very busy day for him. As a major part of his gambit to convince people he is more than a comedian, he is out and about in New York City to promote the opening of his new movie "Uprize," in which he plays the lead character in a film about the slave rebellion in Haiti. Part of the promotion involves being tailed by a reporter for the New York Times all day, which ends up being a foxy lady named Chelsea (Rosario Dawson), and their relationship starts off contentious because of all the bad things the Times' resident film critic wrote about Allen's movies (just substitute Andre Allen for Adam Sandler and you get an idea of the vitriol he got from film critics). On top of the annoying interview tour and the journalist all over his shit trying to get a quote, he has to deal with his own past as he visits family and friends, getting mixed signals and reactions from them all.
Then on top of all of that is his pending nuptials to his reality television star fiancée Erica (Gabrielle Union), who is herself eyeballs deep in planning a massive wedding, all of it to be on television, all of it driving Andre absolutely insane. And then on top of all of THAT, Andre is an alcoholic and the temptation is always there for an alcoholic, and when things start getting stressful, the booze looks more and more attractive. Also there is a little bit about the people who kind of hang around Allen and his sense of loyalty to them, even to his own detriment, as well as some of the inanities of just being a celebrity, like ill-timed requests for a photo opportunity from fans or how people like to shout "Hammy!" at him when he's walking down the street (a shout out to his most popular film role, which was that of a giant talking bear on the police force).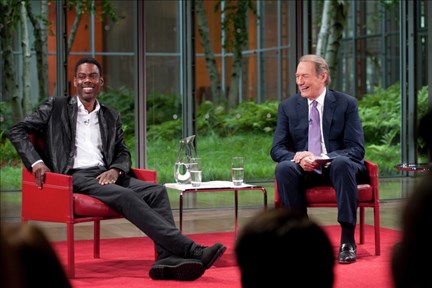 So as you can tell there are a lot of things going on in "Top Five," as Chris Rock was setting his sights on a number of targets both in pop culture and on more universal, personal stuff like duplicity, self-worth, and what happens to people on the road to success (which is often a road that leads to a dead end for some folks). There is a great sequence in which he has to go to XM Sirius Radio and he does show after show after show, answering the same questions over and over, talking to ugly DJs who can't make it on TV because they are so ugly, hence the radio jobs, and sections like this have that real authentic feel to the comedy because you just know Chris Rock has been there in those studios around the country trying to sell himself and his projects to people anyway he can, which includes a lot of "sucking it up" as he has to deal with the idiots. Or even something simple like when he does radio station interviews on the phone and just has to repeat himself over and over just to be heard, interviews that are so easy and ridiculous that he can split his attention and play video games while answering the same simple question for the 100th time.
But while the cultural skewering is fun and insightful and interesting, what really makes this movie work is the character development of both Andre Allen and his interviewer Chelsea, as the interview starts almost like a game, with neither person willing to offer too much information too fast, so that by the end of the day, things are still coming out about the both of them that are surprising, constantly changing the dynamics between them, making for a bit of a roller coaster of emotions. We learn more about Andre as he tells parts of his story to Chelsea, and then we learn more about Chelsea just from Andre being observant and asking questions and being around at the right moments, and it turns out Chelsea gets pretty complicated herself, which obviously intrigues Andre, making him delve deeper. The way the relationship unfolds and evolves between these two is actually very interesting and compelling and it drives a majority of the film, especially when it starts getting closer to the end, and all the movie and celebrity bullshit falls to the wayside and it focuses more on the actual people.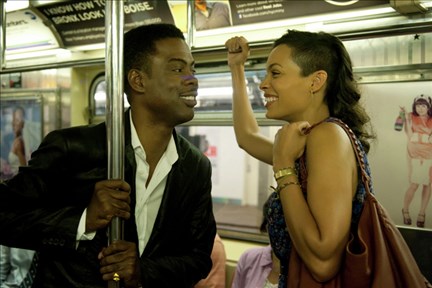 So a solid character dynamic and sharp almost-satirical comedy makes "Top Five" a damn good movie, and probably what finally pushes it into great territory is the amazing cast, as every role is filled with someone of immense talent. Even if that means having people like Kevin Hart and Tracy Morgan and Jerry Seinfeld only popping up in single scenes, it is still something to see so many talented people come out and work together on this thing. I am sure it helps that Chris Rock is friends with people like Adam Sandler and Whoopi Goldberg and he can call them and be like, "Yo! I'm making a movie, can I borrow you for one day?" and they're like "You bet, man, you're Chris Rock, we're buddies!" That's how I would be anyway, always reminding him that we're friends, cause that would be dope. Everyone kills it in this movie, from Cedric the Entertainer to Anders Holm, from J.B. Smoove to Brian Regan, everyone is fun to watch and has a great time and is great.
I would like to point out that the poster for this movie, the one at the top here, with Chris Rock in the middle and everyone surrounding him in tuxedos and evening gowns and shit, in which it looks like they are hanging out at a wedding reception and are all just having a grand ole time, that poster up there, you see that? That poster is TERRIBLE. A scene like that, in which they are all dressed for a wedding (or the world's funniest funeral), never happens in this movie, all of those characters don't even share the screen at one time, yet there they all are, hanging out together. Shit, the Cedric the Entertainer character isn't even from the same time period as the rest of the movie, he's in a flashback, yet there is in, right in the thick of it. Brian Regan, a damn fine stand up comic and a very popular one at that, is in the very middle of that poster almost like the movie is about him and all his crazy Black friends, when he's in the movie for all of maybe 3 minutes and his character isn't even an acquaintance of the main character. It is a little petty, and also kind of dumb, to complain about a movie's marketing, but still I think it should be noted that a movie this good deserves better in the poster department. A shot from the movie of Chris Rock and Rosario Dawson talking and laughing pulled from the movie itself would have been bland and uninspired but it also would have fit and would tell a little more about what the movie is actually about. I'm just saying, I wish someone would have put a little thought into the poster, as well as the practically non-existent marketing effort. This is a movie worth seeing, hence worth selling.
So basically what I am saying is, fuck that shitty poster, you people need to go out and see "Top Five" because it is damn good, definitely up there as one of my favorite comedies of the year. If we get more Chris Rock movies like this, I say count me in.