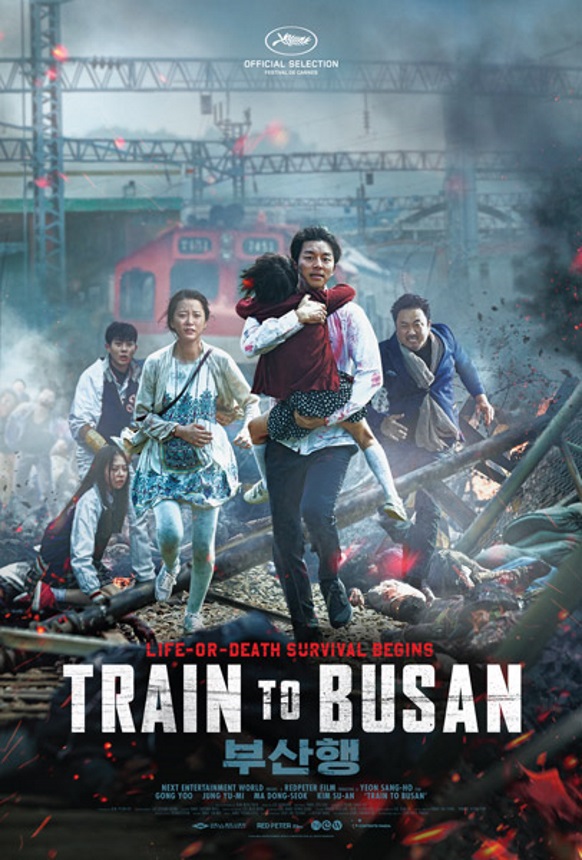 To be honest I thought we had hit peak zombie interest around 2008 and 2009, as pop culture's fascination with the stumbling, bumbling, and sometimes running, brain munching undead and that the genre would be dying down for awhile as everyone moved on to the next thing. And then the long running comic book series The Walking Dead got turned into the AMC series "The Walking Dead" in 2010 and now it seems like these damn zombies are gonna be around for much longer than I originally thought. What a shock. I was wrong about something.
Again.
So now in 2016, what makes a zombie movie worthwhile? What can be done with the genre? "Train to Busan" answers these questions by setting up its own rules for their undead, coming up with distinct characters with clearly defined motivations for what they do, and finding a new setting for this type of story, in this case, on a South Korean bullet train during the morning commute right at the very beginning of a cataclysmic outbreak.
An overworked and absent divorced father agrees to take his young daughter on a bullet train to to her mother's place in Busan. Also on this very long train (along with hundreds of other people) are a pair of elderly sisters, a selfish dickhead CEO of a large company, a high school (?) baseball team, a married couple expecting their first child, and a homeless man who obviously saw something but refuses to say anything to anyone at any point. Oh, and some chick with a leg wound runs on to the train at the last second and oopsy she dies and quickly zombifies and attacks the nearest person, and you know where this goes, you've seen zombie movies before. You have, right?
Anyway, the crux of the story follows the shitty but well meaning father and his daughter trying to survive the outbreak on this train and the married couple, so immediately the stakes feel raised because people are dying (and then undying) all around them and they have to protect a pregnant woman and a child who are both called upon to do some tough physical stuff in order to not get mauled by these crazy, quick moving, spasmodic, silver eyed, rage monsters.
With such simple yet identifiable motivations, we understand what drives them to make the decisions that they do and it makes it easier to root for them, especially when their survival becomes threatened not only by the undead around them but also by the very much still alive and very selfish assholes (led by one particular king asshole) who understandably fear contamination and infection from others but go about their treatment of others in all the wrong ways. In this way the zombies could have been replaced with any type of large scale disaster, because "Train to Busan" then becomes a movie not about killing zombies but instead about how people treat each other and whether or not a community comes together or breaks down and tears itself a part. By sticking everyone on train traveling between cities, a microcosm of a larger community is developed and we get a sampling of what could happen on a larger scale. They also threw in some questioning of government orders and large-scale responses, though they don't really focus on this stuff, it is just something else the characters have to deal with in order to survive.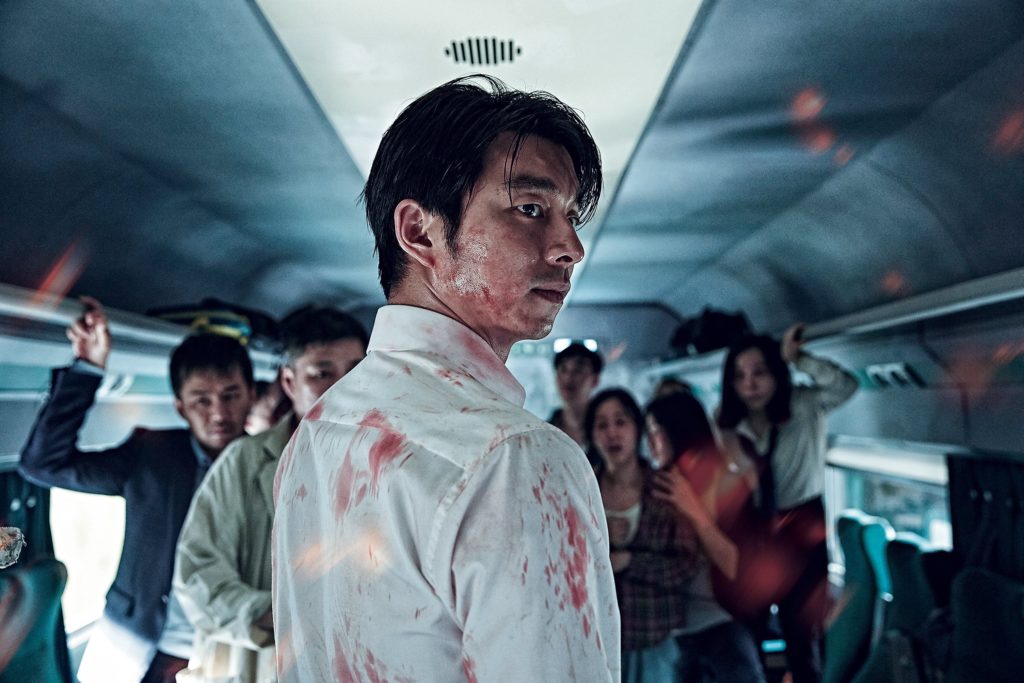 It also helps that "Train to Busan" is a pretty slick movie technically, with some well realized action sequences and some really tense scenes made possible by the fact that they establish their own rules with these particular zombies which then result in some clever and suspenseful bits of staging. And they get on the train early and then the outbreak happens fast so the movie is pretty propulsive to the point where it becomes surprising when they get to some quieter, calmer moments between bits of mayhem and general survival. A combination of clear action and character motivations keeps this movie constantly moving forward as everyone tries to figure out what to do next. It also helps they are on a train that is almost always moving as well. So there is constant literal motion.
This is like a better version of "World War Z" in some ways, because they take the same insect-like approach to mindless zombie hordes and also they took that one airplane scene and successfully stretched it out to feature length. The reason "Train to Busan" has more resonance than "World War Z" is because they put more work into developing their different characters and instead of making some huge blockbuster they made a much leaner and meaner (and MUCH bloodier) zombie movie.
"Train to Busan" is good stuff and yet another well made South Korean movie, where they have been cranking out some gems for awhile now. Thanks, South Korea. Keep it up.