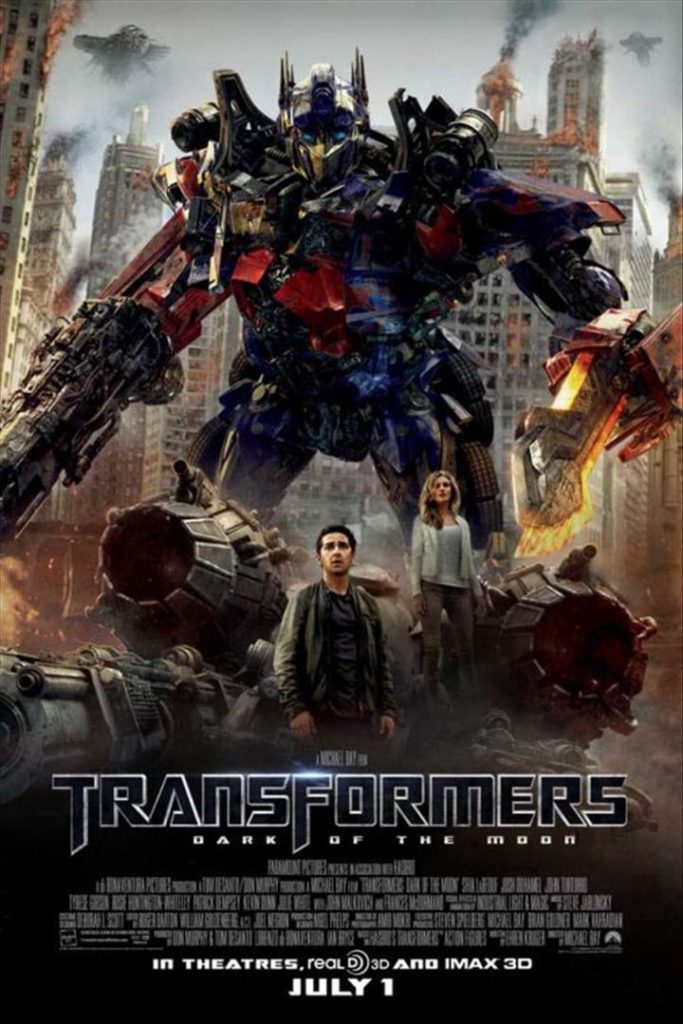 "Transformers: Dark of the Moon" is the third of four (and soon to be five) mega opuses from Michael Bay about two races of sentient machine-based alien life forms who can change into cars and trucks and who play out their epic civil war on Earth because the war has already destroyed their own home Cybertron (which makes these some inconsiderate aliens, if you ask me). These cars and trucks engage in massive battles that destroy countless buildings and take the lives of so many people that they don't even bother mentioning it in any way, shape or form, that's how important those thousands and thousands of unseen dead are in this movie, and the whole time there are these pip-squeak humans literally running around the feet of these giant robots and pretending to do stuff that matters when all they can really do is keep from getting stomped out.
Okay, that's actually the basic plot of everything Transformers-related, so what would make things any different this time around? Compared to the other films, "Transformers: Dark of the Moon" is actually the best scripted, in that it uses less absurd macguffins like the eyeglasses with the map on them or the "allspark" in the first film, or the search for the "matrix of leadership" in the second film (along with the return of the aforementioned "allspark" thingy). This third movie sees the return of this matrix of leadership contrivance, but they find a better way to use it in terms of getting the plot rolling along, and otherwise they drop all the crap and keep it relatively simple (relatively).
The second half of the movie is basically the Autobots (good guy robots) versus the Decepticons (bad guy robots) fighting it out in Chicago, which is apparently where the fate of Earth lies. These scenes are loaded with what is known as "Bayaos" (or Bayhem), which is a very particular brand of Michael Bay styled chaos. Love him or hate him, his style is unique and you know a Michael Bay movie the minute you see it, what with all the big swooping camera moves and stylized lighting and rotating hero shots and overhead helicopter shots and extra-quick editing. And then there are the explosions. The incredibly huge explosions. Each Bay movie has gotten bigger than the last in terms of action, and you won't see another grandiose, hugely scaled, absolutely massive movie like this again until…well, until Bay decides to make his next huge action movie. If you go into this film looking for crazy action like only this guy can deliver, then you'll get what you came for and then some.
The first half of the movie, however, deals with all the pesky humans that had to be written into the story because apparently no one wants to see a movie solely about talking robots. So here we have our main human hero Sam Witwicky (Shia LaBeouf) fresh out of college and struggling to find work. That's right, this movie is about Sam being one of the many college grads these days who can't find a job. He's living with a new mega hot girlfriend (played by Victoria's Secret model Rosie Huntington-Whiteley, and who acts about as well as a Victoria's Secret model can act) who supports him and babies him and gives him nothing to complain about. So of course Sam just spends the whole damn movie complaining about not being able to find work and how his girlfriend's boss (Patrick Dempsey) obviously wants to steal her away and how he saved the Earth with the Autobots but he can't tell anyone about it and how his car sucks and on and on and on, and it is really annoying. I don't remember the character being such an obnoxious whiner so I think this is a new development. But hey, people change.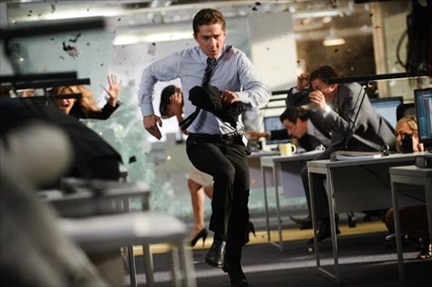 So Sam is annoying, his annoying parents show up but fortunately they don't stick around for too long, and Michael Bay still injects his adolescent-level of humor throughout much of the movie, though it does feel restrained when compared to his past movies. Likewise, the racism that has almost come to be a trademark of the Transformers movies has been pretty much wiped out, though now it feels like they are overreaching by having Transformers with what sounds like Irish, German and Asian accents, going out of their way to include all sorts of races and to not use any jive-talking robots. So I guess that's a plus. Less racism.
And this screenplay is, for the most part, the best of the first three because many story elements that are introduced are actually used later, and they found a fun way to retcon the entire US-USSR Space Race and the moon landing into their story, but there was still a lot of fat on this thing. The story absolutely didn't need the whole "Sam is looking for a job" deal, and that entire section of the movie could have been excised with no adverse effect on the plot (we would have lost a fun John Malkovich, but dems da breaks), and pretty much nothing the humans do at the end of the movie matter, as all the actions of consequence are performed by the giant robots.
But hey, this is a Transformers movie, the bar was set super low, and they managed to clear that bar, so it's all about what you go into the movie expecting. This third film is actually an improvement on the second installment (and remarkably better than the eventual fourth), and on that level the movie absolutely succeeds.