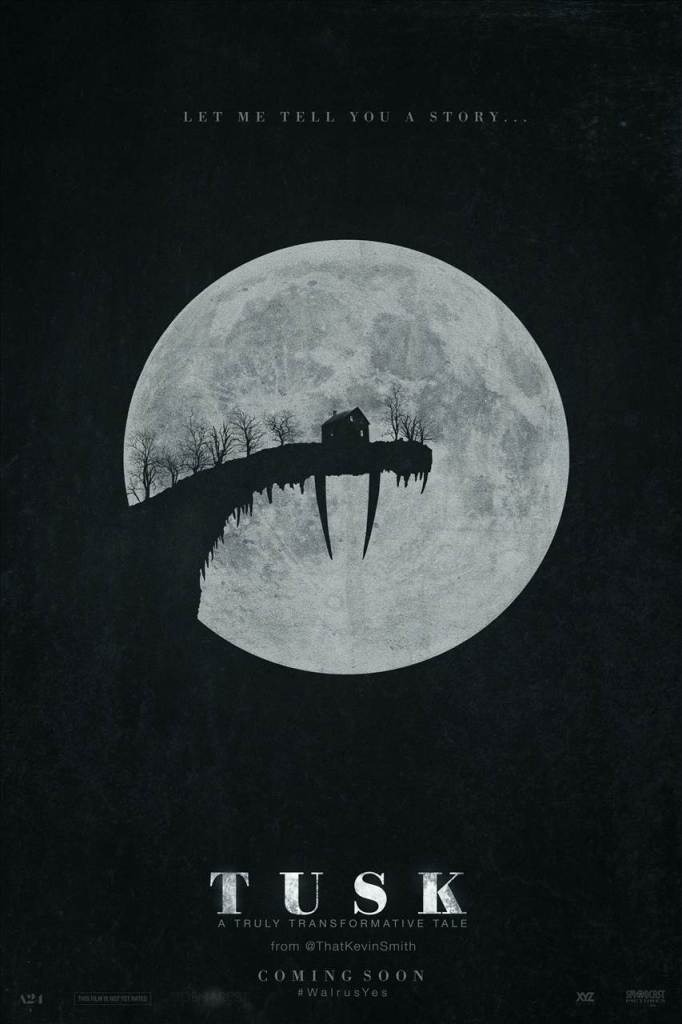 A sort of body-horror movie from the director of "Clerks" and "Chasing Amy," here we are with a film in which an obnoxious man is given the "Misery" treatment by an old Canadian weirdo with designs to turn a human into a beast. A story that involves monetized podcasting, infidelity, convenience store workers, big gulp style beverages, a play on the phrase Not See, a serial killer and a sometimes cross-eyed homicide detective from Quebec, "Tusk" is possibly the weirdest movie to come out in theaters in quite a while, which is a good thing.
Written and directed by Kevin Smith, "Tusk" centers on a guy named Wallace (Justin Long), an LA-based podcaster with a show named The Not See Party, and it appears his show is a kind of audio version of Tosh.0 or any other rip off show centered on showing internet clips of people acting stupid and/or hurting themselves. And the name comes from the show having some wacky conceit in which Wallace goes out and interviews people and then comes back and tells his supposedly hodophobic co-host Teddy (Haley Joel Osment) about the interview, hence the "Not See" part of the show.
I kind of feel like Kevin Smith is shitting on podcasters, having the show being so crass and the hosts being so disgusting and unsympathetic to their fellow man, but then it is weird that the podcast is hugely successful, bringing in over $100,000 per year, and Wallace even goes so far as to note that this figure is based on ad sales alone and that he makes even more money on t-shirt sales and live events. Considering that there are thousands upon thousands of podcasts out there (including, well, you know, this one), most of them struggling and not making a dime let alone a lucrative salary, it is kind of telling that the podcast Smith presents is so successful because he made is own podcast and success came easy because well he's Kevin fucking Smith. Funny how from his own experience he presents podcasting as a source of income whereas in the real world it is mostly a hobby for most folks, and he also equates it to 90's talk radio style douche baggery.
Anyway, so Wallace goes to Canada to interview some kid who cut off his own leg in an internet video but by the time he gets there the kid is dead so he scrambles to find some sort of Canadian-related content. He finds a hand written letter in a bar bathroom from a person claiming to have multiple stories to tell and looking for someone to tell them to. Wallace has of course hit the jackpot and arranges to drive out to this guy's house in the middle of nowhere (relatively speaking) to interview him. This guy turns out to be a wheelchair-bound white haired fella named Howard (Michael Parks) and he is just full of long winded asides and tangents peppered with literary quotes and references, and he regales Wallace of stories from World War II and the time he was saved by a walrus he named Mr. Tusk. Wallace soaks it all in, often exclaiming things like "no fucking way" and "shut the front door" in a way that was difficult to tell if he was honestly fascinated or if he was feigning over interest because he is an asshat and maybe that was the point. Anyway, Howard tells stories, Wallace gets drugged and Howard's terrifying plan starts to unfold with Wallace as the victim. Eventually his pal Teddy and his girl Ally (Genesis Rodriguez) go looking for the missing Wallace, recruiting the help of a serial killer hunting detective who believes his man is the one who took Wallace, all the while Wallace just suffers at the hands of the incredibly sadistic and surely insane Howard.
And Howard is the main reason to see this movie, 100% all the way, and I am willing to bet Kevin Smith would even agree to that statement. Because no matter what kind of movie you are looking for from "Tusk," the one thing you are sure to get is an insane and sublime performance from the great Michael Parks, a chameleon of an actor who can go from charming to menacing in a split second, and who is also an actor who wholly embraces the most ridiculous aspects of a character and story and really digs into them in a way that is just a pleasure to watch. Add to that some of the best dialogue Kevin Smith has written in a while and you have the beginnings of a cinematic marvel.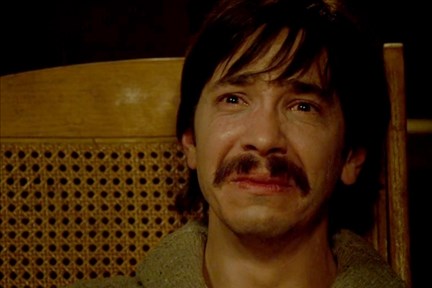 Also I have to give it up to Justin Long for having to do some work here that must have been really tough because the overly ridiculous nature of the scenario his character finds himself in could have led to some really campy, bad, over the top work, and really he did the best he could, delivering in some ways that were surprising and really giving it his all which was especially evident by the end of the movie, as Wallace goes on one hell of a journey in this movie. Without going into spoilery details, let's just say there are scenes that must have been physically tough to perform and shoot, yet Long did it and that was really impressive.
The special effects work in this movie is also interesting because it is fully practical, with lots of suits and make up and prosthetics and plastic and whatnot, you know, good old fashioned movie making. A refreshing lack of CGI. I don't know if this choice was an aesthetic one or a financial one, but it was the correct one. The various horrors of this movie are really brought home when you can really see the viscera and tissues and blood and it all looks as real as possible. And make no mistake, despite a good amount of humor, this is still a horror film. And for some reason going into it I was expecting more of a slightly supernatural, Cronenbergian type of body horror movie a la "Videodrome" or "The Fly" or something like "District 9" but really this is more of a body horror movie in the vein of "The Human Centipede" or "Seven," movie featuring over the top extreme violence inflicted on a person but in a more real world kind of way, which really makes the final product all the more disturbing.
If only there was a little more to said final product. In trying to parse what this movie is actually about, it seems to be about how Wallace turned from a nice guy to a dick in the name of building a successful podcast, and this pursuit of making his show bigger and badder directly led to his downfall as well as his transformation into a hideous beast. And really that's it. There some little subplot in there about how he cheats on his girlfriend and how she turns around cheats on him but really that doesn't pay off at all and just adds to the whole bit about him becoming a dick. And the detective who comes in to help find Wallace is kind of interesting but also kind of feels like a Canadian version of the Pink Panther, maybe with a touch of Law & Order's Lenny Briscoe thrown in, Lenny after a head injury anyway, but he doesn't actually add that much to the movie and doesn't add a thing to Wallace's story. So really the movie is just Wallace being a dick, and then his girlfriend letting us know that we are to think of him as a dick, and then he gets ensnared by an old psychotic man and then really that's it (at least that's it without giving away what happens at the end).
The movie is pretty superficial, kind of surface level type of stuff, but that's not necessarily a bad thing. "Tusk" really is a b-movie, and has a crazy weird story that one would expect from the b-movies of the 1970's like "The Thing With Two Heads," and there just aren't enough movies like this made and released in theaters these days, so at the very least "Tusk" has real originality going for it. It's not perfect but it's good, especially for those whom insane horror concepts are appealing. Grandma won't like this. But you might.