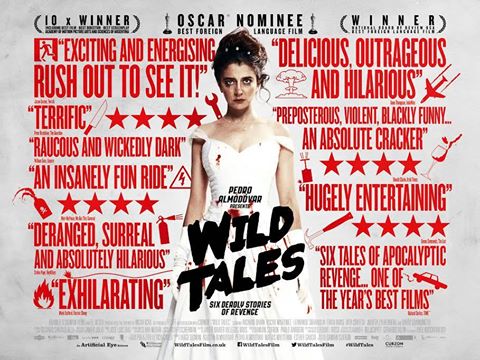 "Wild Tales" is a fun, crazy, over the top movie about six separate scenarios, short stories involving different characters, none of them related to each other at all save for the fact that each story involves some sort of revenge, usually stemming from very innocuous and seemingly simple actions, all of them building to insane crescendos of some sort of violence.
To go into details about each short story and to give away what happens in each one would do a disservice to you, so there will be a lack of deets here. Suffice to say, these stories involve a strange coincidence on an airplane, a mobster getting dinner at a deserted diner, a bit of road rage, undeserved parking tickets, a family cover-up, and lastly, a wedding party gone horribly wrong. In each story, seemingly normal well-adjusted people are pushed to the edge of civility (sometimes they are shoved, and sometimes it just takes a tiny little nudge), and that thin line that separate people from wild animals often gets blurred, if not outright erased. This is evident with the opening credits, as actors names are shown over images of wild animals, like lambs and foxes – sure we drive cars and exchange pleasantries and observe man-made laws, but in the end, we are all just as wild and unpredictable as any animal in nature.
Writer/director Damián Szifrón has a few targets in his cross hairs with this movie – first there is that aforementioned line of civility, how we all choose to govern ourselves around each other so as not to end up at each other's throats. And yet, that still happens all the time. Just look at the local news. We see stories in the media all the time about road rage incidents, so when we see what appears to be the ultimate in road rage on a deserted road in the middle of nowhere, it still seems plausible, even when they start to approach Looney Tunes levels of violence and mayhem. Several of these stories feature characters who were just going about their days, probably thinking about the future, when something happens to change all of that, and suddenly the future is in question because the present moment becomes so damn important. We can spend all the time in the world planning for the future, but if we accidentally (or purposefully) cross the wrong person, then the future won't matter any more. These are stories in which people are constantly THAT close to a bad outcome, and only manners and politeness and sometimes an ability to turn the other cheek are the only things that can stave off a bad ending.
Also a couple of the stories can be seen as critical of government and those in charge, especially the one story that deals with parking tickets and the impossibility of getting a bureaucratic machine to ever admit fault (or admit that they are crooked in some way). And it would seem on the surface that parking tickets is a little "light" for such a charge, but a little research has shown that there is a history of military-led censorship of media in Argentina, as well as media restrictions put in place by the current leadership, so these scenes and stories actually carry much more weight because it isn't so easy to get so much criticism into a commercially released movie like this (and it must chap the hides of the Argentinian leaders that "Wild Tales" has become the most commercially successful film in their country's history). A story about a reasonable man finding himself a victim of a system that has no flexibility and admits no errors and raging against it becomes a folk story, as this man comes to symbolize all Argentinians fed up with their government and the way of life set up for them.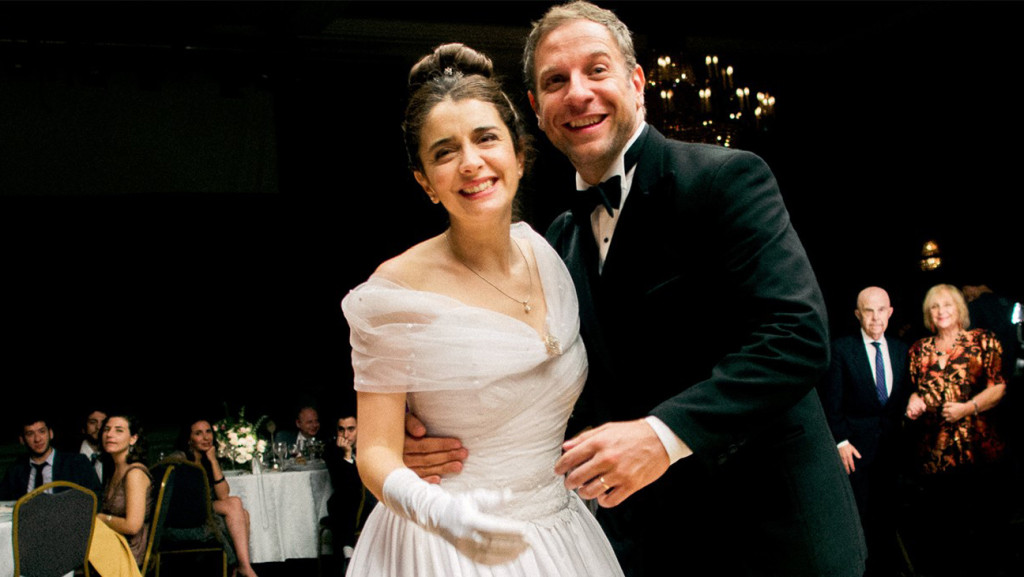 Of course this is not an overtly political movie, as the central conceit is really the breakdown of human civility, as well as how some people attempt to return to this civility in the immediate aftermath of their respective horrors, best exemplified by the final story, a wedding party that gets ruined thanks to a revelation between the groom and bride, and this wedding goes from sad to crazy to mortifying, going so far off center that it has no choice but to come back around somehow. Can we stand outside of ourselves and see our own actions for what they are? Can we make amends with those we wronged? Will they accept us? Can we go back to pretending that we are more than just animals when we prove to ourselves that this is indeed the case?
Being an anthology movie, none of the stories last long enough to get comfortable with the characters or to get bored with the proceedings. They all get to their horrible little twists of fate pretty quickly, with the tension and aftermath coming swiftly thereafter, and before you know it, each story ends and the next one starts, which all makes this movie a very quick two hours, maybe the fastest two hours one can spend in a theater this year. "Wild Tales" is a funny, savage, somewhat insane and unfortunately rather realistic look at the edges of society, the places where people finally crack, where they can no longer repress their urges and instead of smiling and nodding and moving about their days, they determine that now is the time to make a stand, a stand that ends with snarls and violence and sometimes reconciliation and sometimes death and sometimes heroism but always in something surprising and interesting.