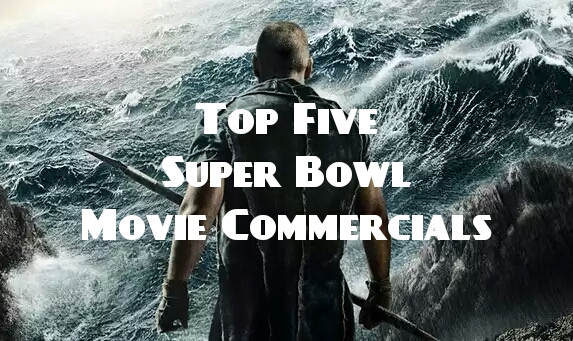 So there was this little football game on the television last night, you may have seen it. If you did see it, chances are you saw some of the commercials for some of 2014's biggest movies. This is not a complete list of the trailers that played but instead the five movie trailers that stood out the most, for various reasons (and presented in really no particular order).
Transformers: Age of Extinction
Is anyone actually asking for a fourth Transformers movie? Nope. Now that we see what the fourth one looks like, are we glad it exists? That depends. How much do you prefer Mark Wahlberg over Shia Labeouf? Would you notice if Rosie Huntington-Whiteley got swapped out with Nicola Peltz? Does the sight of a 60-foot tall robot man riding an apparently 150-foot tall robot dinosaur excite you in any way? If you answered, "Alot. Nope. Fuck yes" to those three questions, then you are going to be VERY happy this movie got made.
And you know what? This is a good little look at this movie. But you know what else? The trailers for the other Transformers movies were all boss as well, so are we going to learn out lesson? Nope. We're not. We're going to get excited for giant robot dinosaurs. Because like him or not, a Michael Bay movie is a very distinct thing, he can not be accused of ripping off others, nor can he be accused of not spending each and every dollar of his budgets and putting it all up on the screen. His movies are HUGE, just absolute goddamn spectacles, and there are literally maybe five directors TOPS that I would expect to visually pull off a giant robot man riding a giant-er robot dinosaur, and his name is at the top of that very short list because when I think BIG MOVIES, I think Michael fucking Bay.
Also, a wee bit of internet research reveals that this giant dino-bot is actually named Grimlock, and apparently the fans of this franchise have been clamoring for his inclusion in these films. So there's that.
The Amazing Spider-Man 2
Villains, villains and more villains! Apparently that's what "The Amazing Spider-Man 2" seems to be offering up, with Jamie Foxx as Electro taking center stage in this particular commercial. They also seem to be hiding the fact that Paul Giamatti is in this, instead just giving us glimpses of the mechanical-suit version of Rhino, and also throwing in some quick shots of what appears to be a Green Goblin, though the official status of this goblin has yet to be made clear.
Now apparently this movie is actually the first step towards a Sinister Six centric Spider-Man movie, so hopefully people will be happy with all of these bad guys taking up all this real estate in this Spider-Man movie, cause remember we gotta actually leave some room in there for Spidey his'self.
And this one is for the comic book geeks: this trailer starts with Gwen Stacy in peril. Is she actually going to die in this one? Or will they save it for "The Amazing Spider-Man 3?" Cause she's dying for sure. It is really just a matter of when.
And for the record, Jamie Foxx as Electro is inspired casting. The guy is a top notch actor, it'll be fun seeing him go all bad guy on us.
Of note: they snuck in an extra website plug in there early on, throwing EnemiesUnite.com in there, as if they are requesting Electro and Rhino and the Goblin and future villains all sign in to their site and share super villain recipes and organize barbecues and stuff.
Captain America: Winter Soldier
Of the superhero movies coming out this summer, I might be looking forward to "Captain America: Winter Soldier" the most. I really love that they seemed to have made a 1970's style political thriller, much in the way the first Captain America movie was secretly a World War II film, and they even doubled down by including Robert Redford in there. Who wants to bet that his character by the end of the movie turns out to be more of a bad guy than a good guy? A stand in for government overreach?
That's another thing – of all the superhero movies that have been made, at least this is one that seems to be actually saying something about the world we live in. There's no reason why a movie based on a comic book can't also be thoughtful in some ways, and with the allusions to the war on terror and whatnot, it looks like the people behind this movie were not content enough to just make another comic book movie, and that's fine by me.
As for this Super Bowl debuting commercial in particular, much emphasis has been placed on a bad guy who looks to be every bit the match for our steroided-up Captain America. And a little internet sleuthing will tell what would end up being a bit of a spoiler, so I'll leave that up to you, spoil at your own free will.
Really at the end of the day, I just hope this feels like its own movie, and not just a lead up to The Avengers 2, know what I mean? They can all be connected, but that doesn't mean you can't give us a movie that works on its own at the same time.
Muppets Most Wanted
Now, I'm always down for a Muppets movie. Quite frankly, if you can't give something Muppets-related at the very least a shot, you probably have either no soul or a soul completely blackened with evil and hatred, because the damned Muppets embody everything that is awesome.
That being said, not everything Muppets-related is necessarily awesome, or even good, so we'll have to see for ourselves whether or not this new Muppets movie is in any way good, but we should all be happy that Muppets movies are still being made these days. Sure it is mostly because a gigantic corporation bought the property and is now happy to crank out content in the name of making money, which can be seen cynically, or can be seen as a glass half full type of thing in that "Hey! There's a new Muppets movie!"
"Muppets Most Wanted" seems to be about a criminal frog who manages to swap places with Kermit, due to looking so alike. Classic the Prince and the Pauper type of scenario here. And in classic Muppets form, this trailer for the movie is a joke itself, skewering Oscar bait type trailers with a bunch of quotes throughout the whole thing, while also skewering modern culture because all the quotes are from Twitter users who appear to be mostly sub-literate. Now is the joke necessarily funny? That's another thing.
I really want this movie to be good. Please be good. We don't need another "Muppets Treasure Island."
Noah
The most unlikely "blockbuster" (not really a blockbuster because of the release date and whatnot but bear with me here), after Darren Aronofsky made "Black Swan" for $13 million and it brought in over $300 million worldwide, simple Hollywood math dictated that some throw money at him to make something. And he actually dropped out of "The Wolverine" so that he could make his dream project, which is…the story of Noah.
You know. Noah. God said to the only good guy left on Earth, "Hey. I'm flooding this bitch. So make a giant boat, put a bunch of animals in there (actually all of them) and then hide in it. And then you'll have to repopulate the whole planet with your family, but hey, that should be fun, right? Soooooo…here are some blue prints…uhhh…and that's it. Get to it. I HATH SPOKEN! (puff of smoke!)"
But some people thought it was a good idea to give the maker of "Pi" and "Requiem for a Dream" $130 million to bring his vision of this age-old story to life. And fuck it! Why not? Who else has the balls to make a full on, serious, epic movie about Noah? Maybe this will be super successful and will pave the way for big budget interpretations of Jonah and the Whale, or the story of King David (which is legit interesting and complex) or maybe even a new Joseph and his Amazing Technicolor Dreamcoat, you know?
Actually, that last thing could be horrible.
So for "Noah" to be a success, people have to know it even exists. And you don't spend $130 million on a movie so you can sneak it into theaters without anyone knowing, you spend the dough to make sure everyone knows that Russell Crowe is Noah and this is going to be a crazy special effects extravaganza and it comes out right at the end of March.
Mission accomplished, guys. Message sent.