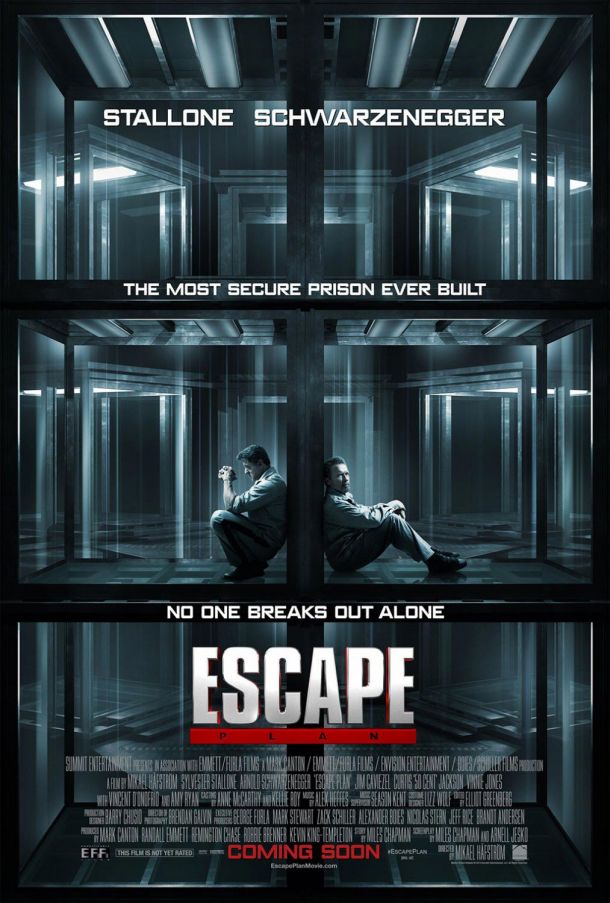 "Escape Plan" is a movie that's right in my wheelhouse, featuring two of my most favorite actors from my most favorite genre (Action!), and backed by a crazy concept and lots of fighting and action! action!! action!!! If this is not the greatest movie ever made, I have no idea what would be, and it is blowing my mind to think that this will actually be coming out soon. This is what I would be thinking anyway, if I were still twelve-years old. Ohhhhh to be twelve again.
Alas, it is 2013, and my favorite actors have grown old and have been replaced by other favorite actors with just a bit more range. And the fact that Arnold Schwarzenegger and Sylvester Stallone have gotten so old (which was inevitable, by the way) could be detrimental to them because they still make primarily Action! movies, which also happens to be a genre that is no longer my favorite, as I am no longer a stupid child.
No, now I am a semi-stupid adult who likes a wee bit of story and character in my movies. Action is still cool and all…but it has to have a point. And THAT is when you know you are becoming an old fogey – when a high concept movie featuring the Terminator and Rambo doesn't really you excited, when pure spectacle and blood letting and body counts and spent cartridges just don't do it for you anymore without you know WHO exactly is getting killed or doing the killing, then THAT  is the time to check in your youth card and go sit on a rocking chair in an old folks' home and just wait for death to warm over you like a comfortable blanket.
Enough of the quasi-philosophizing though; as for the actual trailer for the actual movie, there ARE a few things in there striking me fancy. I really like the prison guards' get ups with the creepy masks, definitely shades of the fantastic "THX 1138" with these designs, and the ratio is about 1:1 on awesome sounding lines and incredibly cheesy sounding lines, but considering the oeuvre of these two thespians on display. And why is 50 Cent playing a computer nerd? And he's just thrown in there!
Actually, outside of the lead actors, this thing has straight-to-video movie stink coming off it like an old onion, but who knows, maybe this will still be a fun, entertainment flick. I certainly want it to be, because it DOES feature Ah-nuld and Sly, teaming up in a movie like we always wanted to see them do back when they were the steroided-up box office kings of the 1980s and early 1990s.
Anyway, we'll find out soon enough in a few months whether this thing is going to be stupid fun or just stupid. In the meantime, we'll always have the trailer.
Now where's my rocking chair and my blanket…