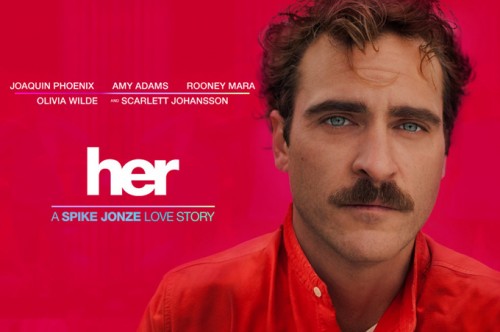 Any year we get a new Spike Jonze movie is a good year, which means when November 20, 2013 comes around, this year will officially be "good," because that is the scheduled release date for "Her," Spike Jonze's new movie about an anti-social fella who falls in love with a voice on a computer.
This anti-social fella is played by Joaquin Phoenix, who took a short break from acting so he could "retire" and focus on being a hip hop artist (all shown in the Casey Affleck-helmed mockumentary "I'm Still Here"), and now he's back in full force it seems, especially after that incredible performance in last year's "The Master," and it looks like he has another one under his belt, as the below trailer for "Her" is very compelling and pretty much looks like what one would expect from the maker of "Being John Malkovich" and "Adaptation."
So this is a love story about a man who gets the world's first AI at-home computer, and when he sets it up, it talks to him in a conversational manner, and with the sultry voice of Scarlett Johansson, so of course this socially awkward and love lorn person starts to fall in love with this computer. But does the computer fall in love with him?
What is it about Spike Jonze that he just nails adult melancholy and longing so well? It does it so well as a matter of fact that it even comes through in his adaptation of the children's book "Where the Wild Things Are" (much to the consternation of many).  And "Her" looks like yet another go around in the wonderfully quirky, rather sad yet ultimately uplifting world of Spike Jonze.