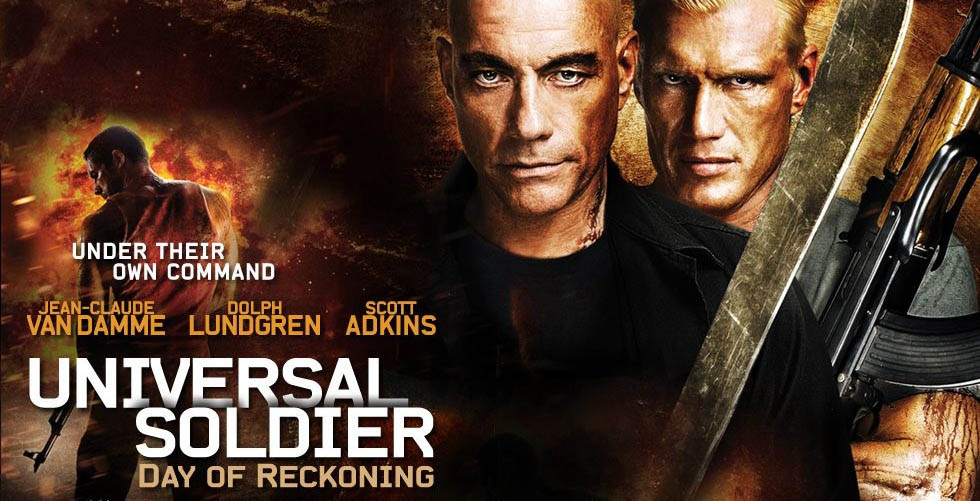 "Universal Soldier: Day of Reckoning" is a crazy movie because it is totally unexpected and weird and cool and really anyone into action movies or weird horror hybrids should definitely check this movie out, because despite the fact that it is a sequel to a sequel to a sequel to a not-very-good 90s movie about Vietnam soldiers turned into soldier cyborgs to battle for the government, it is still a pretty wild and awesome movie, full of the strangest little touches and an interesting enough story that it definitely stands out as a cinematic freak of nature, something actually fascinating to watch and enjoyable when it is all said and done.
This movie is all about a character simply named John (Scott Adkins, The Bourne Ultimatum, Undisputed III: Redemption), who wakes up from a nine-month coma after his wife and child were brutally murdered in front of him and he was beaten by a guy who looks a helluva lot like Jean-Claude Van Damme (cause it is him), and after he gets better from the whole coma thing, he starts looking for answers, trying to find the guy the guy who mysteriously beat him to a pulp and killed his family in front of him. But as he goes around following clues and asking questions, things get weirder and weirder, as people have strange reactions to him and it becomes obvious that they remember interacting with him in the past though he does not remember them now.
This all happens while Van Damme and Dolph Lundgren (yes, thee Dolph Lundgren) are apparently building an army of universal soldiers who have freed themselves from their bonds to the government and now swear allegiance to Van Damme and Lundren's characters (who both have limited screen time in this movie, though they both make memorable appearances). John slowly realizes that his family's murder and his coma are directly linked to this amassing army, as he sets out to find Van Damme so he can kill him. Meanwhile, another UniSol in the middle of a plumbing job (Andrei Arlovski, Universal Soldier: Regeneration, MMA) gets "triggered" and he sets out on a quest to find and kill John, deepening the mystery and upping the action.
Whereas a majority of people would think in terms of action films when making a movie about cyborg undead soldiers with serious blood lust issues, John Hyams came at this one all sideways and make a horror film out of the thing, but still with action movie beats. It's still an action movie in terms of story and how it goes from action scene to action scene, but the whole thing is draped with a sense of dread and despair, as the score is very droning and hypnotic and everything about the way people act and look and behave are just a little off, keeping everything on edge the whole time. It is a very interesting approach and one that I like very much, an out of the box approach that is refreshing because it was unexpected.
And then of course there is the action itself, which is quite excellent, especially considering the obviously small budget. There is a lot of traditional hand to hand stuff, with Adkins getting to take on Lundgren and Van Damme in separate fights, and having a real bad ass knock down, drag out brawl with Arlovski in a sporting goods store, which itself follows an impressive car chase scene, impressive because they really had two cars out there on the road banging and smashing into each other, complete with an awesome flipping of one of the cars. And the best part about all of that? It was shot and shown in a way in which we could actually see what the hell was going on. What a wild concept. Shoot an action scene with a steady camera and let the actual action speak for itself. Hopefully more movies will start taking this novel approach to action movies.
"Universal Soldier: Day of Reckoning" impressed the hell out of me, and maybe it was because I haven't seen a really good American-made action movie in a very long time, or maybe because it just looks good compared to all the absolute dreck out there, or maybe it was simply because my expectations for anything worthwhile coming out of the Universal Soldier franchise was so low that it did not take much for this installment to exceed those expectations. But in any case, I like this movie, it is definitely I want to give at least one more watch, which is more than I can say for just about anything else these days.