Podcast: Play in new window | Download | Embed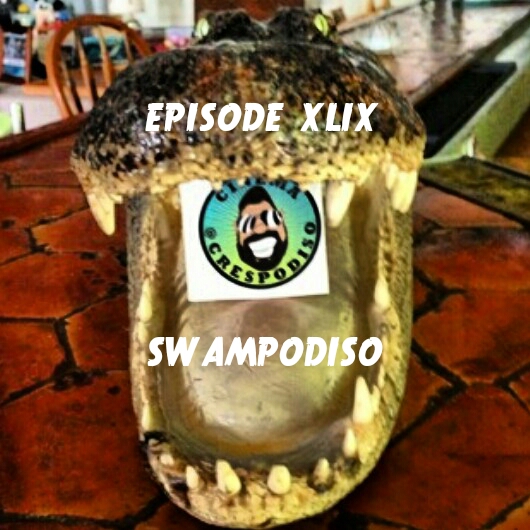 (Right Click Download Link To Save)
In episode 49, Chris Crespo and Drewster Cogburn are joined by returning guest Big Mike from The Curtis Earth Show on WPRK 91.5 fm and SwampPatrol.com, and they have quite a bit to talk about!
Discussed in this episode:
Big Mike recaps the gator hunting season and talks about the 110-year old gator he caught one night.
The Netflix Instant Pick of the Week is Desperado.
The box office weekend recap includes reviews of The Hobbit: The Desolation of Smaug from Chris and Drew, plus there is talk of Marvel movies, The Hunger Games, Disney animated movies and Tyler Perry Madea films.
Chris talks about the best December opening weekends of all time.
New movies on DVD this week include Percy Jackson: Sea of Monsters, The Family, The Lone Ranger, Elysium, Kick Ass 2, Prisoners and The Croods.
New movies in theaters this weekend include Anchorman 2, American Hustle, Saving Mr. Banks, Walking With Dinosaurs and Her.
The Crespodisco features "Bang Bang" by Nancy Sinatra from the Kill Bill Vol. I soundtrack, and "Oil" by Jonny Greenwood from the original score for There Will Be Blood.
Movie news starts with Sony's plan to make Spider-man spinoff movies that center on Spidey's villains.
Fox moves the opening of Dawn of the Planet of the Apes into the space vacated by Fast and Furious 7 missing their upcoming July release because of…well…you know….
Blockbuster UK gave it once last go…and failed.
Dreamworks Animation is going to start making shows exclusively for Netflix, who wants to become a full on network.
Chris, Drew and Mike talk about the new trailers for Christopher Nolan's Interstellar, Edge of Tomorrow, Jupiter Ascending and Godzilla.
They talk about dine-in theaters.
They talk about Matthew McConaughey's awesome run lately in movies.
Martin Scorsese's eyebrows vs Eugene Levy's eyebrows…which one wins in the Crespodome?
Big Mike gets a lightning round and a swag bag and that's all folks!