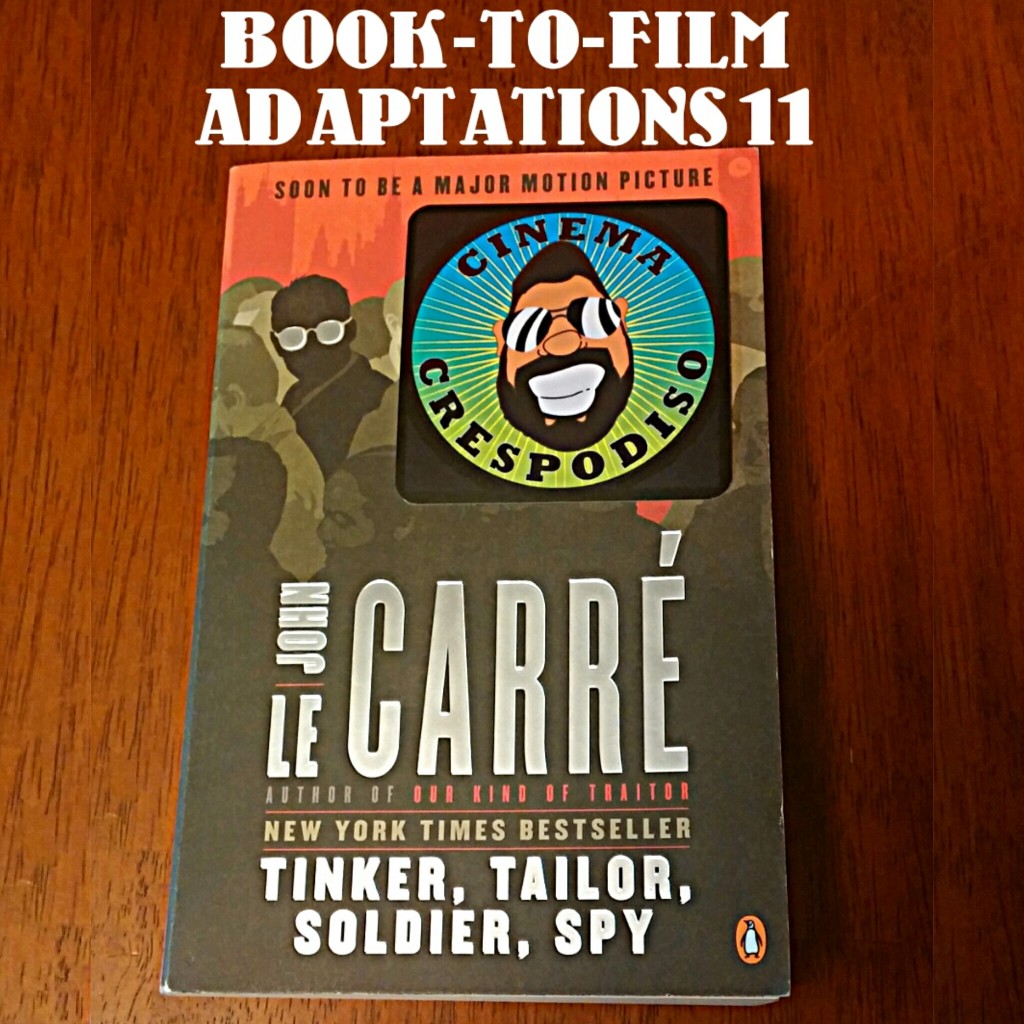 "Tinker Tailor Soldier Spy" is a 1974 spy novel from English novelist John le Carré, at the time already world-renowned for being the author of the hugely popular novel "The Spy Who Came In From The Cold," and also known for the fact that he gathered much of his insight into the world of professional government sanctioned espionage via his own employment with the British Security Service as well as the Secret Intelligence Service (commonly known as MI6). With "Tinker Tailor Soldier Spy," le Carré crafted what may be his best work, a story about a Soviet mole implanted deep in British intelligence, which itself was inspired by the very real Cambridge Spy Ring. The antithesis of the typical spy story, instead of the car chases and shoot outs of Ian Fleming's James Bond, the spy novels of John le Carré are largely internal affairs, with personal relationships and ideologies doing all the heavy dramatic lifting. Instead of spies trying to stop cartoonish villains from enacting their worldwide takeovers from within their secret volcano lairs, these are tales of morally ambiguous people who justify their actions through "love of country," and who struggle with the things they are tasked with carrying out. And when there is a conflict between people, it is almost always of the psychological nature, a war of information and of temperaments, as opposed to a war of artillery and bloodshed (though there is still usually some bloodshed). The mole hunt of "Tinker Tailor Soldier Spy" epitomizes this, as it openly asks the question, "Who can spy on the spies?"
The novel was so popular and well received that a BBC mini-series adaptation was produced, with the great Sir Alec Guinness playing the role of George Smiley, a character whom John le Carré had already used in multiple novels (six prior novels, to be exact), and this BBC adaption has gone down as one of the finest series ever made by the BBC. A fairly straight adaptation of the novel, there is only some slight rearranging of events, and it shows how this story, despite not having any real action scenes, can still be very tense and rather interesting. But it also shows how the nature of this particular story really lends itself to a multi-hour format; in order to really let these characters develop and to really get into the ins and outs of this labyrinthine plot, it should take anywhere from five to eight hours to do it justice. The BBC split the story into seven sections, which were then edited down to six for the American broadcast, and this worked out just fine.
And then 2011 came along, and we got "Tinker Tailor Soldier Spy" the movie, starring Gary Oldman in the George Smiley role, along with a host of other well regarded actors like Toby Jones, Colin Firth, John Hurt, Mark Strong and Ciarán Hinds, and even young up and comers like Tom Hardy and Benedict Cumberbatch, under the direction of acclaimed Swedish director Tomas Alfredson (Let The Right One In), based on a screenplay written by Alfredson, Peter Straughan (Frank, The Debt) and Straughan's wife Bridget O'Connor. A lot of talent in front of and behind the camera on this one, so fortunately for everyone involved, they were able to take this very well regarded source material and make a film that itself was very well received, currently holding an 83% "fresh" rating on Rotten Tomatoes based on 207 reviews, with an average score of 7.8 out of 10. And indeed, it is an excellent movie, and a very interesting book to film adaptation to dive into, as they stuck to much of the text and overall story of George Smiley's mole hunt, but still made some interesting changes and deviations in order to get this novel properly condensed into a feature film running time without feeling either rushed due to too much information being included or threadbare due to too much information being removed.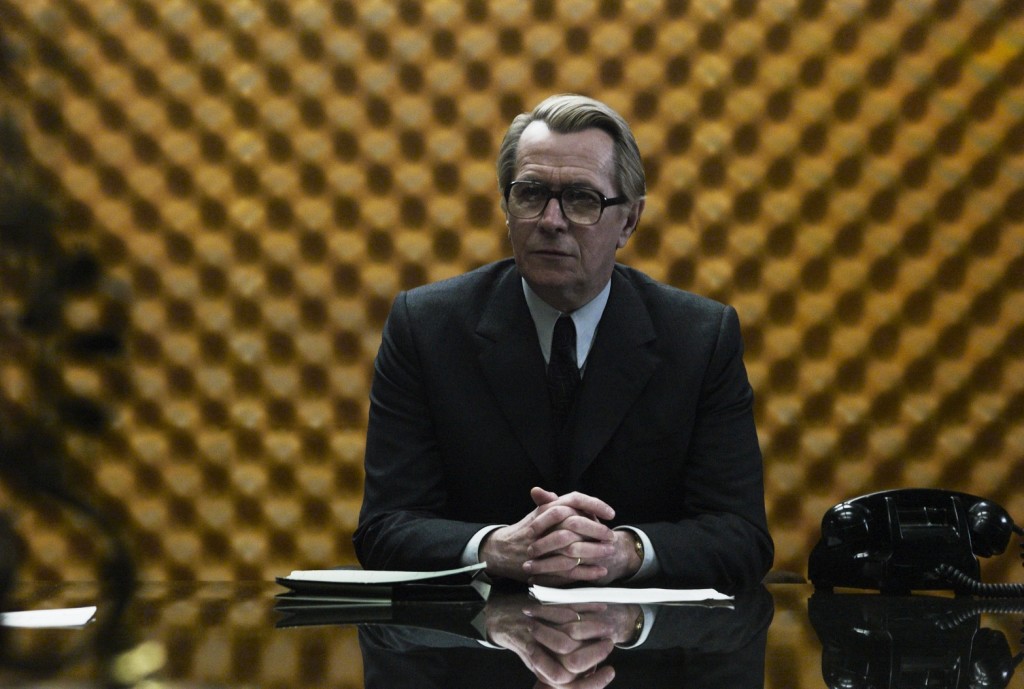 In adapting this novel into a movie, they took the smart approach of having the visual style and storytelling aspects of this film match the style of the book itself. John le Carré does not get fanciful or overly flowery with his prose, though he does take the time to get into some asides and character moments that help flesh out his world and make it more rich and vibrant, but instead he approaches the plot in a straightforward way, with the information coming to the reader as it comes to George Smiley, a high ranking member of MI6 who was forced into retirement when his boss, known only as Control, suffered a political set back when a covert mission of his own doing went awry, resulting in public embarrassment for the British intelligence community and the discovery and subsequent torture of one of their own spies. So the movie similarly addresses this plot as simply as possible, using a lot of visual clues to move the story along, as opposed to having characters standing around and reeling off paragraphs worth of exposition. We don't need to be told that George is lonely, we simply watch him wake up alone and go about his day all on his own, all of this played out during the opening credits. We don't need characters explaining over and over how close Bill Haydon and Jim Prideaux were because we see it in their eyes when they look at each other. The cues are all there, we just need to be paying attention in order to see them, as this film simply refuses to spoon feed you information.
This minimalist approach also reflects the character of George Smiley, as he is a person that is very quiet and still and has the ability to recede into the background, always observing, never drawing attention to himself. Even Gary Oldman's performance reflects this, as Smiley is 90% head tilts and eye movements. His questions and answers come quietly, and his expressions range from seemingly nonplussed to mild exasperation. This minimal movement then brings into stark contrast the few times Smiley launches into action, which even then is minimal at best. But when we spend a whole movie with this guy who sits around wrapped up in overcoats and scarves and who lets everyone around him constantly remind him of his wife's infamous infidelity, it becomes a reminder of who he really is when he pulls out a gun and smartly removes his shoes before sneaking around quietly, showing us that this old man actually does know what he is doing and might actually be able to handle himself when needed.
"Tinker Tailor Soldier Spy" feels like it came right out of 1970s American cinema – between the jazzy score, the deliberate camera movements and classic approach, the natural lighting and the conspiratorial tone, this could have easily been a movie made by Sydney Pollack or Sidney Lumet, or even Alan Pakula or Francis Ford Coppola. Distrust of government, high reaching conspiracies, the hero on the outskirts of the system, trying to peel back the layers to reveal the corruption deep within, this movie has more in common with "Three Days of the Condor" than it does "The Man With the Golden Gun." Huge revelations happen in conversations between characters, and problems are very often resolved without violence (though the threat of violence is still palpable), and though the story does concern a Soviet mole within British intelligence under the auspices of the Cold War, the biggest hurt comes from the betrayal of personal relationships, friends and colleagues who put their trust in the wrong hands and paid prices for these unwitting mistakes, the idea that even the best among us are capable of such seemingly dastardly actions – people expect malfeasance and incompetence from their governments, they do not expect this from their closest allies, and that is from where the emotional stakes for this story are derived.
Having nailed down the tone of the novel, it is interesting to look into the exact plot mechanics to see what was changed and to posit as to why these changes were made to begin with, because with source material so rich and well revered, it makes no sense to change things simply for the sake of changing them. So what was done differently, and what were the reasons?
With the obvious emphasis on visual storytelling, some plot elements lean towards ambiguity, while other things that happen in this story are made more explicit. The emphasis on the CIA, usually referred to as simply the Americans (and once by Control as "your bloody Yanks"), is increased, and there is even an added scene of Percy Alleline as head of MI6 meeting with an unnamed American and providing him with information. The desire of MI6 to get back in the good graces of the CIA is much more palpable in this version of the story, which then makes it a more devastating blow when Smiley informs the Prime Minister that they've been had by "Moscow Center" and more importantly by the head of Soviet intelligence, Karla.
In regards to Karla, the ghost of a character who is never really seen but haunts almost every frame of the movie (much like he does each page of the novel), there is a very interesting difference between the BBC adaptation and the 2011 film in regards to George Smiley's telling of the story of how he met Karla once to his protege Peter Guillam; in the BBC adaptation, we actually see the slightly younger Smiley in a jail cell with Karla, doing his best to turn him and bring him in to the fold in the West. But in the movie, we never see this scene (or Karla), but instead we stay with Smiley the whole time, sitting in a darkened room, drunk, telling the story to Peter and eventually absentmindedly acting it out, which makes Karla even more of a mythical figure. In the BBC version, he is given a face, but in the movie he is merely talked about in hushed tones in darkened corridors, while we get two glimpses of his back or his arm. And though we never see him, Karla is possibly the most important character in the whole story, like a real world Ernst Blofeld, his actions causing gigantic ripples throughout the intelligence community around the globe. He is the boogeyman for MI6, and really the only thing we know about him is that he hates the West and yet he chain smokes American cigarettes.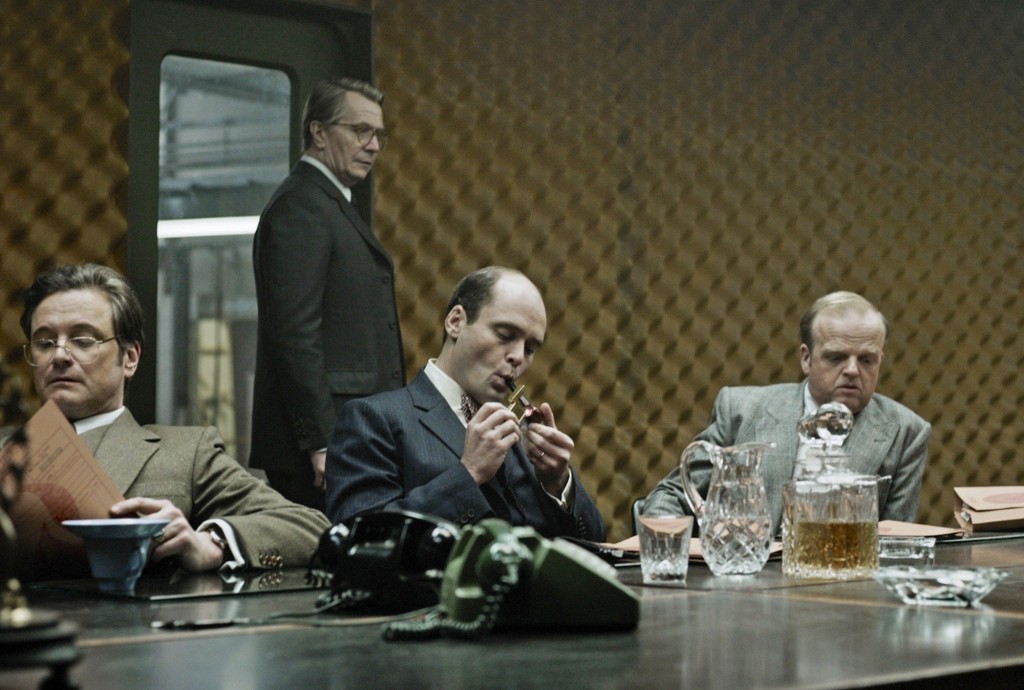 Then there are the things that were added to this version of the story, like making the character of Peter Guillam homosexual. In the novel (and subsequently in the BBC version), Peter is presumed to be straight, but it doesn't enter into the story in any way. As a matter of fact, of all the characters in the novel, Peter is one of the more underdeveloped ones, as he really does a lot of (albeit dangerous) gopher work for Smiley from within the halls of "the Circus," which is a boss name for a secret intelligence headquarters. And there is maybe one scene in the novel, which is one page long, in which Peter is with a woman, though it is not specified if she is his wife or girlfriend or if they have some sort of friends with benefits thing going on (he even casually asks if she has another lover and suggests she sleep over there).
But in the movie, Smiley warns Peter at one point that the heads of British intelligence would be "looking into him" so he should get his affairs in order. Peter immediately knows what George means by this, because the very next scene is Peter coming home to his live in boyfriend, with whom he promptly breaks up. This is obviously done to give Peter something to sacrifice for the ultimate goal of cleansing the Circus of the mole and restoring order to the section of government for which he works, and it makes it more meaningful when the people trying to obtain a goal have to give something up in the name of the greater good (and in case you are wondering why Peter would even have to do such a thing, know that being homosexual in England was against the law through the 1960s and consensual homosexual relations were not fully decriminalized until the Sexual Offences Act 2003). So this change was actually done to give the character some more depth and gravitas and to make his contribution to the final victory of uncovering the mole more worthwhile.
(Hilariously, the CIA review of the book and movie – yes, the CIA has a resident "critic" – called this change " a gesture to political correctness," which is laughable on several levels. Not seeing the dramatic purpose of such a change to a character is not surprising coming from a bureaucratic "critique" and citing "political correctness" says much more about the writer of that piece than the change itself, for as comedian Greg Proops once opined, "There is no such thing as political correctness, it's called common fucking decency." What else should be expected from this group of sociopaths?)
Visually the filmmakers worked in something that was not done at all in the novel, and really this is the kind of thing that works best in an art form like this; Control gave code names to his suspected moles, hence the "Tinker Tailor" title based on an old children's rhyme, and he put pictures of these suspects on chess pieces, with the name "Karla" taped to a Queen piece (the chess piece with the most power). The chess like nature of the activities of the intelligence community makes this an almost obvious metaphor, yet if it was so obvious why wasn't it done earlier?
In regards to the plotting, there is the usual mix of taking some elements out and inventing others in order to make things move in a more cinematic way. George Smiley's intro in the novel, via a bad dinner date with a boorish contemporary, was cut out completely, while all the information relayed in that conversation (George's problems with Ann, Control's ouster, the new power regime at the Circus) is provided to us via the first twenty minutes of the movie, interspersed throughout scenes that keep the plot moving forward. Meanwhile, Rikki Tarr's introduction was changed a bit and moved to later in the plot. In the novel, Tarr made himself known to Lacon and Guillam and Smiley was brought in to hear his story, which then starts his investigation into finding the mole. But in the movie, Tarr phones Lacon, and Lacon tells Smiley flat out that there is a mole and asks him to investigate, with Smiley meeting Tarr much later and getting the story of Tarr and Soviet defector-to-be Irina after the investigation already started. This helps with the movie because it is one thing to get a lengthy story early on in a novel and another entirely to have a character sit down and provide a whole flashback within minutes of the movie starting. Instead the drama starts quickly with Smiley starting his investigation and when he gets Tarr's story, the drama and tension are then increased with the revelations he provides.
Similarly, the novel starts with Jim Prideaux showing up at a boarding school and we learn a little about him through the eyes of a schoolboy named Bill Roach, and we don't find out about the exact nature of his mission and what happened until much later on when Smiley finally tracks him down and gets him to talk. The movie, much like the BBC adaptation, actually starts with Jim meeting Control and Control sending him on his ill-fated mission, and in both adaptations we see it go south and Prideaux get shot in the back before we head to London to get introduced to rest of the characters. In the movie, they even change the exact circumstances and location of where the mission goes to shit, and it works because visually it just works better, as the novel (and BBC adaptation) have Prideaux getting ambushed in the middle of the woods at night, whereas in the movie he is at a cafe and it is daytime and it just looks better.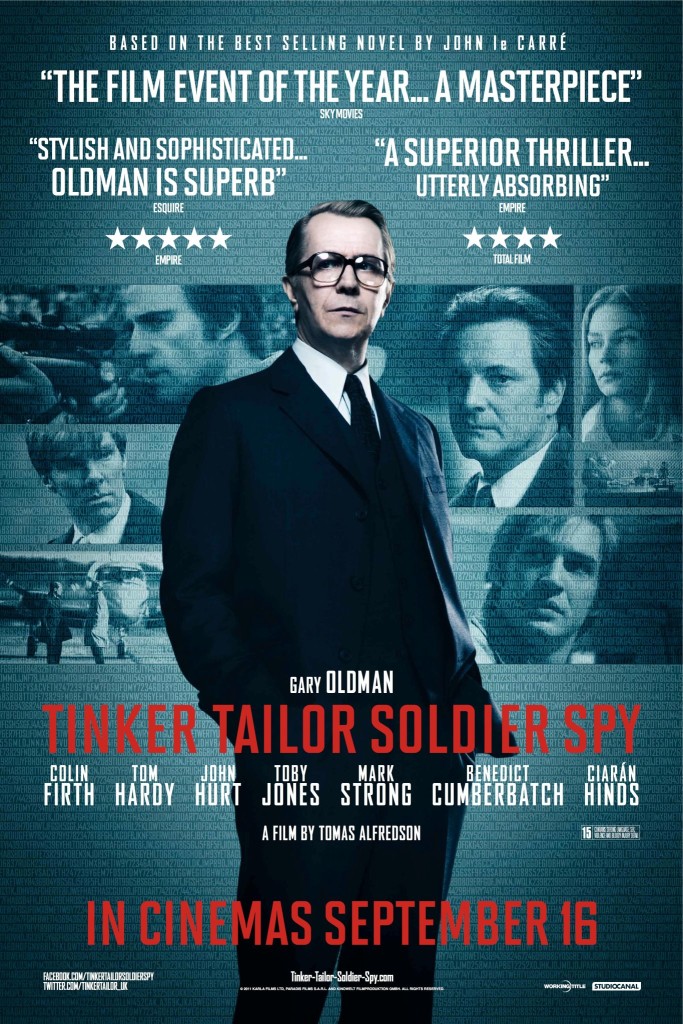 And while things like George Smiley's terrible dinner were removed for the movie, they added George Smiley's recurring memory of an office Christmas party at the Circus, the one scene in which everyone is together, smiling, laughing, drinking, singing, and all seems to be well. Before we see this flashback of his for the first time, he is finishing his chat with former Circus employee Connie Sachs, and as he leaves her, she calls out to him, "If things are bad, don't come back. I want to remember everyone as they were." Smiley hears this and thinks of the party, a seemingly simpler time, though not without it's share of problems, as this recurring flashback is used to show is Smiley's discovery of Ann's infidelity with presumably Bill Haydon. Tellingly, this discovery happens when everyone jokingly breaks out into the Soviet anthem, and with Bill Haydon turning out to be the Soviet mole, this works as some foreshadowing.
Speaking of Bill Haydon's mole status, the novel implies not too subtlety that Jim Prideaux, possible former lover of Bill Haydon, killed Bill while he was in custody awaiting deportation to the USSR, whereas the movie goes more obvious, really emphasizing the possible romantic nature of the famed Haydon-Prideaux partnership and going ahead and showing us Jim shooting Bill through the face with a hunting rifle. But the killing of Bill is not what resonates in that moment – instead it is the look Jim and Bill share, locking eyes for the last time, the regret and sorrow palpable in Bill's face, the pained hurt in Jim's eyes, and it works brilliantly, because again this is a movie, which is a visual medium, so instead of telling us in prose in a roundabout way what happened, we just see it happen wordlessly, and it is a sad and beautiful moment in a layered and complex film.
"Tinker Tailor Soldier Spy" is a rich novel full of detail, with a wondrously twisty-turny plot that does require concentration and attention, and which rewards this with a satisfying story about Cold War espionage and the toll it takes on the people waging this war. The movie manages to take this and distill it into a tight two hours of loyalty and betrayal, and it is kind of amazing to see how much detail they can actually excise and how much they could condense this story and still make it resonate and ring true as a tale of corruption and deception, both inward and outward. One of the finest cinematic adaptations of a literary classic, "Tinker Tailor Soldier Spy" is an absolute delight.
R.I.P. Irina.