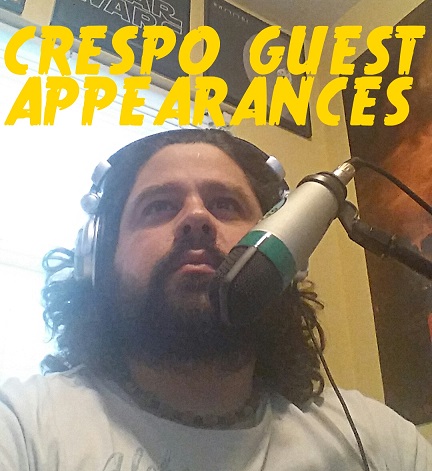 Being a regular radio talk show guest and podcaster, I get occasional opportunities to spread my brand of madness to the world on other programs. In addition to Cinema Crespodiso, I also call in every Thursday to The Curtis Earth Show on 91.5 fm WPRK (WPRK.org) to talk about movies for 10-20 minutes, but that can only be heard live as it happens. But sometimes that's not enough, and I pop up somewhere else, spewing my opinions out like a dragon spitting fire, albeit with far less damage to my surroundings. Here is where these guest appearances are documented.
Here in Florida there is a podcast called "A Mediocre Time with Tom and Dan" and to say they are a big deal would be an understatement. They are certainly the biggest podcast in all of Florida and might be the biggest one in the entire Southeast. Led by two morning radio talk show veterans who now enjoy the freedom afforded to them by having their own successful show, "A Mediocre Time" has been delivering their own unique brand of comedy to the masses on a weekly basis for a number of years now. As a matter of fact, this brand has become so strong that they were approached to create a terrestrial radio friendly version of their show, which they did.
The result is "A Corporate Time with Tom and Dan," an hour-long show that plays five nights a week on Real Radio 104.1 FM, and which is also obviously available as a downloadable podcast. I had the distinct pleasure of joining these gentlemen to record an episode of this radio-friendly corporate show, and this aired last night and is now available for download so you can check it out whenever you want. I told hosts Tom Vann and Daniel Dennis (and comedy secret weapon Ross McCoy) about how surprisingly easy it was for me to get booked on another extremely popular podcast, we talked a little about Star Wars and Rotten Tomatoes and the upcoming Oscars, and Dan told us about how Steve the Security Guard from The Jerry Springer Show has his own hugely successful, syndicated television talk show, which quite frankly blew my mind.
It was fun and I had a great time and you'll have a great time listening, which you can via iTunes here or by going straight to that Libsyn source.