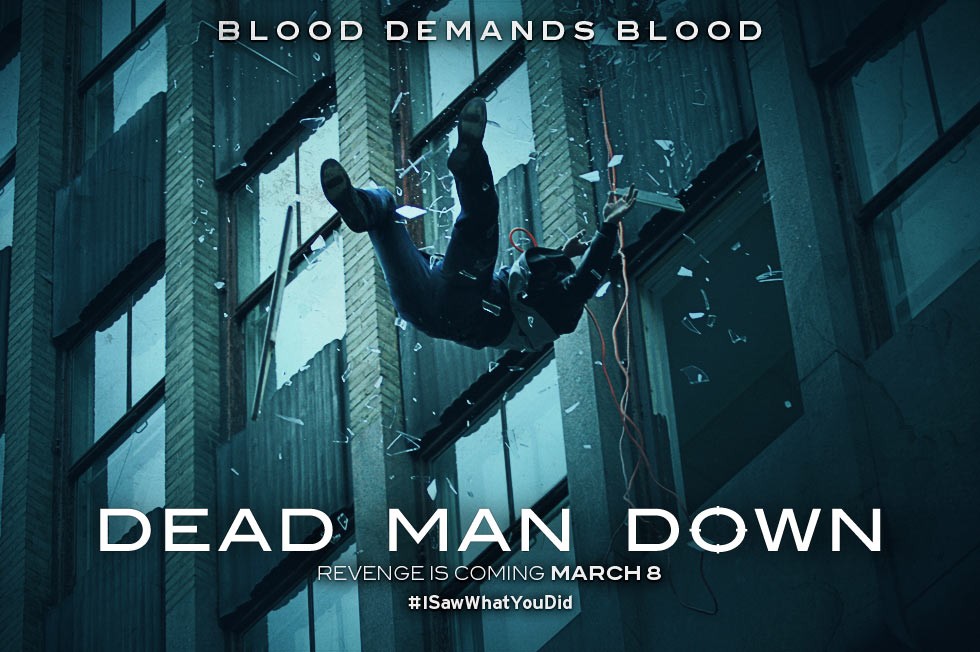 Nowhere near bad enough to just hate on, but definitely too sloppy and ridiculous to actually be good, "Dead Man Down" is just a forgettable crime drama about revenge and learning how to move on with life after tragedy. From the director of the original "The Girl With the Dragon Tattoo" comes another middle of the road movie that has interesting touches here and there but ultimately adds up to a whole lot of nothing.
The movie starts in mid-action, in that an NYC gangster drug dealer named Alphonse (Terrence Howard, Red Tails) has been getting threatening notes and photos from an unnamed source, and apparently he's been getting these notes for three months, and the movie STARTS with him thinking he knows who is sending him these notes. And right away the movie is off to a bad start because this is such a random choice for a spot to start this story. Why not go back and show this Alphonse person getting the first letter? Why not take, I don't know, maybe two or three minutes to establish who he is before just throwing us into some shoot out action scene featuring a bunch of people we don't give a shit about? Is the information doled about these characters later on in the movie supposed to make this opening more compelling retroactively? Because it doesn't work that way.
Anyway, after throwing us without context into this set up, the story kicks in, and there will be no plot recap here because who cares? It's a revenge story, nothing new there, movies about revenge are made on a regular basis, some with something to say and some with nothing on its mind other than "Oooh violence!" This one shoots for the former, but falls short, and then settles for the latter. Which is a shame because this feels like another film in which two movies got smushed together and intrude on each other. See, ole Colin Farrell (Seven Psychopaths, boring Total Recall remake) has this big overly and unnecessarily elaborate revenge plot that he is on the verge of pulling off, delaying it for reasons not made clear. And then Noomi Rapace (reuniting with her TGWTDT director) comes in and forces her own revenge plot on him, and suddenly there is an A-plot and a B-plot, both of them focused on vengeance, neither of them really all that compelling in the grand scheme of revenge plots.
Really the relationship between Farrell and Rapace's characters is the only thing that makes this generic and overly twisty story worthwhile at all, and really they should have cut out one of the two revenge plots, and then just let the movie rest on the growing relationship between the two characters. These are two broken people, who both feel permanently damaged in different ways, and who find some surprising solace in each others' company. There is enough drama there to justify a movie, throw in that revenge and you got something going. But then throw in a second revenge involving multiple gangs and drug dealers and kidnapping and torture and you know what happens? It' s like using every single color crayon in the box to color something – it's all just a gross dark unidentifiable mush at the end, obscuring any good ideas you may have had when you started.
Two things also need to be noted about the marketing of this unfortunate stinker of a movie. First off, do you see that poster up there? The one with the body in mid fall? That particular image is on every different poster for this movie, so it seems like it would be a particularly important moment in the film, because why else feature it and focus on it so much? But then you watch the movie, and this guy that is featured front and center on all the "Dead Man Down" posters turns out to just be a random henchman, thrown out the window in a random action scene, and this particular action actually holds absolutely no weight in the movie.
Imagine if the original "Star Wars" marketing focused heavily on an image of an exploding spaceship, and then you watch the movie and you realize this big image is actually just a random TIE Fighter, one of many, randomly being shot down in a random action scene. See what's going on here? It's just silly. There are actually a number of nice shots in this film that actually feature the characters that the story is centered on, but nah, we're just gonna put this fleeting moment from the moment front and center.
Secondly, I am not complaining about this (because complaining about marketing is meaningless and stupid), but it is worth noting that the trailer definitely sells a different story. Just watch that trailer below. Through juxtaposition of images and dialogue, they make it seem like the girl is hiring the guy to kill the drug dealer because he was responsible for her scarred up face. But in the movie, she wants him to kill someone else entirely, a dude who isn't even related to the rest of the story, just a tangential character talked about by others, a cypher, a macguffin, and in the end, pointless. This trailer actually presents the movie as having only one revenge plot, when in fact there are two unconnected revenge plots, and the movie in the trailer definitely would have been better than the one we actually got.
This movie's biggest sin is probably wasting it's interesting cast, a group of people so awesome that this could only be called slumming for them. F. Murray Abraham, Armand Assante and Isabelle Huppert are all great actors and are rarely seen in movies these days, so to see them pop up in this was both thrilling and disheartening at the exact same time. Huppert may have believed she was in a different movie altogether, a movie about a nearly deaf French emigre mother trying to find love and happiness again for her damaged daughter, and again, that movie wouldn't have been bad at all. But then the revenges, and the kidnappings, and the Albanians, and the action scenes, etc. etc. We've been down this path already.
So yeah, in summation, not good. Not good at all.