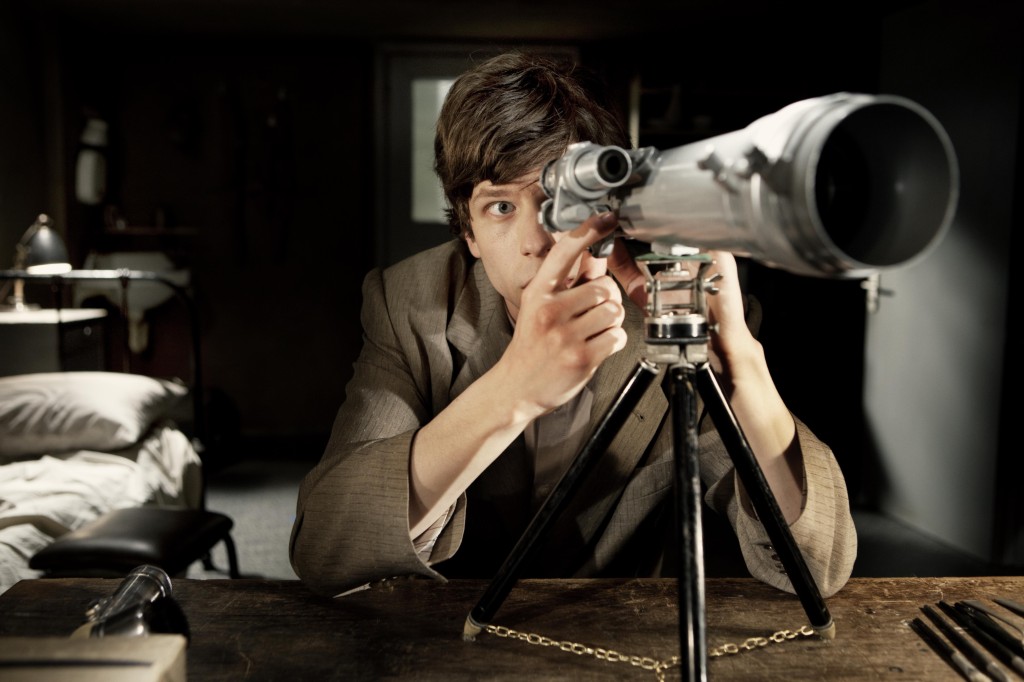 "The Double" is a bleak, angst-ridden surreal psychological thriller dark comedy about a man, in the midst of an existential crisis, who meets his physical double and at first they appear to be allies but things quickly go from bad to what the fuck. From writer/director Richard Ayoade and loosely based on the 19th century Russian lit classic of the same name, "The Double" is one of the most original and interesting movies I've seen in quite awhile, bursting with ideas and a deliberate energy that just makes this whole thing hum along very loudly and distinctly.
Simon James (Jesse Eisenberg) is a total milquetoast, a quiet pushover of a person. People don't notice him, his boss (Wallace Shawn! Inconceivable!) can't remember his name, and he has a crush on a girl he works with (Mia Wasikowska) but with whom he can't muster up the courage or strength to even speak coherently to her, let her alone ask her out and act normal around her. Basically, Simon James is just a sad, lonely person, drifting through life like an apparition, a person for whom even electronics refuse to recognize.
And then James Simon (Jesse Eisenberg) shows up at Simon's workplace, and shit starts to get weird. He looks like Simon and even wears the exact same suit, but otherwise he acts completely different, as James is brash, extroverted, confident, slick, all of the things Simon wishes he was but doesn't seem to have in him. And for some reason people don't see the resemblance between the two of them. Except for when James needs Simon to switch places with him, in which case Simon passes off for James, and only to James' benefit.
It is weird for sure, but then again the entire movie is delightfully weird and strange and off-kilter and it is all just as lovely as it gets when it comes to seeing something different, telling us something we may already know but in a way that makes it all seem fresh and relatable, like we're seeing this stuff for the first time. Simon is riddled with anxiety about everything in life – he can't even get into his place of employment without some sort of hassle that he quickly folds under.
So of course despite his initial confusion he ends up looking up to James and wishing he had that same chutzpah, the same way of maneuvering through life without hesitation, not only knowing clearly what he wants but also reaching out and getting it. The problem comes when it appears that James, for whatever reason, pretty much wants what Simon wants, and he gets pretty determined to usurp Simon, which includes gaining the affections of the same lady which Simon has fawned over from afar for lord knows how long.
What really sets this movie apart, besides from two great Jesse Eisenberg performances in one movie, polar opposite characters that he is able to portray so well, is the incredible sense of tone and style that Richard Ayoade uses to convey Simon James' off balanced world, a world which consumes him in rumbling sounds and dirty grey walls, flickering lights and incredibly shitty service, a dark, desolate, depressing city, mostly populated seemingly with octogenarians, and also, I may be mistaken about this, but now that I think about, I don't even remember one scene set in the daylight. It's all indoors or outside at night. Gloomy, bleak and depressing as it gets. I mean, really, who has a funeral at midnight? Besides weirdos. And death romantics. (again, weirdos).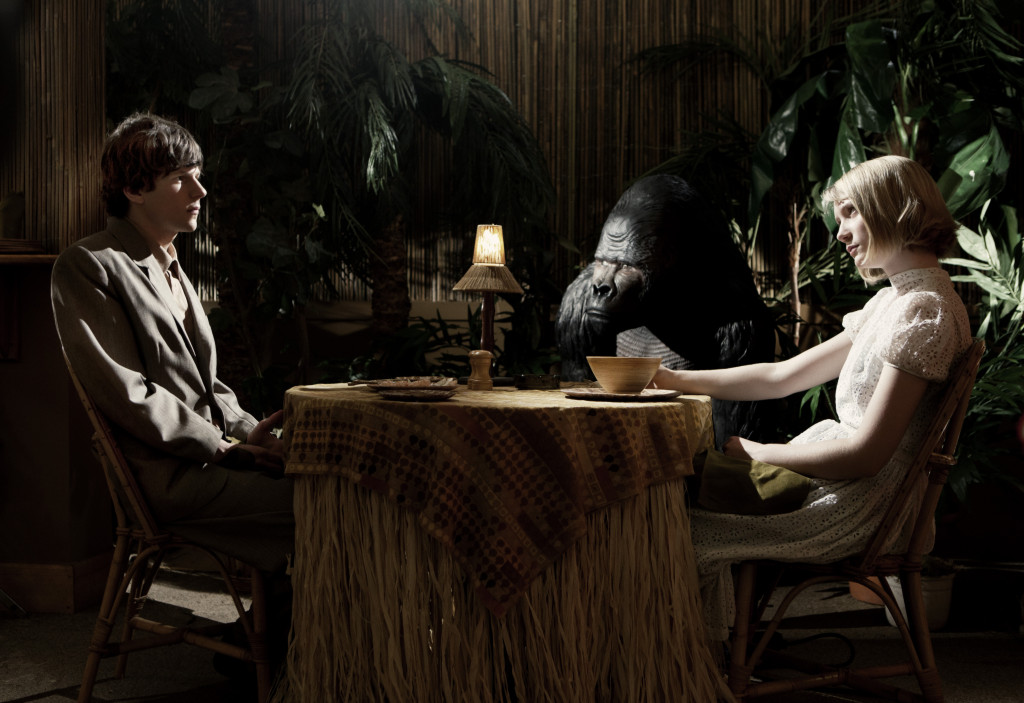 Huge chunks of the movie get played out without dialogue as well, which gives it kind of a silent film kind of quality (though there are plenty of sounds and music, etc, not REALLY silent film) – really this is cinema at its most basic, as a lot of character development is derived from just watching a person do something, the way he lives his life, without having to include a bunch of dialogue and exposition, and it is great to watch when someone does it well like here in "The Double."
No spoilers here, I'm going to try to keep this as vague as possible, but there is definitely a lot going on here in terms of man's dual nature, as Simon James is just the worst kind of non-person and James Simon is the worst kind of conniving douche bag, but maybe if they were somehow combined into the same person, maybe this would actually be a rounded out person, each side keeping the other in check at the right moments? That's not what we have here, we have a split, and it is much to each other's and their own demises that they happened to meet like this and interact. Too bad they couldn't run at each other really fast and slam into each other face first and meld together into one person.
And there is definitely some ambiguity at the end as to the true nature of who these guys are and their relationship to each other, but it is ambiguous in a good one, one that raises interesting questions but which are questions that don't really need answering because they just back up the main themes of the movie and the story, man's struggle to find himself in a world becoming increasingly more outdated and dilapidated, the world that time left behind, and with us in it.