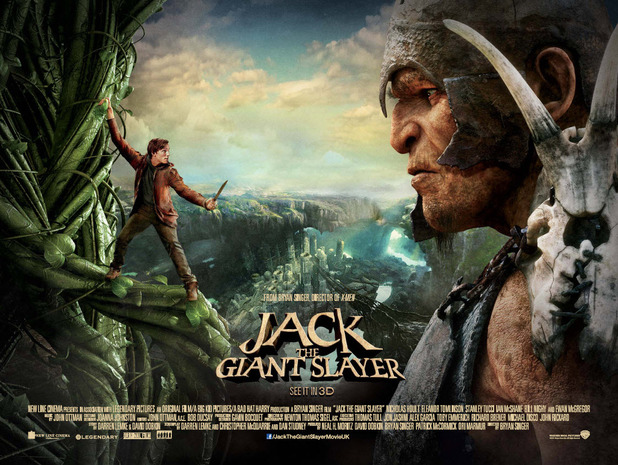 "Jack the Giant Slayer" is a big ole bloated boring movie that never really gets to "so bad it is good" territories. Instead it is just forgettable, a fairy tale turned into a $200 million blockbuster, but somehow despite the scale and budget, it doesn't feel like a big old blockbuster. Instead it is kind of a breezy tale of men versus giants, with some familiar iconography thrown in to tie it all to something preexisting, because obviously no one wants to watch something that isn't based on something else, right?
The story centers around Jack (Nicholas Hoult, Warm Bodies), a young farmer boy who gets his hands on some magic beans, one of which causes a giant beanstalk to the grow into the heavens. But unlike in the old tale "Jack and the Beanstalk," these heavens are filled with gross looking Giants who are eager to find a way back down to the Earth to eat humans. There is also some bit about a magic crown made from a melted down Giant's heart and black magic that controls the Giants, and a usurper (Stanley Tucci, The Hunger Games, Captain America: The First Avenger) to the crown of the king (Ian McShane, Snow White and the Huntsman) and his rambunctious daughter (Eleanor Tomlinson, Alice in Wonderland) who really starts a lot of the mess to begin with when she runs off from home because she feels all like trapped and stuff.
This movie really is not very good because it isn't really about anything. Jack goes on this big adventure but it only matters to him really because he wants to go on an adventure, a vague desire that has plagued protagonists in stories for centuries now. And when he gets a chance for some adventure plus maybe a shot at impressing the princess, he jumps on it. So we are cheering Jack on because he's horny? Because those are the only two things motivating him at this point, his desire for adventure, and his desire to get royally laid.
Maybe there was some classism stuff in the story that director Bryan Singer (The Usual Suspects, X-Men, Apt Pupil, Superman Returns) wanted to get to, since they make a little stink about the commoner Nicholas not being good enough to join the Royal Guard or to have any shot at the princess, once Jack starts killing Giants none of this matters because everyone starts liking him anyway and accepting him. So Jack has no defined story really, he just gets some beans, accidentally restarts the ancient war between men and Giants, and then helps the men. Big whoop.
Oh, and these Giants. Boy oh boy. First off, they are all gross to look at. This was done on purpose. Thanks a lot, guys. I really enjoyed that shot of the one pastry chef Giant picking his nose and eating the snot off his finger. Not necessary. Really. We get it. They are gross. But to top it off, they look like weird huge cartoons, almost photo real cartoons but 'toons nonetheless and it really just all stinks of too much CG and not enough story or, you know, purpose for existing!
We should at least take this time here to note that Ewan McGregor is in this movie, and he is actually quite great as the head of the Royal Guard. If anyone walks away from this thing without any stink of them, it has to be him, as he seemed quite at home the whole time and knew just how to play the character.
And a quick note about the violence in this movie: it gets remarkably violent, but it is mostly implied and off screen. So we are talking about Giants constantly biting off the heads of men though we never see it happen. And a good number of people get stabbed and killed and thrown from great heights, but again much of it is implied. And I do think at one point that the lead Giant's second siamese head says in a garbled voice "oh fuck" at one point. Maybe they should have gone all out and made a movie about killer Giants for adults, you know, totally r-rated and everything. Eh, probably not. Still would have been awful, whether we see the men getting their heads bit off or not.
Oh, and apparently men's heads are the most delicious part, because Giants routinely bite off the heads and then just throw away the rest of the bodies. Lots of good meat on those things. Kind of a waste.
I have a fairy tale for you guys. How about this: once upon a time there was a director named Bryan Singer, who made a kick ass little crime drama in the 90s, and then did more than his share to kick start the comic book movie boom of the 200os, but has since gone down the tubes, turning out limp projects like the last Superman movie and now this poor film about cartoon Giants. So to redeem himself and to keep his seat at the big Hollywood table, Mr. Singer has returned to the "X-Men" franchise to make "X-Men: Days of Future Past" because he needs a sure fire hit. The end.
Pretty lame story right? Well that's the one we're living right now. And "Jack the Giant Slayer" is evidence of this decline.