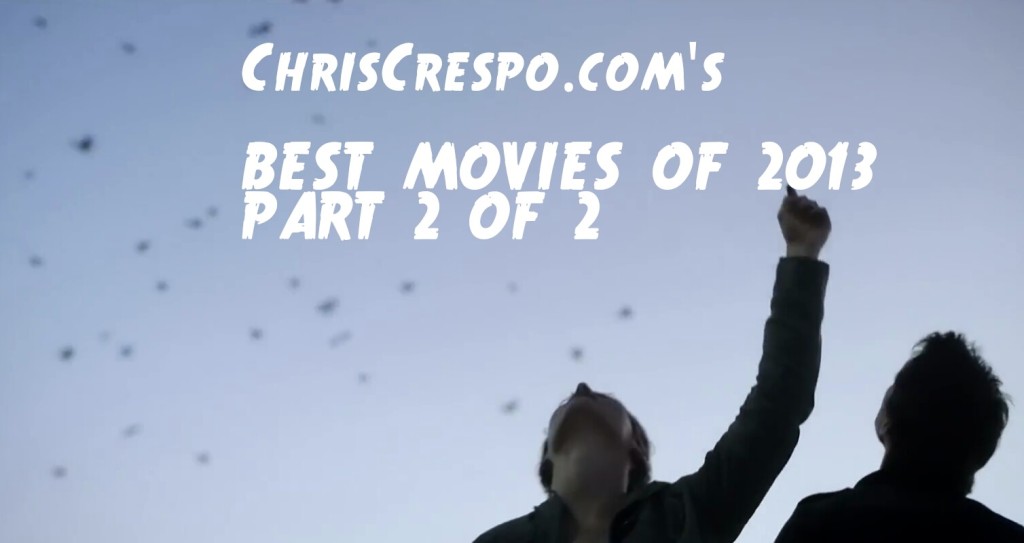 On the day the 2013 Oscar nominations are annouced, why not let the world know at the exact same time which exact movies were my absolute favorites of the year? And why continue screwing around up here with the preamble, let's get into this thing, shall we?
Click here for movies 10 through 6 of my top ten of 2013.
5. Inside Llewyn Davis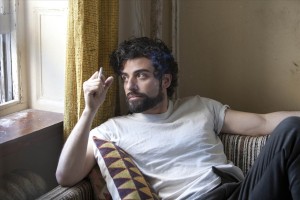 A wonderfully melancholy movie about giving up on one's dreams and ambitions and goals and just giving in to the pressures of day to day life. Doesn't that sound grand? Of course it takes deft hands like the Coens' to be able to pull off such a thing, because who wants to see a movie about a sad sack during the one week in his life when he decides it is going to be now or never? But that is who Llewyn Davis is, and for us to go inside Llewyn Davis, that means we need to understand him, his loss, his pain, his trials and tribulations, and in the end we kind of do understand why he gives up on his dreams and on folk music in general, but then we also understand why someone would feelc compelled to beat this guy up in an alley behind a building. The Coens have given us the interesting character and helped us to understand him a little, while at the same time giving us some of that typical top-notch Coen brothers artistic goodness.
And of course the soundtrack is great, too.
Click here to read my review of "Inside Llewyn Davis."
4. Upstream Color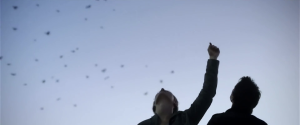 The most daring and ambitious movie of the year, if not in many years, "Upstream Color" is the second film from "Primer" writer/director Shane Carruth, and the hella long wait was worth it. This is a movie about a man and a woman finding each other and falling in love, but it is also about so much more than that, as there is hypnosis and pyschotropic worms and thievery and a pig doctor and blue orchids and it all comes together in a movie that resembles more of a nightmarish fever dream than anything else usually seen in movies these days (or any days, really). "Upstream Color" is layered and experimental and arty and just wonderful on every level. One of my favorites to come out in a long time, it challenged me in ways that other movies have not and it makes me appreciate the cinematic artform in general more, that's how good and different and interesnt and unique this movie is, and why after seeing it so many months ago, I still love it more than ever.
Click here to read my review of "Upstream Color."
3. Gravity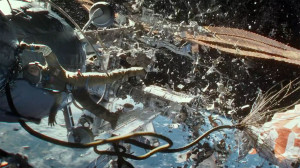 "Gravity" is one of those movies, like "Pacific Rim" that benefits from being seen in a giant, darkened movie theater, because the feeling of being out there in outer space with our characters is so palpable that astronauts have come out and said it is the best portrayal of being in space they have ever see in a movie, and that includes documentaries. This is a very simple yet very thrilling story about survival, in this case the survival of an astronaut and a mission specialist on her first spacewalk who are both stranded in space without an operational ride home, and the simplicity and straightforwardness of this story will help it stay relevant and interesting for many years to come, especially with insanely great special effects that will likely hold up visually for a very long time as well. This movie is a thrill to watch, and no wonder, considering it came from one of our most unheralded film making masters working these days, Alfonso Cuarón.
Click here to read my review of "Gravity."
2. The Wolf of Wall Street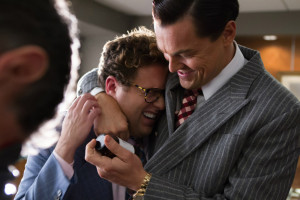 "The Wolf of Wall Street" is brilliant. Read my review below to see why I think so.
Instead of recapping that here, I want to use this space to admonish all the people out there who think that this movie is somehow glamorizing Jordan Belfort and his debaucherous activities:
You are all morons. All of you. Art is indeed subjective and a movie can mean different things to different people, but if you look at this film and see them holding up this asshole as some paragon that we all need to stive to be like, as if he had no faults, or at the least his faults could be overlooked for some greater good, then that says way more about you and how you secretly deep down inside wish you could live your own life. You are seeing the parties and the plane orgy and yacht and cars and all you see are the things you want in your life but you are (rightly) too honorable to steal and cheat for, and you hate seeing such a scumbag get all these things, so you decide to shit on the movie as a whole becaaaaaause…they didn't "show" the victims?
Holy shit does this little argument make me batty. Why on fucking Earth would this movie, in which the main character is a con man shitheel who is telling the story to you, include scenes in which little old ladies sit at their kitchen table starring at their depleted bank accounts and non-performing penny stocks? Belfort did not give a SHIT about these people, so why would he include them in his story as anything other than voices on the other end of a phone, sheep waiting to be fleeced, fools eager to be separated from his money? That's how he saw them when he took advantage of them, so that is how they are represented in this movie.
Meanwhile, every single one of these assholes who want to feel morally superior to Martin Scorsese and Leonardo DiCaprio and everyone else who worked very hard on this film, each of these insipid morons who want to shit on this movie all choose to ignore the ending, and by extension, the point of the fucking movie. SPOILERS FOR THE REST OF THIS PARAGRAPH: The movie ends with Belfort being arrested, and he then turns over on his co-conspirators so he can get away with a light three-year sentence in a minimum security prison. After he gets out, he's shown at a seminar, in which he promises to teach aspiring entrepreneurial folk how to become successful salesmen, and the final shot of the movie is a slow pan over the wide-eyed faces of a bunch of idiots looking upon this known conman and ex-convict with hope and undivided attention. Jordan Belfort and his huge company were indeed taken down by the FBI and their own greed, but in the end they are let go with a slap on the wrist and then are allowed to push their wares in other ways, and we the people let this happen because we show no outrage, and instead we buy tickets to go see this asshole speak. This movie is not only an indictment of Belfort and his shitty amoral behavior, but also of us as well, because as a society we all want to be wealthy and successful, and Belfort represents this American Dream, even if it is the twisted, fucked up American Dream of late.
So anyway, "The Wolf of Wall Street" is great and people who want to talk about the glamorizing of the crimes or criminals in this movie have their heads so far up their own asses it is amazing that they could see the movie at all (and don't be surprised when EXTREME shitheads come along and shit on the movie without actually having seen it. Morons).
Click here to read my review of "The Wolf of Wall Street."
1. Her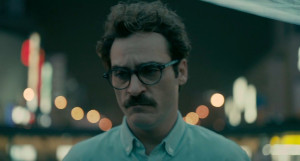 Is Spike Jonze's "Her" the most technically proficient or thrilling movie of 2013? Nope. Is it the most ambitious movie of 2013? Nope. Is it the most unique movie of the year? Nope. Then what is it?
For me at least, "Her" is the most satisfying and complete movie of 2013. It is a very meditative movie about relationships and how they evolve between people, even if these people are based on artificial intelligence and software. This movie is based heavily on emotion, as we are following around our melancholy and broken-hearted lead character, and his changing throughout the story and connection with his AI-based operating system Samantha is realistically realized in such a way that it just felt like Spike Jonze (and by extension Joaquin Phoenix) were both creating from a place of profound truth from deep within them. This movie made me made up, but these emotions and ideas are very real and palpable. This is the type of movie that can tell you more about yourself and how you interact with your own world, and movies like this are pretty rare. So thank goodness for Spike Jonze and for this movie because it is just wonderful.