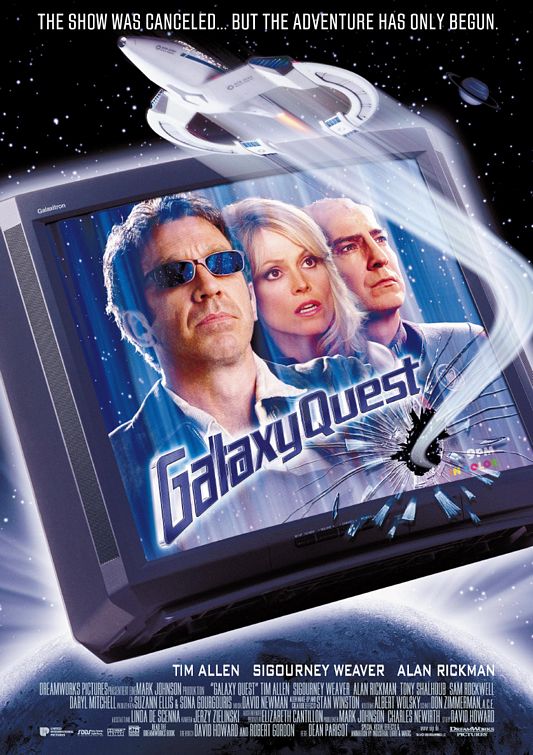 Loved by audiences, critics, Trekkies and actual "Star Trek" cast members, "Galaxy Quest" is one of those very rare spoof movies that actually works from start to finish. Satirizing not only the science fiction television shows and movies but also the culture and fandom that cropped up around them, this is a great sci-fi action comedy that actually has a little bit of pathos as well, making it an easy to like, enjoyable movie.
In "Galaxy Quest," a tv show of the same name was very popular in the 1970s, and almost twenty years after it went off the air, the show and its cast were both still incredibly popular. The cast, played by folks like Tim Allen and Sigourney Weaver, act nice to the fans but they resent the success of the show and how they can't eclipse their own roles. But when an alien race who doesn't understand the concept of fiction recruits the Galaxy Quest team to help them against an invading force a la "The Three Amigos" and "Seven Samurai," these folks find themselves thrust into the middle of an adventure worthy of one of their show's episodes. This movie is funny and smart, all the actors kill it, and there are even some great practical alien effects from the late, great Stan Winston. And then when they get to the end of the movie, you realize that actually snuck in a genuine, emotional little story in there as well that works great, giving this goofy satire an admirably sentimental little button. Basically, if you can't get with this movie, there's really nothing we can do for you. You are officially dead inside.
So enjoy "Galaxy Quest" right here on the Netflix Instant and enjoy!