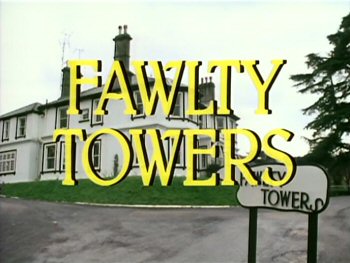 It is an historic moment for the Netflix Instant Pick of the Week, as we have our first non-movie pick, after all this time! Because while Netflix does indeed possess many cinematic titles for instant viewing, there is also a healthy amount of television shows to choose from, and this week's pick is a personal favorite, one that I know I can go to for a quick, hearty laugh, and that is the 1970's English situational comedy "Fawlty Towers."
Starring Monty Python member John Cleese (and co-created by him and his wife at the time Connie Booth), "Fawlty Towers" is set in a seaside hotel owned and operated by Basil Fawlty (Cleese) and his attempts to improve the standing of his hotel gets undermined at every turn, and often by his own arrogance and rude, boorish behavior which is apparent to everyone except him.
He is scared of his wife Sybil (Prunella Scales), he abuses his Spanish employee Manuel (Andrew Sachs) and he battles almost each and every guest that comes into his hotel. It's a fun show, one with little details and twists and turns in each episode that usually builds to a final scene in which it all comes together for one big gag (or a series of gags on top of each other) and really a bunch of these episodes are actually quite brilliant in how they used slight misunderstandings and seemingly simple scenarios to come to outlandish and over the top conclusions. It's the whole "examining the cracks between social issues" thing decades before Seinfeld and Curb Your Enthusiasm did the same thing.
And there are only 12 episodes of this series, just a mere two seasons worth! So if you haven't seen this show before, now is your time to check it out, but make sure you enjoy them, savor them, because it will be over before you know it. And if you've seen this before, then give it another go, because it really is worth it.
Click here to watch "Fawlty Towers" on the Netflix Instant and enjoy!