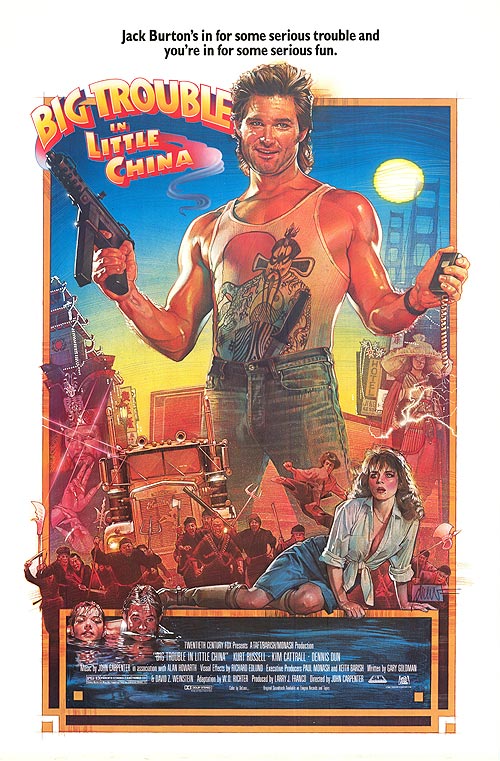 As heard in episode 191 of Cinema Crespodiso.
"Big Trouble In Little China" is a crazy 1986 fantasy action movie that takes place in the insane underworld of San Francisco's Chinatown, which includes magic, monsters, battles of energy and light beams and just general nuttiness. The fact that this is directed by John Carpenter and stars Kurt Russell makes it all that much better.
Initially conceived as a Western by the original screenwriters and then updated to a modern setting by a mandate from 20th Century Fox, John Carpenter was eventually brought on as a hired gun director due to his ability to work quickly, coming from the low budget indie movie world. Carpenter, for his part, saw a chance to take $25 million studio dollars and use it to make a martial arts movie, something he wanted to check off his bucket list. All of these decisions resulted in a film that was rushed into production (in order to beat "The Golden Child" to theaters) and left critics divided and audiences underwhelmed, and Fox lost money and Carpenter became disillusioned with the whole studio movie making system.
Three decades later and "Big Trouble In Little China" has amassed a deserved cult following due to the ridiculousness of what happens in the movie, the weird array of villains and and characters, the wild looking special effects which include a big hairy monster with a scary face and a floating eye and an exploding man, just the general imagination and fun on display in this off the wall action movie. It also helps that the movie is quick, the plot gets starts right away and it just rolls forward until it ends ninety minutes later, so there's no time to be bored, as the character are always addressing the matters at hand.
Kurt Russell is fantastic as always, here as the sidekick who thinks he's a hero, always making bad decisions and getting himself in situations he needs help out of, and it makes for a super fun inversion of the typical reluctant hero's journey. Also legendary James Hong as main villain Lo Pan? Come on, this guy is the best and he totally goes for it in this movie and it is super fun to watch this guy dig into a role that is bigger than he normally gets to do. I mean, from loyal butler in "Chinatown" to an immortal sorcerer who rules Chinatown's underworld? That's a big leap, and James Hong just owns this role and is so fantastic in it.
This is a fun movie, filled with lots of jokes and little surprises and should be an interesting discovery for you younger folk out there who wonder why 30-through 50-year olds worship Kurt Russell so much.
Watch "Big Trouble In Little China" here on the Netflix Instant and see the awesomeness of Jack Burton for yourself.