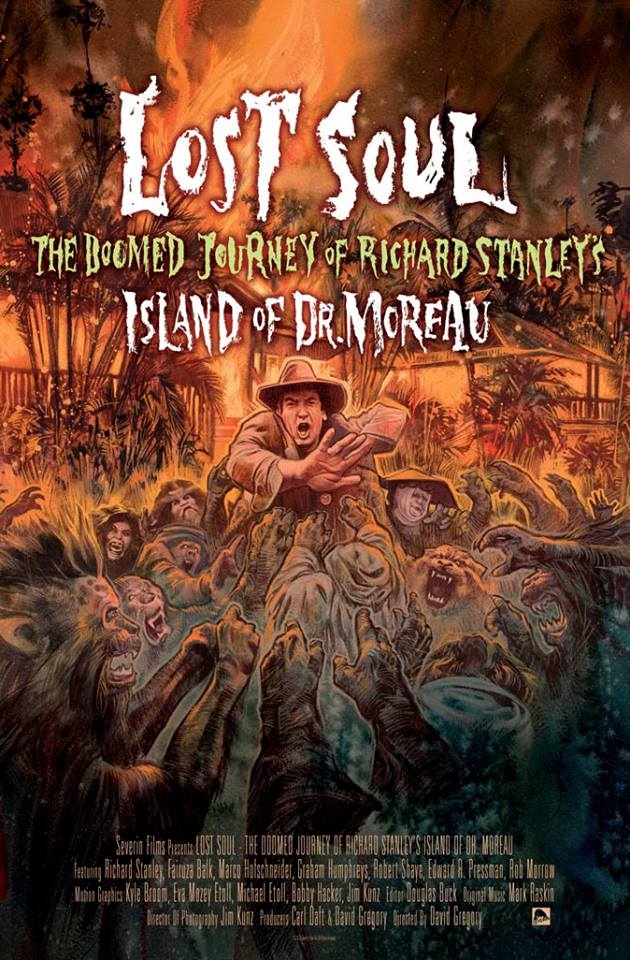 So most of us know that the 1996 film "The Island of Dr. Moreau," featuring an obese and eccentric Marlon Brando and a thin and unbearable Val Kilmer, is an unmitigated disaster of a movie, an unbelievable amount of money and effort put into something that came out so utterly terrible, truly one of the rarest of movies, the big budget cinematic trainwreck. But movies this bad aren't made in a vacuum, there is a reason for why it all went so wrong, and in "Lost Soul: The Doomed Journey of Richard Stanley's The Island of Dr. Moreau," we get an amazing detailing of the events and decisions that brought us such a poorly conceived movie.
Though poorly conceived doesn't really quite describe what happened, because as the beginning of this documentary tells us, writer/director Richard Stanley approached this newest cinematic version of the classic novel with lofty artistic ambitions – it may have been more like a case of a person's reach exceeding their grasp, as he spent four years developing a huge story with complex characters and intense adult themes, but when it came time to start shooting the actual movie, things just all went so horribly wrong. And Richard Stanley, father of the entire project, found himself getting fired off his own movie by the studio, and industry veteran John Frankenheimer came in to take his place, and naturally things just got worse from there.
Interviewing many people involved with the production, which includes Richard Stanley and his many insights to his original vision of the project as well as his admittance to resorting to black magic to try to get the movie made and how this may have backfired on him and caused the shitstorm to begin with, this is a very thorough and compelling look into what came to be known as one of the most bizarre movie productions of all time. Marlon Brando, still grieving from a personal loss, showed up on set more eccentric than ever and without knowing any dialogue, while Val Kilmer, who was himself in the throes of a nasty divorce playing out in the public, proved to be a nightmare to work with, regardless of which director was behind the camera. It turned into an insane endeavor, with the story being rewritten day to day, inclement weather causing delays, actors in open revolt, and the original director Richard Stanley in full make up hiding as a background extra on the set of the film from which he was fired. It was nuts, and this documentary talks about all it, and it is pretty damn great.
Watch "Lost Souls" here on Netflix and be careful what you wish for.