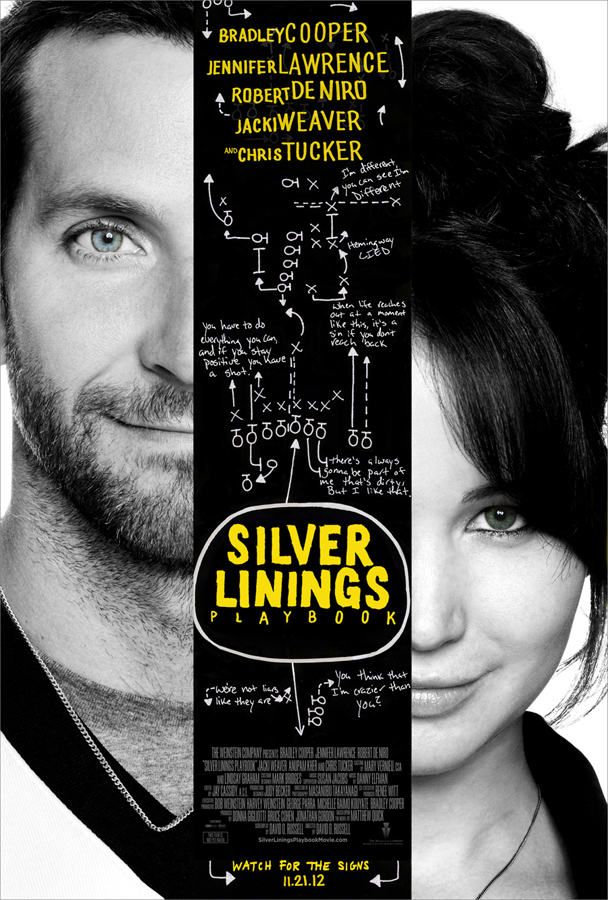 As heard in episode 163 of Cinema Crespodiso.
With "Silver Linings Playbook," writer and director David O. Russell found himself in the midst of what would end up being a three-movie run of highly acclaimed, commercially successful and critically lauded films. Squished between "true life" tales "The Fighter" and "American Hustle," with "Silver Linings Playbook" we got the story of a young man getting over a nervous breakdown connecting with a young woman battling her own personal demons and how these two damaged people were able to help each other through the powers of friendship, honesty and good old fashioned choreographed dance routines. This movie was very popular and well liked and it helped very much that there is a lot of great chemistry between this movie's lead actors, Bradley Cooper and Jennifer Lawrence.
In November 2012 I wrote about "Silver Linings Playbook" for Examiner.com and here is some of what I wrote at that time:
If there was just that much, "Silver Linings Playbook" would be a rote bore of a film, but there is a healthy dose of philosophical musings and conversations, both big and small, which shouldn't be a surprise considering this is from the guy who made the extremely philosophical and unfairly derided "I Heart Huckabees." But here it's like he combined those deeper ideas and headier approach with the more accessible style he utilized in the very well received "The Fighter," so it's not exclusively about it's own ideas, though they do really drive home the silver lining in every cloud idea over and over. There is also the return of Chris Tucker to movies that don't have the words rush or hour in the title, and it's nice to see him here doing something a little different and having fun with his role.

Considering that this movie is about mental illness and failed marriages and such heavily flawed people, it really is something that it could still end up being a crowd-pleasing romantic comedy. Like mentioned earlier with De Niro, there are a number of great performances in this movie, with Cooper and Lawrence having some really good on screen chemistry that makes it all come together in the end. However, while it is enjoyable, all of the "best picture of the year" talk seems a little overboard, as it still feels a little lightweight when compared to other films out now. Still, it is surprisingly easy to like despite the manic nature of most of the characters, and the story is kind of unconventional, though some of the plot turns and outcomes were pretty predictable. All in all a very good film.
So check out this movie for yourself right here on the Netflix Instant and enjoy all the screaming and yelling and dancing.