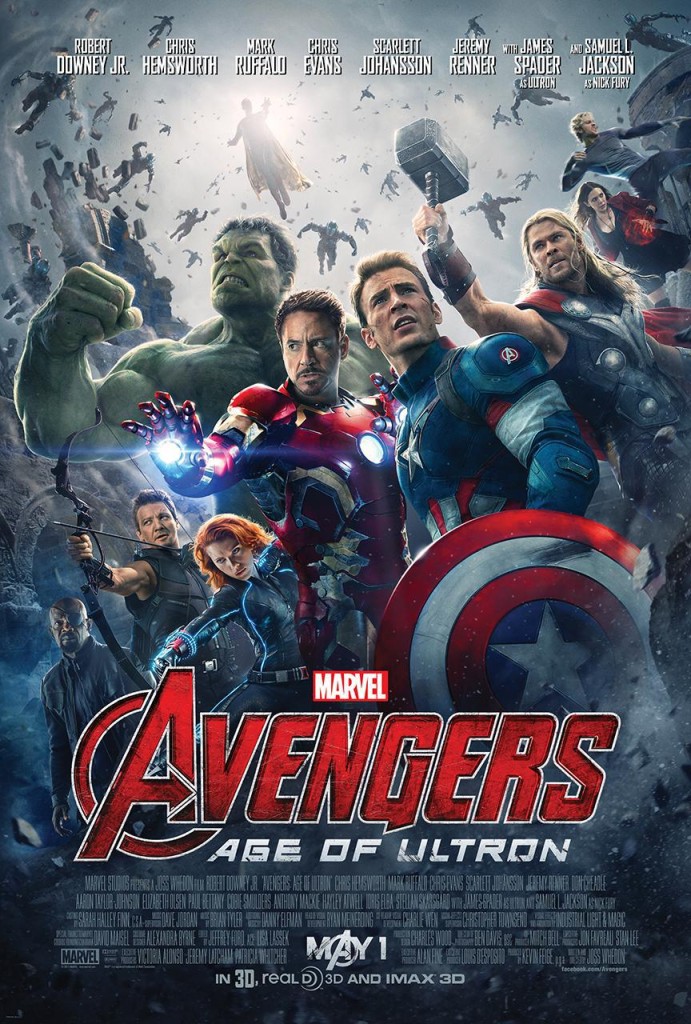 We've all seen the other Marvel movies right? We're all up on our "Iron Mans" and our "Thors" and we're all caught up on the continuing misadventures of Captain America? Because if not then why are you even bothering with this review of the sequel of the biggest comic book movie of all time? Okay, so we're all on the same page, I am not going to pretend you don't know the back stories and what not of all the characters, we'll just jump right into this review of "Avengers: Age of Ultron" without all the unnecessary preamble.
And you know what, that is the same approach the movie itself takes. It starts in the middle of an action scene, with all the Avengers working together as a team to infiltrate some random compound to retrieve Loki's scepter (introduced in prior Marvel movies). When they do, Tony Stark (Robert Downey Jr.) decides he's going all Cyberdyne on everyone and he uses the power in the scepter to create an artificial intelligence system designed to protect all of Earth and humanity.
But when this program, called Ultron (James Spader, being as James Spader-y as possible), comes online, it immediately decides that in order to fulfill his peacekeeping mission, he must destroy all of humanity so that the next phase of evolution can begin. With the help of a pair of "enhanced humans" (don't you DARE call them mutants!), Ultron sets out to destroy the world, while the Avengers have to figure out how to stop him.
That is pretty much the whole plot. Sure there are other things going on, like we learn a little about the home life of human avenger Hawkeye (Jeremy Renner), and the other 100% human of the group Black Widow (Scarlett Johnasson) has the hots for sometimes nerd scientist, sometimes raging machine of destruction Bruce Banner (Mark Ruffalo), and Captain America (Chris Evans) has a nagging feeling about "coming home," whatever that is all supposed to mean. Also Thor (Chris Hemsworth) has a vision about something bad happening back in his home realm of Asgard, so he goes on a cave quest to some special water that tells him about a fourth infinity stone. Stellan Skarsgård is apparently necessary for this last bit, but I don't really understand why. I don't think the movie does either. About two-thirds of the way through "Avengers: Age of Ultron," Thor breaks down his infinity stone vision to the other Avengers, and we the audience get essentially a powerpoint presentation on the stones, which is likely needed for many casual viewers because how are they supposed to remember the three plot MacGuffins from three previous movies, along with the big purple guy that now has approximately two and a half minutes of screen time spread out over three movies shown over the course of three years?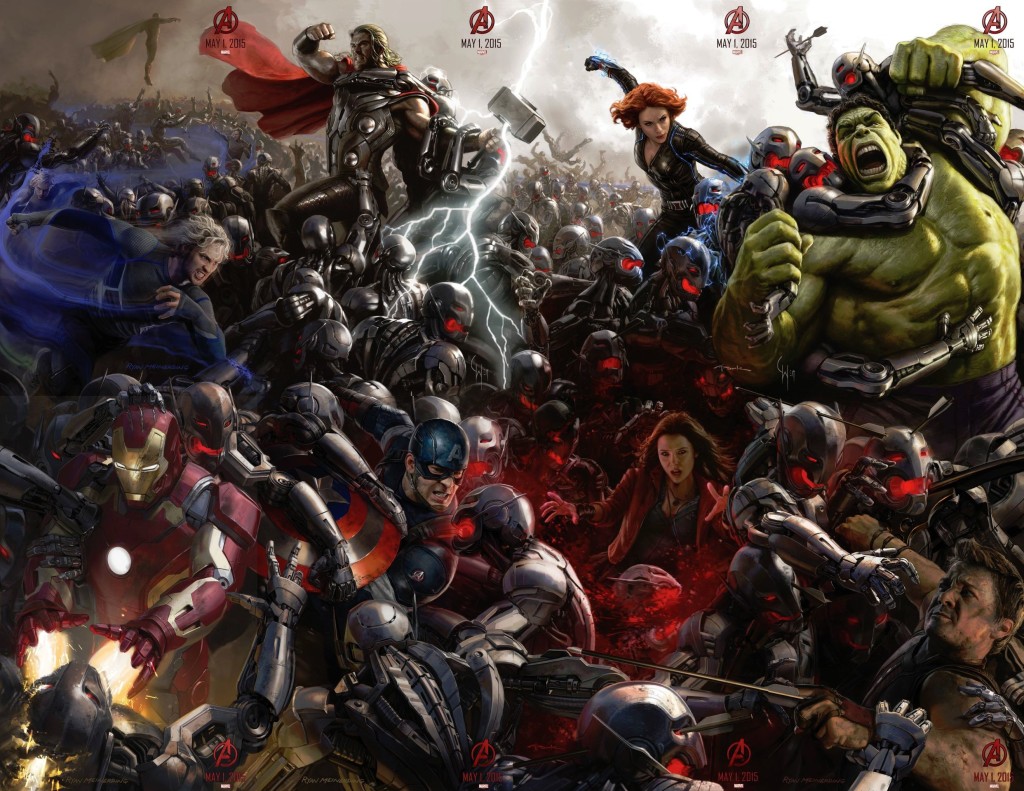 I am now realizing that it is pretty difficult to review "Avengers: Age of Ultron" in a vacuum, as much of this movie's plot hinges on items, characters and events from previous movies under the Marvel banner. Someone asked me recently if a person could just jump into this movie and understand it without being up on all the Marvel stuff that came before, and I really do not think that is possible. Stark wants to create Ultron because of his experience with the alien invasion via wormhole in the first "The Avengers" movie, and the power for Ultron comes from a piece of equipment from the villain of "Thor" and "The Avengers," and this villain was only able to start his attack on Earth because of an infinity stone that was introduced in "Captain America: The First Avenger," and this stone only matters when coupled with a red stone from "Thor: The Dark World" and a purple stone from "Guardians of the Galaxy," and the destruction of the Avengers' employer S.H.I.E.L.D. is often referenced in this movie, but that event happened in "Captain America: Winter Soldier" and was (apparently?) explored in the television series "Agents of S.H.I.E.L.D." so here we just have to go with the repercussions of this event as it directly affects our heroes. And then characters pop up here and there that get a weird amount of face time in a movie that is not about them at all, but that is because we're dealing with flashbacks to other movies and characters from television shows, so they somehow matter, even though they don't. And if you just jump straight into this movie without seeing the others, the short appearance of Samuel L. Jackson in an eye-patch will be confounding.
And it is not just that this movie relies so heavily on the movies that came before it, but it also is setting up future movies and television shows for Marvel. The big purple guy (called Thanos, played by Josh Brolin, and whose most interesting character trait is his fascination and adoration of the physical embodiment of DEATH) is going to be the main bad guy in a pair of movies set to come out in 2018 and 2019, and at least one more of these infinity stones will pop up as a main plot device in an upcoming Marvel movie (maybe 2016's "Doctor Strange" or 2017's "Guardians of the Galaxy 2?"). This film also serves to directly set up "Captain America: Civil War," which will be pretty much "Avengers 3" despite being the third "Captain America" movie. Also it appears that our villain for "Doctor Strange" will be set up in "Captain America: Civil War." Got that?
Also this movie may or may not feature Spider-Man. Because money.
So can this movie stand on its own? Frankly I don't know. I've seen all of the Marvel movies going back to "Iron Man" in 2008 at least once in the theaters, so I am relatively up on all my Marvel-related properties, plus I have cursory knowledge of what the Infinity War is, so when talk in the movie goes to things like "mind stones" I am not getting lost in the shuffle, but I can definitely see how others could. I am sure Marvel novices would find stuff to enjoy in certain scenes, like when Iron Man has to take down a rampaging Hulk, or many of the snarky jokes interspersed throughout the movie thanks to writer/director Joss Whedon and Robert Downey Jr.'s knack for witty improve and retorts and James Spader's most excellent and distinguishable droll persona. And the central story about man's hubris creating a monster goes back extremely far, and has been used in movies as recently as "Ex Machina" and the upcoming "Jurassic World," so I think this part of the film could be enjoyable to people without a working knowledge of Marvel's five-year release plan for all of their upcoming movies. It also helps that out of all the Marvel movies made in the last seven years, Ultron is easily the best and most compelling villain they portrayed in a film, the least generic one at least. Actually, of all the bad guys, he's the only one that thinks he is doing a good thing by killing off all of humanity, and that is always the best kind of movie villain, the one that is sure what he is doing is actually right and proper, despite all evidence to the contrary. Someone like Loki or that blue guy from "Guardians of the Galaxy" just want to rule whatever world they are in, they want to be the kings of their domains, and only because they are power hungry and for no other reason. At least here Ultron mistakenly believes he is being altruistic. If you want a real world analog, it is the difference between a goddamned human monster like Adolf Hitler or Dick Cheney, and a more nuanced, complex and complicated person like a George W. Bush or Ronald Reagan, people who screwed up the world they lived in but out of a misguided sense of "doing the right thing."
Since this is "just a comic book movie" (a phrase likely to set legions of fanboys into a frothing rage, lest their preferred medium of art be considered just as viable as all the others), and one that has characters that have been developed with several films EACH already, the quick-paced nature of "Avengers: Age of Ultron" pleased me. While it careens through the different plot points and introduced even more characters and locations, the story very rarely stops to take a break and catch a breath, and that is fine with me because I don't need much more character development at this point. We all get it, right? Can't we just get into the meat of this thing? Apparently there will be a much longer version of this movie when it hits home video, and I for one have no interest in seeing it at all. What on Earth could they have discussed that would make this movie more interesting? More time spent with Hawkeye's pregnant wife? More flirting between Black Widow and Hulk? More Thor skulking around in a cave? Additional scenes of Tony Stark debating Captain America about preemptive military measures? At two hours and twenty minutes, this is already a ton of movie, with lots of WHIZZ! BANG! peppered throughout, and slowing it all down to let it breathe more really isn't necessary for me at this point. I can just watch this one time, put it away forever, and get ready for the next Marvel outing. As a matter of fact, now that I think about it, I haven't had a desire to see any of the Marvel movies more than once since the original "Iron Man," and is it a coincidence that the first of all these movies was actually designed to stand alone and was developed prior to Marvel announcing their crazy ambitious plans to make a cohesive movie universe spread out over multiple film franchises?
Look…do you like these movies? Were you pleased with "The Avengers?" Do you remember that Robert Downey Jr. as Tony Stark is damn near as perfect as you can get? Are you actually looking forward to "Ant-Man?" Have you seen any of these movies in theaters more than once? Then you will be perfectly happy with this movie, if you haven't seen it already, and based on the fact that "Avengers: Age of Ultron" has the second highest grossing opening weekend of all time (behind only the original "The Avengers"), chances are very likely that you HAVE already seen this movie and you may have seen it TWICE by now, in which case I am sure you are at least mostly pleased with what you got, and that is if you don't already outright love this thing. It's got jokes, there's tons of action, and most importantly (to fans and mostly to Marvel and Disney) it sets up a bunch of future movies, all of which I am sure will be enjoyed immensely by the legions of fans who regularly turn out for these things.
Hail Hydra.