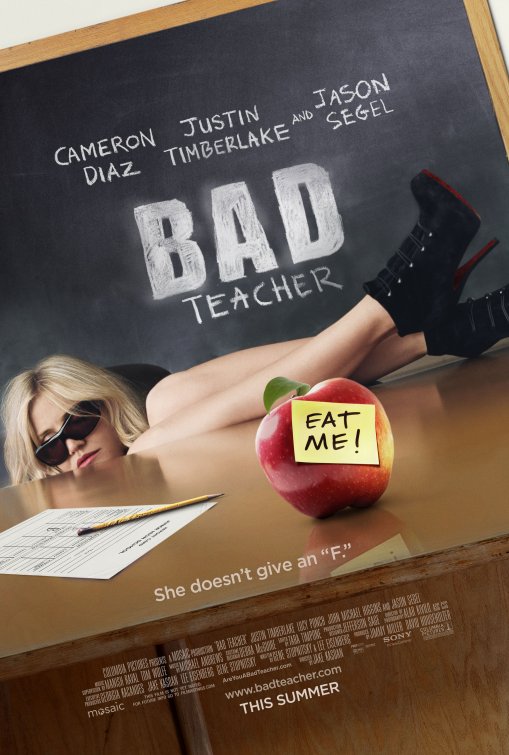 There are two types of crude humor usually employed in R-rated comedies these days. There's the disgusting gross out humor, you know, the poopy-related stuff usually found in your typical Farrelly brothers film or any number of urine or toilet based Austin Powers gags. And then there's the more sex-based crude humor, which involves jokes about oral sex and saying "tits" a lot, and the latter is where "Bad Teacher" traffics. What happens when you take a person pretty much unqualified to teach and put them in a room full of kids? Well, hilarity, for the most part.
In "Bad Teacher" we have Cameron Diaz going back to her comedy roots (lest we forget her star making roles in "The Mask" and "There's Something About Mary") and playing Elizabeth Halsey, a gold digger who took a teaching job only so she could skate by and focus on planning her wedding with her well off fiancé instead. But when the wedding falls through, she finds herself stuck in the school, struggling to get by and on the search for another wealthy guy to "take care of her."
Enter substitute teacher Scott Delacorte (Justin Timberlake), who just happens to be something of a wealthy guy, since he is the heir of a very well to do watch making company, and it doesn't hurt that he happens to look like Justin Timberlake. So Elizabeth pounces, only to be rebuffed because Scott is still getting over his big-breasted girlfriend, which leads Elizabeth to believe that she needs some big ole fake-o's to win this guy over.
So the crux of the movie is Elizabeth trying to scam money for a boob job and trying to win over the Scott guy. And before we get to Elizabeth, it should be noted that Scott is kind of an unbelievable character. First off, he is incredibly pretentious despite being utterly clueless, and Timberlake injects so much earnestness into his performance that it comes across more as mugging than acting. And then there is the ridiculous idea that an heir to great family wealth (and apparently great family genes) will be satisfied with life by being a substitute teacher for a small random suburban school. This ain't happening. Guess what, if you are rich and you look like Justin Timberlake, you roll like Justin Timberlake. JT ain't a substitute teacher, is he? Hell no. He's living his dreams and making more money. So Scott is just a stupid character, which is fine though, because it's not his movie.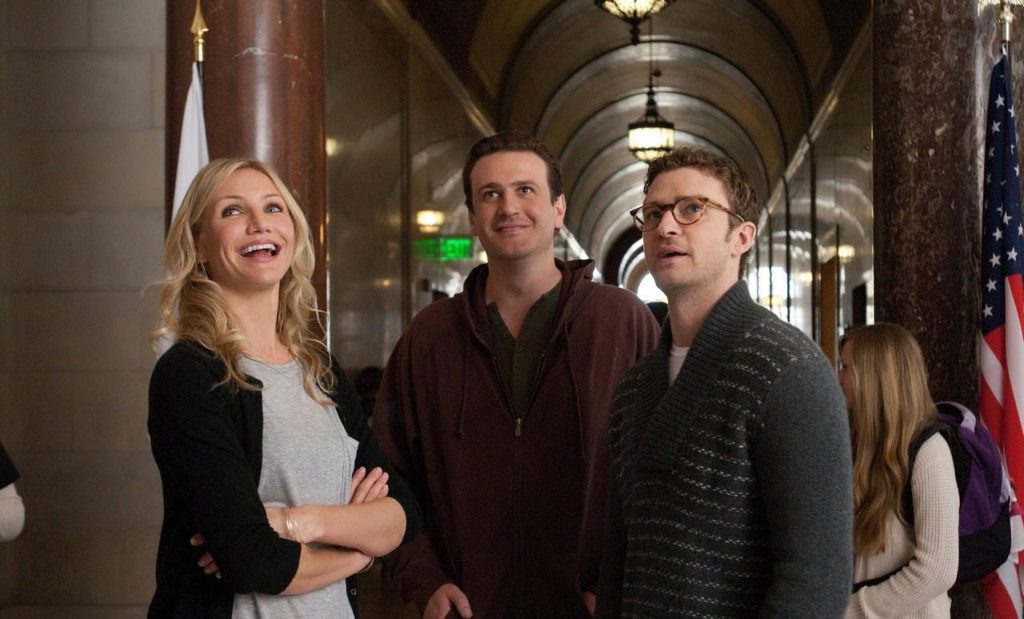 This movie is the inverse of the normal "jerky guy meets nice girl and changes into a better person" bit, so Elizabeth is the jerky chick who gets slowly won over by the nice guy. And if you don't see this coming from a mile away, then you have never seen a movie before in your life. As a matter of fact, much of this movie is fairly predictable, just in an R-rated and crude fashion, and it's really nothing you haven't seen before (unless you haven't seen Cameron Diaz smoke weed in a snow covered car, in which case, this movie has that). So just take your typical bad boy movie and put Diaz in the lead and you have Bad Teacher. Elizabeth doesn't tolerate stupidity, brown nosing, or boring people in general, and this makes her all seem like a real bitch. And maybe she is, but she's also a decent person to other people. Well, to degrees anyway. She pals around with coworker Lynn (Phyllis Smith), whom she kind of takes advantage of at times, but also helps her to break out of her shell and become a little more forward with the opposite sex. And then there's gym teacher Russell (Jason Segel), the one normal guy in the whole movie, who still finds himself getting into shouting matches with children over the greatest of Michael Jordan, and who is determined to win over the seemingly icy Elizabeth, and it's damn impossible even for her to resist his easy-going charm and their mutual affection for marijuana.
The humor is there, though it's not exactly a knock 'em down type of comedy, just a lot of good jokes that work, and a lot of humor based on Elizabeth mistreating the children (nothing like watching a teacher spit out the cookies given to her by a kiss ass student). The movie definitely succeeds based mostly on the strong cast. Aside from all the people already mentioned, there is also Lucy Punch as the rival teacher and the very funny John Michael Higgins as the school principal with an uncomfortable level of love for dolphins. And Jake Kasdan (son of Lawrence) is a good comedy director – between this and "Walk Hard: The Dewey Cox Story," he shows confidence in his abilities to stick with a comedic tone for an entire film and run it. There are moments in this movie where he could have pulled back, maybe try to make Elizabeth more "likable," but he stuck with his guns and makes for a good movie.