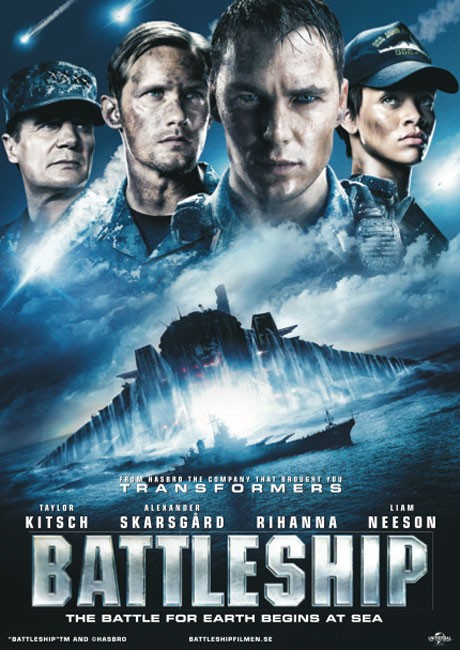 Let's get this out of the way, right up front: we all know "Battleship" is preposterously based on a plotless, characterless board game that involves yelling out random letters and numbers, so to expect a good movie out of this would seem to be a fool's errand. With the whole thing reeking of "cashing in," thanks to the ridiculous financial success of another film franchise based on a toyline, maybe it doesn't even need to be said that "Battleship" is a dumb, spectacle-first, story-last, explosion laden, typical summer hunk of crap of the first order. But then again, who said it had to be this way?
Though Battleship: the Board Game is itself a truly iconic game, spanning generations and entertaining everyone with it's simple yet addictive mechanics, there really is very little about the game that one would expect in a feature film. There's the grid structure and guessing dynamic of the game, and the catch phrase "You sunk my battleship," and that's it. So theoretically, it would actually be pretty simple to come up with a naval based story that somehow incorporates these elements, and on paper, Peter Berg and writers Jon and Erich Hoeber's approach of using an alien menace as the antagonists is fairly brilliant, allowing them to come up with alien technology in their story that would necessitate the use of the board game's well known game play and also giving them plenty of room to come up with their own characters and story arcs; with such a blank slate to work with, these guys really could have told any story they wanted to, all dressed up in the guise of blockbuster entertainment.
Which is why it is actually disappointing that this is what they came up with – in 2005, NASA discovers a distant planet that can possibly have life, and they start shooting signals at it through the space, in hopes of making contact. And in 2012, they get a response in the form of an alien invasion off the coast of Hawaii. At the same time, slacker Alex Hopper (Taylor Kitsch) is busy wasting his talents and exhibiting poor leadership qualities in the Navy. We know this because we are told several times by different characters that Hopper is wasting his talents and exhibits poor leadership qualities. And he wants to marry his girlfriend Samantha (Brooklyn Decker), but apparently she insists that he ask her father for permission first. The problem is that her father is Alex's boss, Admiral Shane (Liam Neeson), and he has made it well known that he thinks Alex is wasting his talents and exhibits poor leadership qualities.
Then the men go on a Naval exercise in the waters while Samantha does some physical therapy stuff with wounded veterans, and their exercise coincides with the alien invasion. That's the first 15 minutes or so of the movie. The rest of the film is just humans versus aliens at sea, and that's it. Alex predictably gets his opportunity to use those wasted talents and exhibit actual leadership qualities, Liam Neeson disappears for about an hour or more of screen time, and a whole lot of things get blown up in very spectacular fashion.
Once the action starts, it pretty much doesn't stop, as "Battleship" is rather unrelenting in its destruction of aircraft carriers and destroyers, as well as a nice chunk of Hong Kong, and there's even a decent amount of humans versus aliens in hand to hand combat. Which brings us to the aliens themselves – it looks like a simple colonization, starting with this scouting mission of a very small fleet of ships, and we get an eyeful of these aliens, who come across as a humanoid lizards in fancy spacesuits, and once their helmets come off, we discover that these are apparently douchebag aliens because they all have big stupid goatees made of quills. And they seem to serve no function other than to show their douchebaggery (as if their desired colonization of Earth wasn't enough). The one thing that "Battleship" does accomplish over other alien invasion movies? It manages to up the quotient on aliens getting punched in the face. So good work there.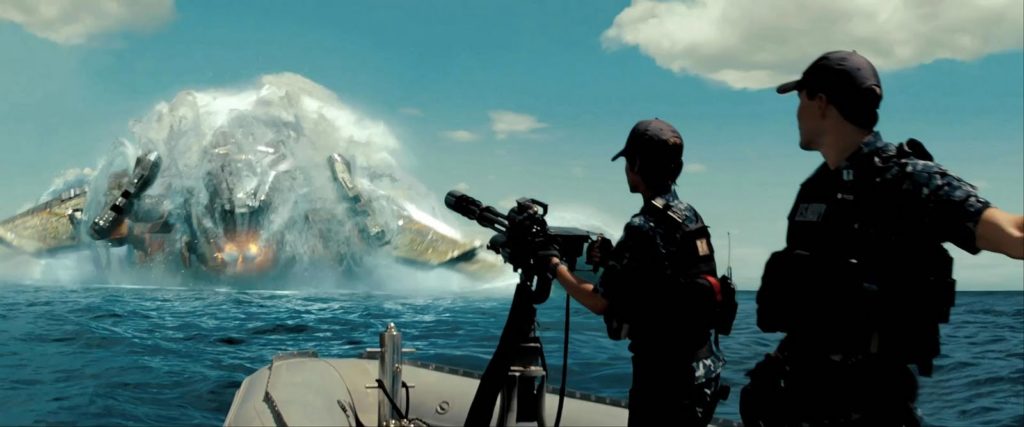 Oh, and about those characters and story arcs they set up in the first fifteen minutes? Pointless. The entire plot at sea unfolds regardless of what came before it or what happens when it is all said and done. The main character of Alex grows but only because he is forced to, and all other characters completely fall to the wayside, totally unimportant in the long run and providing nothing of value. For example, there's the character of Petty Officer Cora Waikes, who is distinguishable from all the other characters solely due to the fact that she is played in the movie by pop superstar Rihanna; outside of this one fact, this character offers nothing to the story, and it is actually incredibly illogical for this Petty Officer who only monitors a radar to constantly be in the thick of the all of the action, and also doing nothing of consequence in any of this action.
This character could have been played by anyone, it is that thinly sketched out, and Rihanna brings nothing to the table to make the character interesting or unique in any way whatsoever. The one noticeable thing about this character? She's the only one who manages to keep her Naval cap on the entire film, from start to finish, including when she plunges into the sea, she keeps that thing on and never lets it go. This couldn't be because she has a gigantic forehead that needs hiding, is it? This is the Navy, after all, don't need confused jet pilots trying to land their planes on her face, mistaking it for an aircraft carrier.
So while there was a blank slate to work with, the story and characters that were conjured up here and all worthless and boring, which makes all the subsequent action hollow and soulless. There is no reason to care about these people or what happens to them, and really there is no reason to care about anything in this movie. So did they at least get those few iconic Battleship elements in there? They did work in the grid, guessing game aspect pretty well, and it's not entirely laughable in how it plays out, but it does end up resulting in a scene that itself is unnecessary and just works as filler. And weirdly, no one says "You sunk my battleship" in this movie, though one character does say something along the lines of "You ain't gonna sink this battleship" or something like that, which is kind of stupid, but I guess working in that phrase would have been stupid anyway.
"Battleship" is pretty much a complete hunk of hell, load and obnoxious and ugly, and it manages to be overly patriotic in a way that just comes across as uncomfortable – sure it's just a dumb blockbuster based on a board game, but that doesn't mean they had to give us this piece of shit to choke down. A movie can be big, dumb fun without being insulting and an overall waste of everyone's time, and unfortunately "Battleship" is definitely not this movie.