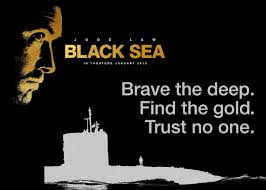 In "Black Sea," we have a classic men on a mission set up, coupled with a "gold/green can change a man" story as well as some apparent anger over the haves and the have-nots, all of this done in the guise of a submarine-based thriller, which is a genre of movie making that is not nearly explored enough. The inherent tension of such a situation is already enough for drama, but then you add in a story involving gold and betrayal and murder and you have a pretty damn good movie.
"Black Sea" starts with Robinson (Jude Law) losing his job as a submarine driver for a salvage company. Getting laid off, with a meager settlement from the company and a lack of pension, leaves him reeling a little. Having already lost his family when his wife took his kids and left him because he was spending too much time on the job, the added pressure of losing his job and not being able to find another one is too much for him. So when a shady job comes around involving a downed Nazi submarine possibly filled with gold, Robinson is ready to take the risk to go get it. He gets an old shitty Russian sub and a crew of half Russians and half Brits (plus one American) and they all head into the Black Sea, in search of this buried treasure while trying to evade the Russian fleet above them.
After an okay start to the trip, tensions start mounting pretty quickly between the English and the Russians, thanks in no small part to the language barrier between them. When very skilled but obviously psychopathic diver Fraser (Ben Mendelsohn) starts grumbling about how the even share of the money among all of the crew members was somehow not fair, it starts driving a wedge between the two groups, a wedge that would become only deeper as the story progresses. But what happens when the shit really hits the fan and these two groups have to start working together again just to survive? And then what happens when the idea of being rich and obtaining a lot of gold starts infecting their minds? There are definitely some echoes of "The Treasure of the Sierra Madre" here; as Robinson risks his crew and their lives over and over, you can almost hear Walter Huston in the background talking about how he's seen gold change men's souls.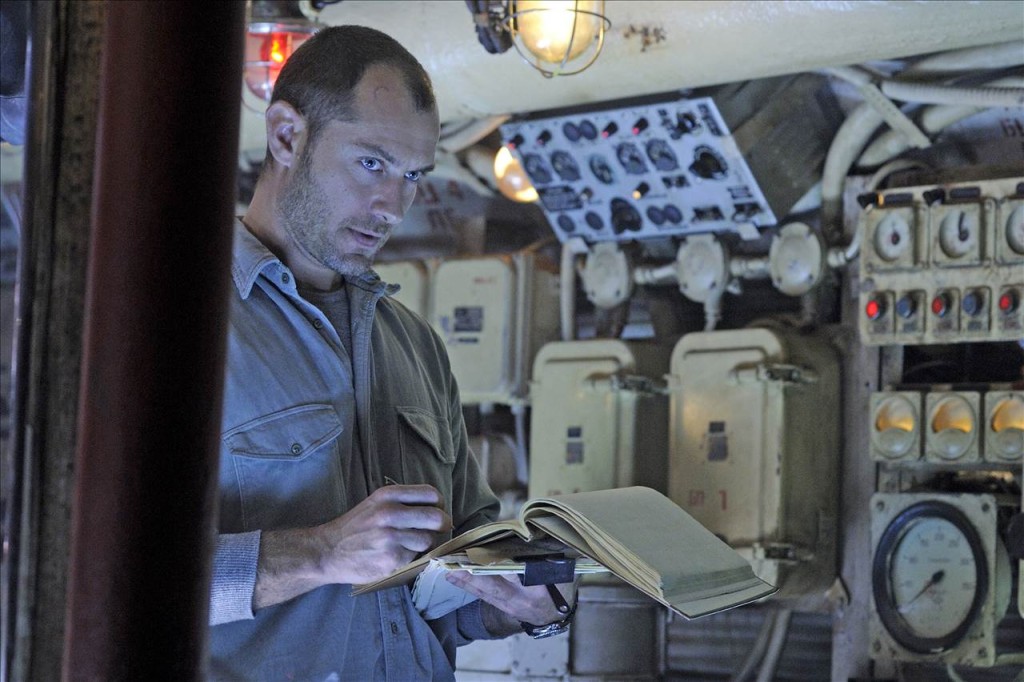 This movie is all about that tension that keeps building. Submarine movies are perfect for this because of the tight quarters and claustrophobia induced by the setting, and on top of that, just the idea of being in a sub so deep in a sea or ocean, at a place where humans could not live without the protection provided by the sub itself, is unnerving when you think about it. What happens if there is a quarrel on the sub? Or someone gets hurt? Or any number of terrible things? Where can they go? They are DEEP underwater and have no place to go or run to, this is IT. And it's not like these sub excursions are for an afternoon, these folks are taking an afternoon trip around the bay, they are in their for very long stretches of time, and THAT can take its toll on a person already normally, let alone if it is also for an illegal mission which can involve possibly millions of dollars. Forget about it then, it would be a miracle if most of these guys DIDN'T end up killing each other.
Robinson is the leader of this rag tag group, but the other crew members get their moments and some defining characteristics, which obviously helps with the drama and tension. Everyone is doing great work here and it becomes pretty fascinating to see how each person reacts to each situation and how they change and evolve over the story, because this is the kind of story where people start out as assholes but then something happens that humanizes them and then before long they become the voice of reason on the sub, while the levelheaded and in charge folks in the beginning go in the other direction and start to lose it.
There is also some stuff in this movie about how most of the men contracted to work on the sub had all somehow been victims of big corporations and downsizing, a total 1% vs 99% kind of feeling, but really it doesn't really seem to tie into the rest of the movie that much. It works as good enough motivation for Robinson and the men to go on this insane mission to make a lot of money, but otherwise it does not feel like the movie is making some grand statement about this class disparity situation, it is really just there as some coloring and a motive and that's it. That's not a bad thing, really, it is just the way it is.
The movie also tries to build to a big emotional pay off, and it really isn't there, though the ending is not overly sweet or overly grim either. They tried to find a balance to not make this movie a big old bummer but also not give it some bullshit sappy "Hollywood" ending, and while they did manage to strike that balance between the two, it also didn't really resonate that much with me, but that may be because I was way more into the situation the characters found themselves in and the crazy mission they were on and the problems that came up, as opposed to whether or not Robinson was going to have the money to support his kids or who was going to go home with the gold. So "Black Sea" is a good movie, quite good, though not great. Definitely the type of movie that people will enjoy but not necessarily one that will be remembered for years to come. It will be more like "hey, remember that pretty good Jude Law submarine movie from a few years ago" kind of talk regarding this movie. And that's okay. They can't all be "Das Boot."