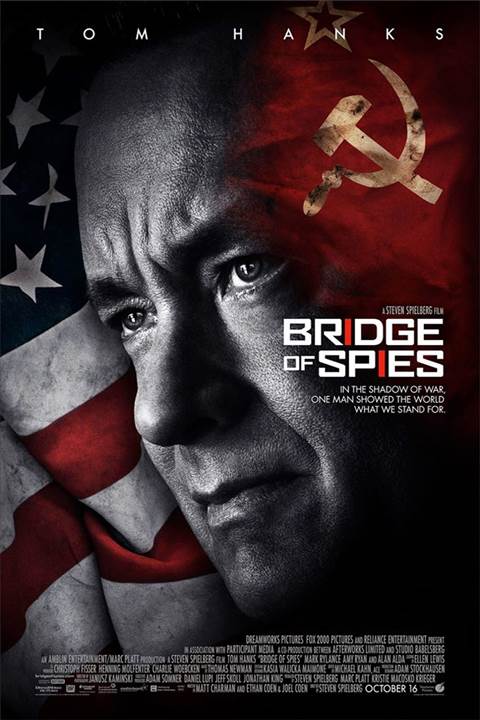 Based on a pretty amazing true story, "Bridge of Spies" is an old school style Cold War era thriller, a movie about spies and geopolitical tensions and the ominous specter of a full blown thermonuclear war threatening to break out at any moment, but more specifically it is about some of the hidden and secretive actions of rival governments, and also how these governments view the populace and use them to their own ends, and how the populace could in term actually find a way to use their governments.
James Donovan (Tom Hanks) is a successful insurance lawyer at a large law firm in New York City, and one day he shows up to work to find that he has been elected by seemingly every other lawyer in New York to be the defense counselor for Rudolf Abel (Mark Rylance), a man arrested and charged with multiple counts of espionage and accused of being a Soviet spy. Drawing the short straw, he in convinced rather easily that this is in the best interest of the justice system itself, as it needs to appear obvious to everyone that this accused Soviet spy is still getting the full benefit of the American constitution, and Donovan sets out defend this man, all the while suffering anger and vitriol from the public at large.
Meanwhile, several young men are groomed to be spy pilots for the CIA, and one of them gets shot down by the Soviets in his first mission, at which point he ends up in enemy hands along with their secret spy plane technology. So Donovan, having defended Abel, is brought in to do a secret back channel negotiation with the Soviet government to exchange their accused spies, and this negotiation has to take place in East Berlin in Germany, which is made even trickier by the fact that this is going down at the exact same time the Berlin Wall was going up, and East Berlin was becoming more and more lawless as time went on, which wasn't good news for Donovan, who was there in secret and without official U.S. status, meaning he was essentially on his own. And then Donovan finds out that an American student studying in Germany was arrested and accused of being a spy, and he took it upon himself to engage in a 3-way negotiation for both Americans, while the CIA kept telling him to forget the student, they just want their spy pilot back.
Tom Hanks is obviously great casting for this movie, because James Donovan is a man of conviction, he feels he knows the differences between right and wrong, as well as what is possible and what is not, and doesn't let anyone tell him what he can and can't do in terms of what he feels is "the right thing." Whether he has people questioning his motives for defending an accused Soviet spy or whether he is arguing to his own government that two different Americans are of equal importance, regardless of what one knows and the other does not, so that the "hero" of this story is this one person. We are not rooting for the American government, we are rooting for him, and as a matter of fact, the American government does not treat him well and regularly shoots down his idea to negotiate for the imprisoned student as well.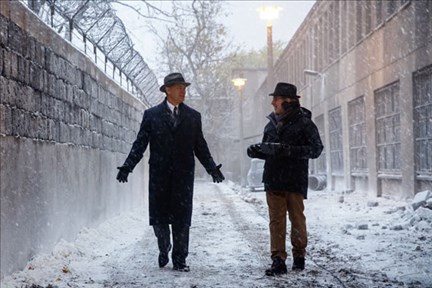 So this movie is very much about these institutions put into place, meant to govern the people and make life something worth living for everyone involved, but when it comes right down to it, these institutions, these governments, have no problem with using their citizens for their own gains, relegating them to the status of pawns. When the lawyer is tasked with defending the spy so that the America justice system appears to be on the up and up, that lawyer finds himself the most hated person in the country (while simultaneously discovering the cracks in the system he was chosen to cover up). When pilots are recruited for spy missions, they are instructed to kill themselves if captured, lest the secrets of one government fall into the hands of the other. This "for the greater good" mentality is what leads to the small, almost unseen rights violations and abuses that can happen in the pursuit of larger, idealistic goals, and when it is your own government doing this stuff, who can you report them to? Who can provide help? Sometimes, like Donovan finds out, you have to help yourself, and with some ingenuity, maybe even get the government to actually work for you, instead of the other way around. What a novel idea.
Being a Steven Spielberg movie, "Bridge of Spies" has an old school cinematic feel to it, as the cold war films of the 50s and 60s are reflected in this movie's style and substance. Instead of the antiheroes of the 1970s or the James Bond level spy antics of the 80s through present, we have a drama about people, being tasked to do something that is questionable, and turning it into something that is unquestionably the right thing to do. Spielberg has shown little desire in the past for cinematic ambiguity, especially when it comes to the moral ground of his characters, so for every "Munich" he makes, he has "Schindler's List," "Saving Private Ryan," "Amistad," "The Color Purple," and now "Bridge of Spies." For James Donovan, there is very little gray area, he knows what is right and what is wrong and he tries to do what is right, and this movie never tells us otherwise, we are all sided with him on his desire to go against his own government's orders in order to do the right thing.
And of course since this is Spielberg the movie is expertly made, with some classic Spielberg-isms, like the one-take digital camera work in the scene of the spy plane being shot down, which is 100% pure Spielberg, the kind of grandiose camera move that still doesn't call attention to itself but instead shows us what we need to know and increases the dramatics and tension considerably as we watch these things play out in longer takes. He has a knack for indelible imagery (duh) and he uses that to great effect here.
An interesting and well told story, "Bridge of Spies" is a reliable Spielberg-Hanks team up, exactly the kind of thing we'd expect from the teaming up of these particular artists to tell this kind of story. It all comes together very nicely.