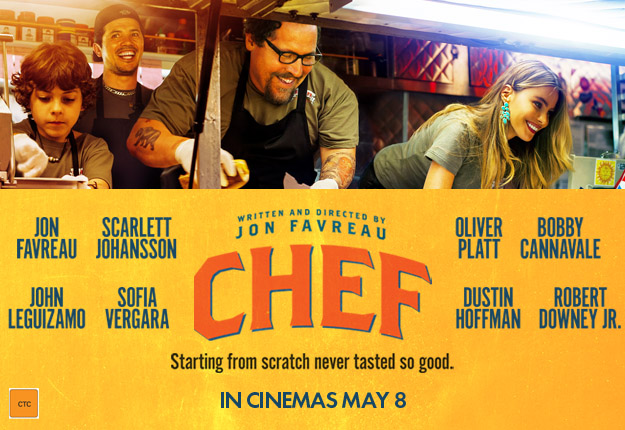 "Chef" is Jon Favreau's answer to the corporate-backed, big budgeted, special effects laden behemoth blockbusters which seem to choke the multiplexes every summer, a couple of which he had his own hand in creating. But like many artists he longed to get back to his more humble roots in order to express more creative and artistic freedom and he was able to do so with this movie about a renowned chef who gets his own second chance at being happy with his work.
In "Chef," Favreau plays Carl Casper, a chef who made a splash in his younger days with some daring food but who has hit a rut in his later years, having worked in the same restaurant making the same food for the same pain in the ass owner (Dustin Hoffman) for too many years, and when he tries to change the menu and do something a little different and daring, he gets push back from the owner and finds himself out the door.
Throw on top of this a little blow up on Twitter when Carl Casper finds himself in a flame war with a food critic (Oliver Platt) and he suddenly finds himself without not only a job but no prospects as well. After spending so many years as a well regarded and critically liked foodie wunderkind, he finds himself not only creatively in a hole but also depressed about the direction of his career and culinary output. And when he gets broken down all the way, he finds the best way for him to get back up is to get into business for himself, and what's one way for a down and out chef to start his own business? Food trucks, of course.
It is easy to see the parallels in this story with Jon Favreau's own exit as director of the "Iron Man" movies, having either left or been pushed out by his corporate overlords after "Iron Man 2," and going from making something that is supposed to appeal to as many people as possible to making something that appeals to him, with the hopes that others will still be able to appreciate what he does make, even if its not something that people would expect. Whether we're talking about movies or food or anything that people create for business or pleasure, this is something can we all can relate to, as we all want the opportunity to express ourselves in whatever ways we can, especially if we can do it in a way that would allow us to make a living.
But that's not all that "Chef" is about, because not only does it cover the artistic aspects of cooking, as well as touching a little on the business realities of working on a kitchen,  but it also gets into the life of the chef, a profession known for harboring workaholics who often put everything in their lives second to their kitchen. And while Chef Casper is a nice guy and definitely appears to mean well, he's also kind of a shitty parent because he barely spends any time with his son (Emjay Anthony) and when he does get to see him – of course only after being late to pick him up in the first place – he usually tells him they have to cancel plans because he needs to do stuff for work. Work always comes first for Chef Casper, and while that may be good for his career and his passion, it is bad for his day to day life. That's why we clearly are shown how he keeps his work area absolutely spotless while his Venice apartment is a dingy, sloppy mess. So while he has to get his professional life back on track, he finds that he also needs to use this time to get his actual life back on track as well, which means he has to spend more time with his son and his ex-wife (Sofia Vergara), which in this case actually seems to be a good thing, as we get the sense that the marriage fell apart mostly because of Chef's devotion to his job.
So this movie is not only a foodie movie, with lots of close ups of food and the cooking process, and not only about a man reigniting his passion for what he loves, but it is also a family comedy-drama, a story about a father and son reconnecting after the divorce led to some problems. And then it doesn't end there, because halfway through this film "Chef" becomes a road movie, as we travel with the characters from Miami to New Orleans to Austin and finally back to Los Angeles, and the characteristics of each town get showcased and used quite well, especially the music and food of each region, and it is really fun to watch this journey and be a part of it. And then there is also the whole social media thing, which was integrated quite well into this movie, because they show how some folks who don't exactly get what these services do can easily get themselves in some trouble in this new modern age of communication. Also they smartly show that the 10-year old kid knows WAY more about social media and how to use it then the older guys who may be a little behind the times. Smart stuff.
So "Chef" ends up being a mix of a bunch of different types of movies and styles, which makes it unique in its presentation and definitely a product of the artist who put it together, and it definitely completes the parallel of Favreau doing better work without having to answer to huge corporate overlords and instead being able make what he wanted to make, surely with much less resources and support, but that doesn't matter because he got to make his movie his way and it shows in a good way. "Chef" is a very good movie, with a real strong emotional center built on the father-son relationship, and all the other aspects slapped on this center make the movie all work quite well.