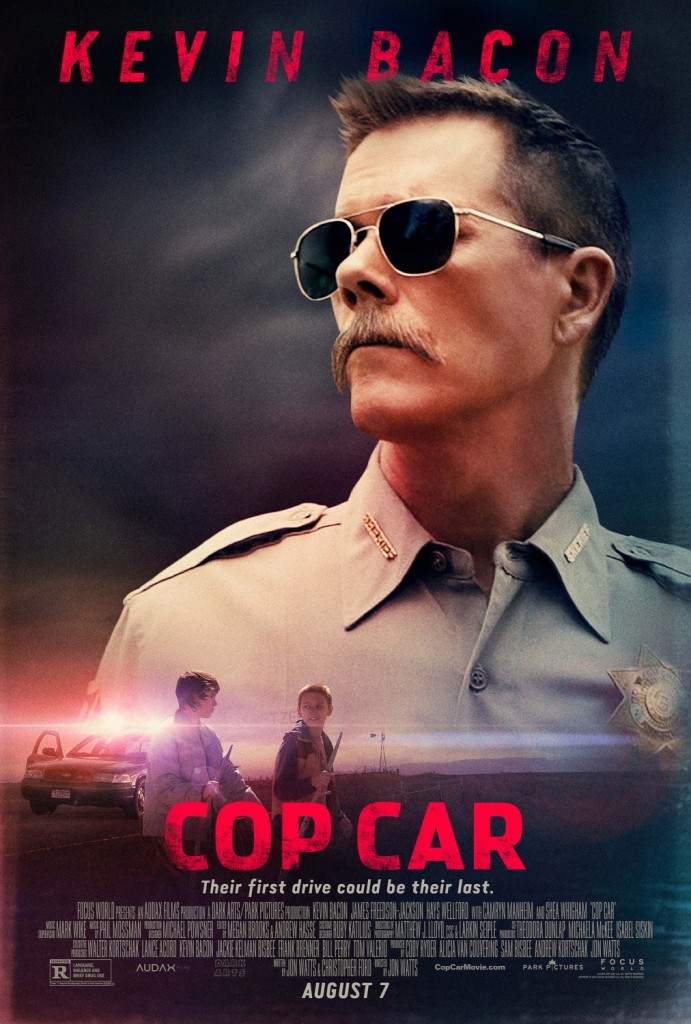 Of course movies with twisty plots and lots of surprises and out of left field decisions and choices can be very fun and exciting, almost all of us enjoy stories with lots of characters and little subplots that add up to a bigger story that seems like it took months and months to craft into something so ingenious. However it is equally delightful when a movie comes around that is simple in story and execution and still leaves us feeling exhilarated from what we saw, maybe even more, and "Cop Car" definitely fits this latter category, as it is a short, simple tale, yet one that is involving and so well done that is becomes very suspenseful as well as quite funny, so when it is all said and done it feels like a lot still happened.
"Cop Car" is the story of what happens when two young kids in Colorado steal a sheriff's cruiser and take it for a joyride, and what that Sheriff (Kevin Bacon) does to get it back, as well as why he wants it back so bad (outside of it being his police cruiser and him being the sheriff and all that). And that really is it. We learn pretty early on that the two boys are runaways, though we don't know what they are running away from or why, and we really don't learn all that much about the Sheriff either. We are told just what we need to know, which is enough, and it works pretty damn well.
The movie itself can be considered a dark comedy, as there are definitely some jokes and humorous moments, though I wouldn't call it an outright comedy because it still gets kind of bleak and dark quite often. We understand early on that the Sheriff is not a good dude, and while there isn't much of it, the violence in this movie is drastic and painful. In terms of mixing tones, this movie is kind of like a mix of Terrence Malick's "Badlands," the Coens' "Blood Simple," and Jeff Nichols' "Mud," in that it has the slower pacing and beautiful cinematography of the first movie, the humor and violence of the second, and the sense of Americana cinema of the third, which is all obviously very nice company to be in.
Despite the story being "simple," there is still some nice thematic stuff going on. Right away the two main characters of the boys are introduced by one of them saying a cuss word and the other one repeating the word, as if he was being taught all the "naughty" words, and he even hesitates at "fuck" because of his sense of right and wrong, instilled in him by whoever raised him, and which is being corrupted by his friend. So this movie is about that loss of innocence of childhood and youth, which happens to these two kids when they decide they need to runaway and go live in the real world on their own, something they are very obviously unprepared to do considering their incredibly young ages and worldly inexperience (proficiency with curse words or not). Many people have felt the urge to leave the nest and to go out into the world, strike out on their own, and many of THOSE people end up getting a bucket of ice water to the face, shocked by encountering such a dangerous and awful place from which they were unwittingly sheltered for so long; people find that the fooling around and jokes that they got away with as kids don't fly with real adults, the kind that don't mind hurting you or screwing you over so they can get theirs, because that's the world we live in. Sure, not everyone is like that, but some people are, and we all cross paths at one point or another.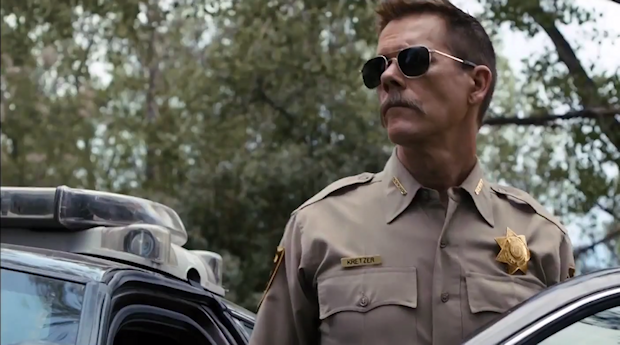 And that is what happened to these two kids. They ran away, obviously thought they could handle what was out there, and then they did the wrong thing and they face very real, very hurtful consequences to their actions, with no one to bail them out or protect them. Welcome to life, kiddos.
Did I mention that Kevin Bacon is totally awesome in this? Because he kills it as the Sheriff, sweet talking the dispatcher and every day citizens while turning on the menace when needed, and he's just great. He's just a guy who wants his car back and he wants to get it back without having to tell anyone it got stolen to begin with. Is that such a bad thing? Well, no…but it hides something bad, something he doesn't want anyone to know, and the possibility of this information getting out there because of the two kids is enough to make him a very dangerous person, and he stalks this movie like imminent death, a Very Bad Thing just waiting to happen.
This is a very enjoyable movie, simple yet effective, and sometimes you can't ask for more than that.