"Dope" has a common and basic skeleton of a story that should be instantly familiar to just about everyone. We've all heard stories and read books and seen movies and TV shows about a "good" person stuck in a bad situation, who usually has to resort to something they normally wouldn't do in order to survive. Whether its a kid growing up in a bad neighborhood or a person working for a shady company or a person stuck with their shitty family, this is a go-to story because it is quite common and often relatable. What sets "Dope" apart is the specifics, the details, the little things that all add up to give this particular movie its own identity.
"Dope" centers on Malcolm (Shameik Moore), a high school senior living in a stereotypically rough Los Angeles neighborhood, where he spends most of his time with his single mom and his two best friends, and with the latter he has a pop-punk kind of band, and they also spend a lot of time delving into 1990's hip-hop culture, lamenting that this was the golden age of rap music (though the movie doesn't state it, I bet Malcolm is not a Young Thug fan). After a long set up establishing who Malcolm is and what his normal day-to-day plight is like, we gets himself invited to a club for a local drug dealer's birthday party which turns into a shoot out which turns into Malcolm unwittingly making off with a couple of bricks of powdered MDMA and a gun. He (and his two friends) then find themselves having to sell the drugs for a local drug dealing big shot so that Malcolm can get a solid recommendation for his Harvard application (long story), and also so they don't die.
This is almost like a 1980's John Hughes movie set in the 'hood, as our openly geeky main character deals with his sense of identity while navigating that weird time frame between childhood and adulthood, and he meets a girl that seems to be out of his league but still sees something in him anyway. He gets together with his friends and they wish they were more popular and were able to go to more parties, and his geeky tendencies, academic prowess and quiet demeanor sets him apart from all the rough and tumble alpha males in his school (instead of asshole jocks he has to contend with gang members). If this movie was made in the 80's and set in a suburban high school somewhere in Indiana, it would have starred Anthony Michael Hall.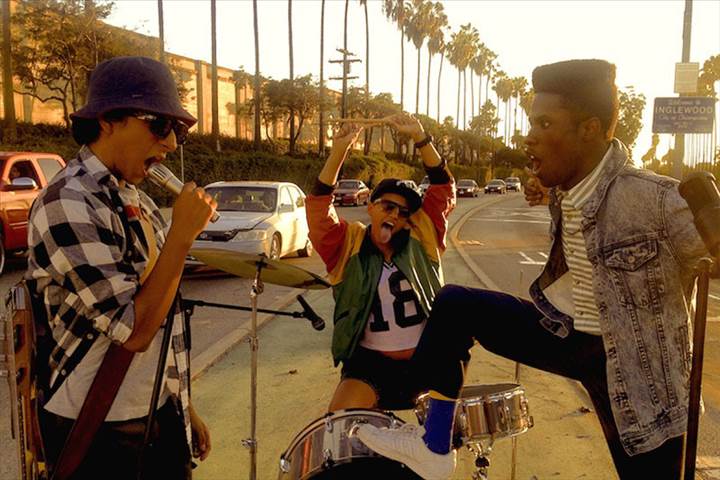 But instead of 80's suburbia, this is a modern inner city neighborhood, and that brings with it all sorts of baggage for Malcolm. Interestingly enough, at the start of the movie Malcolm (in voiceover form) goes over the things that black kids aren't "supposed" to be in to, like going to college and speaking properly, because these are deemed to be "white people things," which is sad when furthering education and simple grammar skills shouldn't be restricted to any one race or culture, but as this movie points out, this is indeed the case. It would have been nice if "Dope" had gone further down this particular rabbit hole but instead it is just used as shorthand in the beginning to show how Malcolm and his friends are different from the rest. And in case you don't pick up on this, there is a scene later in the movie in which Malcolm expressly states that he is different from everyone else, and this statement from him is called into question even later in the movie, and finally the film ends with Malcolm openly asking the audience watching this movie if he really is different from the rest, which becomes the whole point of this movie, how an environment shapes a person and how they react to this environment and what they do within it can determine the rest of their life whether they want it to or not.
The plotline about Malcolm coming in possession of these drugs and being forced to deal them feels a little forced, and while it makes for a couple of exciting and dangerous twists to the story, I kind of wonder if this was really the way to go. The first twenty minutes of the movie sets up Malcolm and his plight of trying to get accepted into Harvard and trying to fit in with a place that rejects everything he stands for and introduced a romantic subplot that could have propelled the whole movie, but instead it then quickly and without warning goes down this road of drug dealing via the dark web and bitcoins and the romantic subplot gets dropped for a good deal of the run time and possible conflicts set up early in the story get pushed aside for other conflicts that serve the drug dealing story more than anything else. And the whole thing with bitcoins and running some sort of a "scam" (not really a scam but definitely a late-in-the-game ruse pulled on another character) feels like it comes from another movie entirely, something that is more of an update on "Menace II Society" than "The Breakfast Club." It is kind of like this movie wants to have its cake and eat it, too, what with the insistence on portraying a young Black American in a way that is not common in American media and art, but then going with the same old tired drug storyline that all the other movies get into. Just because they added bitcoins to the equation doesn't make this plot any smarter than the others who do the same thing.
And it is not like they were running out of things to say in "Dope," because this story and these characters get into all sorts of things, like our new Social Media Age, rich parents with out of control kids, people who have familial roots with "the hood" and still claim it while also living in huge mansions on cozy cul-de-sacs, the desire of white people to use the n-word (even if just signing along to their favorite Dr. Dre songs), the lack of strong education options or support for people in poor neighborhoods, there are all sorts of topics ripe for exploring and for making an entire movie out of, but for the most part these things are just touched on and not really explored all that much. For example, one of Malcolm's friends is a lesbian, yet outside of one scene in which a couple of bouncers at a night club talk trash to her, there is no mention of the rampant homophobia found in poor neighborhoods or the struggles this girl probably had to go through just to be who she is in the face of people who refuse to accept her lifestyle. This would be way more interesting than the story of a guy who wants to go to Harvard, but this isn't her movie, this is Malcolm's movie, so her sexual orientation isn't really used to define her as a person and instead she, as a gay stereotype, is used as shorthand to show that Malcolm is an evolved member of society, someone we should be rooting for because he has an open heart and open mind.
But then, going back to the drug angle of this story, we're supposed to be rooting for Malcolm to succeed, yet we as the audience or Malcolm as the main character are never asked to question the consequences of his drug dealing. He sells that molly all over the place and there are no consequences for anyone who buys the stuff as far as Malcolm knows, and he doesn't ever seem to care or mind that he is helping to contribute to the degradation of society because he's doing this to better his own chances of getting into an ivy league school (a school, as we know, will treat him like crap even if they do accept him because of who he is and where he comes from). Malcolm is never positioned as an anti-hero, so why then should we be fine with him selling drugs without consequence, even if he feels forced into it?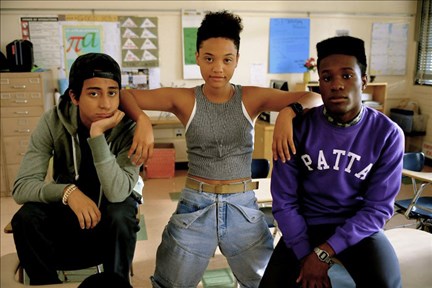 As a quick side note, I'd like to point out that this movie does that horrible thing in which people pretend to play instruments in a scene, and the music that plays in the movie is very clearly produced and very slick, so even though we are seeing people playing "live" music, the song sounds like it is playing off a CD (which can still be bought on Amazon, despite Malcolm insisting that no one does this anymore). Also there is a scene in which Malcolm's band plays a frat party and they immediately blow up and everyone loves them and the party goers jump around and throw their hands in the air and sing along to a song they never heard performed by a band no one knows and this is something that only happens in movies. Also the music they play (written by Pharrell Williams) is horrible. No one over the age of seven would like this pop garbage, even people who like pop garbage. Trust me on this one.
Anyway "Dope" is pretty good, though it certainly has its share of problems. But it does have a clear voice and manages to set itself apart from many similar movies, which is why it becomes frustrating that this movie's ultimate message is a little muddled thanks to how the drug stuff plays out. This could have been an insta-classic, but instead it is just a solid piece of filmmaking based on a story that maybe could have used some more fine tuning to make it all come together properly, as opposed to being a hodge-podge of ideas and familiar stories mashed together to make one movie.