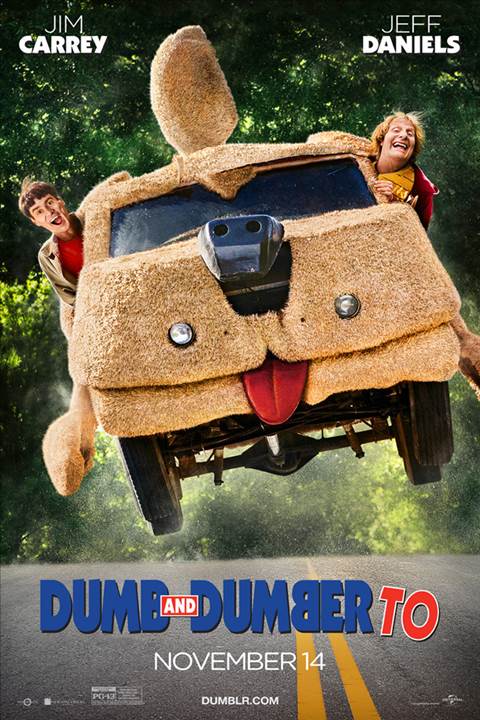 Oof.
This movie is just not good. It is the kind of comedy sequel that makes one question whether or not the original is actually as funny as remembered. The same writers and director, the same actors, even the same tone and style of humor. So why was it so funny twenty years ago and now it is so damned unfunny? What could have possibly been their undoing?
"Dumb and Dumber To" picks up twenty years after the original, with Lloyd (Jim Carrey) and Harry (Jeff Daniels) looking the same save for the wrinkles. It is possible that these characters are somehow dumber now as they have aged, but that's it. They are the same. And they go on another ridiculous road trip based on another misunderstanding and they encounter another set of killers and Lloyd's lust for love is again the driving force for the shenanigans. So much is the same. So why does it stink?
This movie is a bunch of dumb humor without a hint of cleverness to any of it. At least "Dumb and Dumber" felt like a "smart" dumb movie, whereas this one just goes for the low hanging fruit. For a movie being so many years in the making, it sure feels quite half baked and not so well thought out. The initial set up is a decent one, too: Harry and Lloyd set out to find Harry's kid that he just found out he has, but now this kid is all grown up. Obviously the fruit of their respective loins is bound to be a dumb dumb (sorry to break it to you, Forrest Gump), and the character they came up with is okay, but she's not all that memorable or interesting in the long run. It's not like I want to see her in a "Dumb and Dumber 3" or anything. Nothing against Rachel Melvin who played this character, she was great, it was just what they asked her to do, which wasn't much.
Actually all of the actors in this movie are perfectly fine. Carrey and Daniels wear these roles like an old set of perfectly fitting clothes. Rob Riggle gets a chance to play two characters, which is great because that's twice the Riggle, which is a good thing. There's even a cameo that would be amazing if it wasn't totally unnoticed because the actor is in a full body suit and mask and his dialogue is muffled. Obviously that's the joke, but it's also kind of a shitty one. The actors are fine, it's just the material that sucks.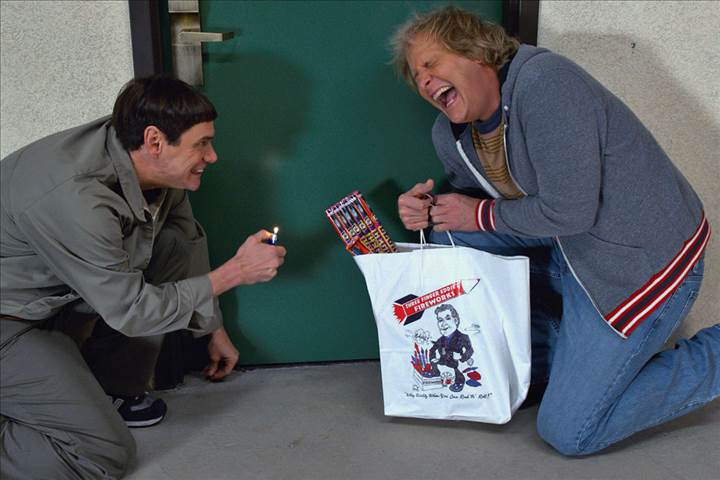 This time around there seemed to be an over reliance on bodily fluids and functions for humor. And while it's not like this hasn't been the Farrellys' thing for years, there is just way too much of this stuff in this movie. The first "Dumb and Dumber" featured a character unwittingly drinking urine, Jim Carrey igniting a fart off screen so we only see other people reacting to the flame, and Jeff Daniels having severe diarrhea but in a manner that we don't see anything, just his crazy pooping face. However in this movie, we get to see Jeff Daniels knowingly hold a bag of urine with his mouth, random people get totally covered in giant boogers (don't ask), a dog slobbers an immense amount of thick saliva all over Jim Carrey's face and Jim Carrey gets pulled around by a catheter. This movie definitely feels grosser and ickier the second go around.
Kathleen Turner is in this movie. So that's something. But so is that fat lady from the reality show about that horrible kid and her horrible life. That's something, too.
How many different ways can I say this movie is unfunny and not good? You want specific examples? The details of this movie have left me for the most part by now and if I don't put this out there immediately I am in danger of completely forgetting the rest of the film, that's how bad it is. So I will leave you with this:
There's a scene in the movie in which, after a quick couple of lines of expository dialogue, Harry and Lloyd roll up on the Mutt Cutts van from the first movie, and they ecstatically jump into it and take off on their road trip. For a split second, things are like they were twenty years ago. And then immediately they are shown crashing the van and rendering it useless, at which point they are forced to finish their journey on a blue and pink Zamboni machine, which is played as a joke, and which is totally not funny. Kind of a perfect metaphor for the entire movie.