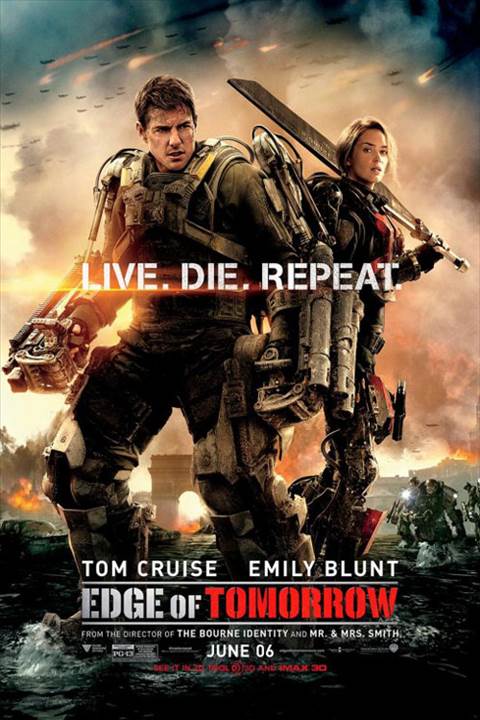 Welcome to the fun side of war. Well,  a sci-fi war against an alien threat involving a video game style restart mechanism that renders the specter of death, at least temporarily, into less of an unwanted state of (not) being and more of an asset which can be used to defeat the enemy in the most rad of ways (read: weaponized mech suit).
"Edge of Tomorrow" doesn't want to tell us that war is bad, we know that war is bad, we're not idiots, so instead "Edge of Tomorrow" embraces the war and the mayhem and the horrific numerous possibilities and turns it all into a romp of a summer blockbuster, into a (dare we say it) almost light film about the terror of war and the kind of guts and dedication and intensity it would take to get launched into such conditions and even dream about making it out alive, yet alone victorious.
War is indeed a force that gives us meaning, so when our main character Major William Cage (Tom Cruise) finds himself thrust onto the front lines of an invasion against an alien stronghold in Europe, his cowardice and lack of spine or discipline becomes readily apparent. When confronted with battle, he stumbles around like a lost child, someone's sick joke writ large, as death and destruction literally rain down all around him (on a beach, by the way. In Normandy. Because you know…metaphors!), and really it is a miracle that the pathetic Cage even makes it as long as he does in the battle and manages to pull of what he can, and soon enough he dies a rather horrific death (which is saying something considering the ways people die all around him), but thanks to the exact manner of his death, something clicks and BOOM, Cage wakes up in the previous day, and finds himself having to re-live the same day or so, leading up the battle all over again. And he goes to war. And he dies. And he wakes up.
Let us pause here for just a quick second to acknowledge the fact that Tom Cruise is still a goddamned bad ass, he acts his ass off, and like he's done so often before, he throws himself into this movie with everything he has, and he's just terrific in this thing from start to finish. Can we all please go back to appreciating this guy as one of the world's biggest and best movie stars again? Why all the hate? Ya'll need to recognize the sick GAME that Cruise just dropped on us all. Pow, right in the kisser.
So Cage is stuck in a sci-fi version of "Groundhog Day" meets the first twenty minutes of "Saving Private Ryan," and fortunately for him the only person who understands what he is going through and believes him is mega hottie Rita (Emily Blunt) a.k.a. Full Metal Bitch a.k.a. The Angel of Verdun because she is so bad ass she gets two nicknames, and over a period of who knows how long, she trains Cage day after day after day until he is actually able to hold his own against the aliens. And the two of them go through the same battle over and over, getting a little further each time, using Cage's gained knowledge from the previous days to their advantage, much like how a person playing a video game can die over and over and over and use the knowledge of his or her past failures to eventually overcome the obstacles set forth.
That's kind of a wishful way of looking at living, ain't it? Imagine if when we die, we are just born again, back into the world, but with the knowledge of our previous lives, allowing us to maximize our current lives based on what we've hopefully learned. It's like that Faces song "Ooh La La," where Rod Stewart sings "I wish I knew what I know now / when I was younger / I wish I knew what I know now / when I was stronger." It's wistful, even, to imagine that we could have such a re-set button. It would make the basic nature of existence and death that much more palatable, something not to be feared but instead anticipated and welcomed even, due to the tantalizing possibility of really being able to get it right this next time around.
And Cage tries over and over to get it right, and obviously much of the fun of this movie comes from watching Cage fail at so many tasks and then try them over until he gets them right, often with deadly and sometimes even hilarious consequences, and also much of the inventiveness of the movie and the story comes from not letting us know exactly how many days Cage lives through. We see him go through the same time period at least three times in a row, but before long we get jumps in time that only reveal themselves to us when Cage reveals that he knows much more than he initially lets on. And there are times when he explicitly states to others that he has tried some of the same things over and over and over, implying that in fact HUGE amounts of time have passed at several points, so as the story moves on, we're more like Rita, trying to figure out exactly how much Cage knows and how many times they may have already possibly tried and failed, because who knows, maybe if she knew the real answer, if she knew how many times she and Cage have failed at their mission, maybe it would be just too much to bear. Because what would be the odds of THIS DAY being the one time they get it right? Han Solo said it himself, never tell me the odds, that's just going to mess with my mind. Some things are better left unsaid.
Based on a Japanese manga called "All You Need Is Kill," "Edge of Tomorrow" is hardly the deepest or most intellectual movie out there, but it also is not dumb entertainment either. The little twists and turns of the plot are clever and fun, and like we established earlier, Cruise just kills it. And so does Emily Blunt, who totally carries herself in a way that makes it believable that soldiers would follow her into battle, and there there is also a small yet glorious turn by scenery masticating Bill Paxton. If only all big budget, huge spectacle summer entertainment was this assured and entertaining and just so good like we have here with this movie.