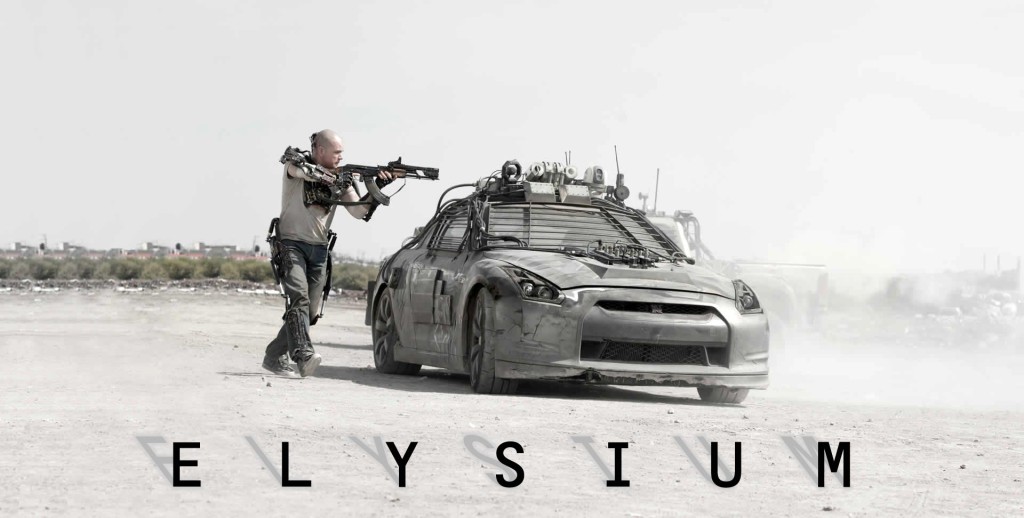 Anyone looking for a dose of political allegory mixed with some intense action and a few outbursts of surprising violence? Want to see Matt Damon in a cybernetic exoskeleton suit? Do you desire an action movie that is more than just chases and gun fights but also includes thoughts and ideas? Then get thee to a movie theater and check out "Elysium," because this flick is smarter than the average fare (see that? See what I did there?).In "Elysium," the year is 2154 and the wealthy live on a small station orbiting Earth called Elysium, on which there is no crime, no disease, nothing that would threaten to make the way of life for people on the station at all uncomfortable or even remotely life threatening. Meanwhile, everyone else lives on a destroyed Earth, overpopulated and polluted and devoid of green life, as everything is just dusty and dirty and unattractive, much like the poorer parts of Mexico City (which is where much of this movie was filmed), and this is where we meet Max (Damon), a reformed car thief who is trying to walk the straight and narrow by working his shitty job and pretending to be happy about it. But when an on-the-job accident exposes him to a lethal dose of radiation, he has no choice but to try to get on to Elysium to use one of their ubiquitous "med bays" to heal himself.
So yeah, this movie is kind of about universal healthcare. Hey, wait! Where are you going?
What makes "Elysium" work is how the world in this movie doesn't feel very far removed from the real world in which we live now. Sure there isn't a large space station just outside of Earth's orbit, close enough for all the poor schmucks on Earth to look up and dream about yet far away enough that it takes a nearly impossible amount of work for the average person to get there (which is the point, because if there is one thing the rich don't want to be, that's average), but the division between the wealthy and the destitute (or as Miguel de Cervantes called it way back in the 1600s, the Haves and the Have-Nots) is still very much a problem in this world, and has actually been getting worse in the last couple of decades. You know that adage about the rich getting richer and the poor getting poorer? The wealthy live in gated communities and fancy neighborhoods and they organize neighborhood watches to keep an eye out for people who "don't belong" and act eagerly to keep the riff-raff out. If the rich folk of 2013 could live on a space station orbiting Earth that doubles as some sort of white bread utopia, you better believe most of them would jump on that in a second. And really, would you blame them?
And "Elysium" doesn't blame the citizens of the space station, this floating version of Isleworth, because it's not there fault that this option was even made available to them to begin with, it wasn't their idea, these nice rich folk just saw a brochure for this heaven-like locale and made the move. What's to blame is the prevailing mindset of "every man for himself," which obviously extends to peoples' immediate families, but really that's it, otherwise you are on your own, and if you don't like it, tough shit, that's the system. When Max goes to work at his shitty factory job, he is reminded often by his dickhead supervisor that he is "lucky" to have his horrible job (which probably pays pretty shitty, though that's not covered), and also that he could be easily replaced by someone else looking for work. Max is on his own in this world, just like everyone else.
But even though Max's life is shit, he still displays an incredible desire to live, especially since he had a few opportunities in this movie to just roll over and die. But instead he wanted to live, so he fought for his own survival, which meant he had to do some intense things, all of which he did almost gladly, just to have a chance to continue eking out an existence. Obviously this will to live is not unique to him, as the shitty world he lives in is overpopulated with tons of people all in similar situations, and all still wanting to live their lives. Just because they have nothing on the surface to "live for" doesn't mean any of these people necessarily want to die. Max wanted to improve his life, which he tried to do first by being a car thief, and when that landed him in prison, he tried to live a non-criminal life, because who wants to just rot away in prison? And when an old friend (Alice Braga) comes back into his life, he suddenly has a new reason to continue down his path to a better life.
And isn't that what we are all doing any way? Well, most of us anyway. We are all struggling against the tide, trying to get our own lick of that brass ring, desperate to improve our own lots in life. Whether it be disease, debt, or just plain old poverty, so many people in this world (oh say somewhere around 99% of the people) are fighting just to get by, while a select few manage to live the good life with some to spare. This is what leads to things like, say, oh I don't know, illegal immigration, as large groups of people seek a better life somewhere else, even when they are not wanted by the legal citizens of their new home. On Elysium, the Secretary of Defense (Jodie Foster) is content to shoot down space shuttles packed with illegal immigrants trying to get to their station, perfectly fine with killing dozens of men, women and children, all in the name of preserving the status quo, and you can bet there are plenty of people in this country who would absolutely LOVE to just kill all the illegal immigrants as they enter the country and be done with it. Don't believe me? This shit happens. Of course this is all a vicious cycle, as the rich sequester themselves from the poor, and the poor are forced to try to break into where the rich live just so they can have a shot at living a decent life, and when the poor break in, the rich put them down, making their lives even worse.
"Elysium" almost works as a counterargument to last year's "The Dark Knight Rises," in which the villain Bane was presented like a Robespierre-like revolutionary figure, who riled up the masses to fight against the top 1%, only to turn on these people and try to punish them for their crimes and use them to "set an example" to the rest of the world as to what happens when the unwashed masses rise up and take over, only to be stopped by billionaire superhero Batman. "Elysium" takes the opposite approach, presenting our hero Max as a robotic exoskeleton wearing Robespierre, who does the opposite of Bane – instead of setting up the masses by having them do his dirty work, Max goes in alone and does it himself, and while he does it initially for his own betterment and survival, he eventually goes in with the weight of the world on his shoulders, recognizing that he has an opportunity to level the playing field.
This is where the universal healthcare comes in, because on Elysium, every home has a med bay, which can do apparently just about anything, and within a matter of seconds. These things keep people alive and well, presumably forever. But these great devices are only for the insanely rich, while the poor folk on Earth have to suffer and die, but not before watching their friends and loved ones suffer and die first. Sound fair? Well life ain't fair. And why should the rich share their fancy-shmancy medicine and medical advancements with the undeserving poor? Did a poor person invent the med bay? Probably not. How could a poor person put the resources together to come up with such an invention. This was most likely a very expensive invention, and the prices probably never dropped, because why the fuck drop them if the rich are willing to pony up the dough (which they are because when one is rich and lives in paradise, why would that person ever want to leave, either physically or metaphysically?). Why should the inventors of this technology want to give their work away? They would rather get rich. Sound familiar?  Does that remind anyone of our own medical-industrial complex in this country, one in which medical insurance is an expensive joke played on us all and the more money one has, the more likely they will continue living? If a poor person gets sick and a billionaire gets sick with the same illness, who is going to survive and who is going to die?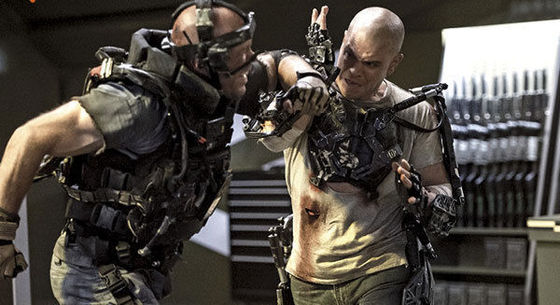 There is also a little more to this movie than just Occupy Elysium and universal healthcare, as there is also a thing in which the Secretary of Defense's tactics to protect the homeland are called into question by the President of Elysium (Faran Tahir), and she is forced to defend her version of defense, which includes the use of an undercover operative named Kruger (Sharlto Copley). The President condemns the use of this asset because Kruger has a number of human rights violations (namely murder and rape), and he likely just does not like the idea of such a loose cannon being on the Elysium payroll, even if the guy is tucked away safely on Earth. Of course the Secretary of Defense then takes some measures to subvert the President and his wishes, and she doesn't do this because she's evil but because she thinks it is for the greater good of Elysium. And when she is confronted with her less-than-legal tactics, she hides behind her job duties, kind of a like certain government that hides its own illegal activities behind the guise of "homeland security."
And meanwhile, as Elysium itself is rigorously defended against the tired, poor huddled masses yearning to breathe free, Los Angeles (and likely the rest of the "civilized" world) exists in a militarized police state, as the legal system is seemingly replaced by automatons. Citizens get harrassed by police robots who are quick to take violent actions, and due to their robotic natures, they don't take to sarcasm or humor, nor do they recognize any nuance in people; instead they see a person with a record and that record is all they see. You were a car thief once? Well then you are likely to be a car thief forever, right? The "parole officer" that Max visits is also an automated robot, quick to follow protocol and simply take on additional months to Max's parole just because of a misunderstanding with the police. Then again, if the police are robots, is it a misunderstanding? Or are the people just subject to the whims and temperments of these beings? What happens when a job that requires on thje spot analysis and common sense and a bit of a human touch goes to a robot? What happens when the people who do have these jobs now act like robots anyway? You ever get pulled over by a police officer who seems determined to write you that ticket, no matter what?
I guess I might as well wrap this thing up, so let me quickly talk about the movie itself. The acting is quite solid all around, as Damon's everyman schtick (like a bald, buff Jimmy Stewart) helps with the grounding of this high-concept movie. Everything in this thing feels actual and real, even the really over the top ridiculous stuff, and that's thanks to both Damon's presence and performance and Neill Blomkamp's mastery of tone and presentation. Copley is actually quite delightful as the insane Kruger, going 180 degrees from his performance in "District 9" and being a total bad ass with an intense blood lust. And like in "District 9," the special effects in this movie come across as seamless. Were the robots totally CG? Because they looked DAMN impressive. Same goes for Elysium itself and the many flying shuttles and ships in the movie, which all just look flat out real. Why do movies with bigger budgets than this one have CG effects that look worse? Blomkamp is doing something right, he knows the right people, he's doing SOMETHING that everyone else needs to get on.
Sure the movie isn't perfect. While the runtime is under two hours and the movie just flies by due to its own momentum, maybe they could have taken a couple of extra minutes to develop some of the characters a little more. But the situation, however, is so severe in this movie, how much more development is really needed? It's an insane story, do we really need Max's absolute innermost thoughts and emotions and complexities? Isn't it enough for us to know that he just wants a better life and the chance to actually live it, along with the rest of the planet struggling just to live day by day? If you are walking down the street and you see an orphan in an alleyway scrounging for food in a dumpster, do you need to know what they dream about or how they really got there?
Walking out of "Elysium," I knew I liked the movie, but not sure exactly how much. But after some thinking and rumination and writing, it is obvious this movie has a lot to offer, and it definitely has become one of my favorites of 2013 so far. It is both elegant and brutal, as well as thoughtful but still action packed. Neill Blomkamp is a fantastic director and I now eagerly await whatever he does next.