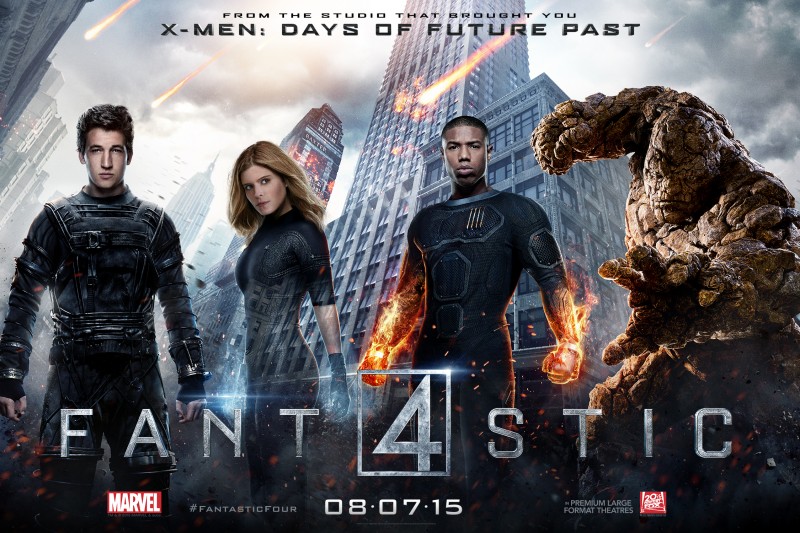 Okay, right off the bat, let's address the elephant in the room, the fact that according to Rotten Tomatoes, "Fantastic Four" is the worst reviewed comic book movie of all time. OF ALL TIME. This movie is not liked by just about everybody. And I feel like I have to write about this movie with this framework in mind, because while I would never defend this movie as being "good," there is no way it is as bad as people like to say it is. Quite simply, there are too many good ideas and interesting decisions made to simply write this off like it is some sort of Nic Cage January movie release about whether or not witches were real during the Crusades.


Reed Richards (Miles Teller) is a young scientist and inventor, who I believe in this movie is a senior in high school. That's one thing in this film that can be chalked up to typical movie wonkiness, in that most of our main characters are played by actors in their late 20's or early 30's, yet are consistently referred to as "children." So Reed and his buddy Ben (Jamie Bell) have worked together to figure out how to transport matter from point A to point B and then make it return back to point A. By doing this, they unknowingly found a way to rip a hole in the fabric of space-time and opened a portal into an alternate dimension to another world parallel to ours. This experiment gets them noticed by the Baxter Company, and they are recruited to help with a larger scale version of the same machine. Reed joins Sue Storm (Kate Mara) and her father Franklin (Reg E. Cathey) to make the experiment work, and they are joined by original project mastermind Victor Von Doom (Toby Kebbell) and Franklin's son Johnny (Michael B. Jordan), who isn't that smart seemingly (not like the others anyway) but is great with his hands and "can build anything." In a manned experiment to the other dimension gone horribly wrong, everyone gets powers, Victor gets stranded, and shit generally hits the fan for the rest of the movie.
This set up is by far the most interesting aspect of this whole movie, because they take their time in setting up some of the characters, who they are and what they want. We know how naive and innocent Reed is in how he approaches every aspect of his life and his experiment, and its goofy and admirable. And that is contrasted well against fellow genius Victor, who is the opposite of Reed in seeing the potential outcome for their work, as he is much more distrusting of the world and governments and people in general; Reed wants to create this machine to somehow benefit humanity, while Victor only sees the potential for their technology to be bastardized and re-appropriated for all the wrong reasons. Actually it would have been nice if Reed and Victor could have had at least one scene together in which Victor tries to open Reed's eyes to the inherent evil in people while Reed tries to do the opposite, believing that people are generally good. The friendship between Reed and Ben starts out well, also, in the development department, because we see them as a pair of kids who are different but come together in their lack of friendship with others and desire for acceptance, which they find in each other, and Reed goes out of his way to include Ben in his work, and in turn Ben trusts Reed, which unfortunately comes to his own detriment when he becomes that rock monster thing.
There is a weird thing in this movie, though, where Ben pretty quickly turns on Reed, instantly believing the government lackey (Tim Blake Nelson) when he tells Ben that Reed abandoned him (though we, the audience, know otherwise). I understand setting up the friendship so that it hurts more when it falls apart later on in the movie, but the "fall apart" section happens kind of quickly, and feels more like it happened because the screenplay needed it to happen, as opposed to flowing organically from everything that came before. And unfortunately the development of both Sue and Johnny is pretty thread bare. It definitely feels like they should have done more with the two of them because as it is, Sue can "detect patterns" and likes music, and Johnny is a bit of a daredevil and speed demon (in terms of racing cars) but that's it. Otherwise they exist, again, because the story demands it. Because this is the Fantastic FOUR and we can't just have Ben and Reed.
It is worth noting that they changed the origin of the group and from where they derived their powers, as the original story from the 1960's (and used in the 2005 "Fantastic Four" movie) has a very generic and boring blast of "cosmic rays" that hit the crew while they were performing some lame mission in outer space just outside of Earth's orbit which gives them all very different and specific powers, but with this story, their experiment with exploring another dimension is what led to their accident, which works much better and makes more sense because it ties the fallout from the accident directly to their actions. Instead of the group going to space and getting hit with an accident none of them saw coming, the group CAUSES the accident, so when Reed sees Johnny on fire (presuming him to be dead) and sees that Ben has some sort of rock-based deformity inflicting him, Reed immediately feels responsible for this, as he should. It becomes personal for him, a "what hell hath I wrought?" kind of situation, and it just makes more sense to go this route.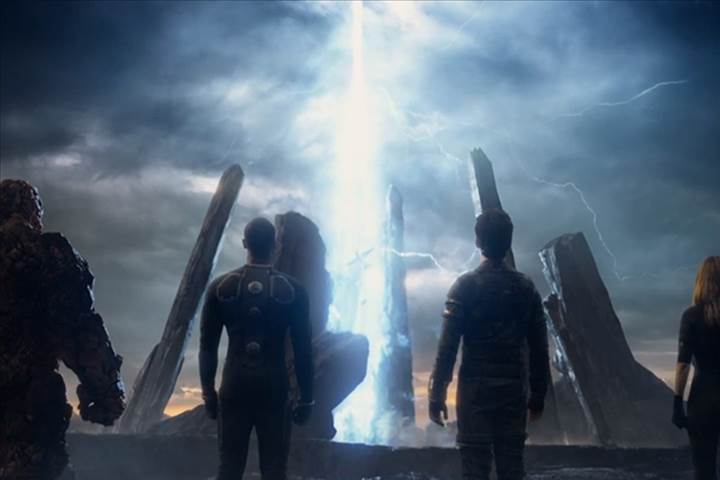 It was also interesting that the group gets these powers but aren't immediately too keen about it. They are quarantined and observed by shadowy government agents, and they wish things could go back to normal. Well, Ben REALLY wishes he could go back to normal, while Sue says the same thing to Johnny, though Johnny very quickly takes to his newfound fire powers and ability to fly and revels in it. And THIS could have caused some really interesting character dynamics if they even knew how to really explore it, what with Ben being immediately weaponized by the government and Johnny Storm ready to follow suit, while Sue and Franklin hope for the opposite. But outside of some quick dialogue, this whole aspect gets dropped pretty quickly when the third act rolls around and we get the now obligatory finale involving a mentally deranged bad guy desiring to destroy all of Earth with some sort of beam of energy, and the four of them team up to take out the bad guy because, well, because that's how these movies go down, dammit!
And about that bad guy, Dr. Doom (who is only called that once, before he becomes the villain, and in a joking manner), they definitely took a risk in the design of the character, and they found an interesting way to alter the character's appearance and explain why he would kind of look like the comic book character, who rocks a metal facemask and green hood and cape, without getting comic book goofy with the explanation, but when it is all said and done, the design of the character is more admirable than anything else. They went out on a limb and tried some different which I appreciate very much, but it really doesn't work because he still looks a little goofy. Decidedly less goofy is his preferred method of killing people, which involves making their heads explode from the inside, and the one scene of him walking around a government facility and taking everyone out is actually pretty surprising and great, definitely unexpected for a silly comic book property and PG-13 movie.
I really wish this movie was better because I really like the sci-fi take on the material and the reworking of some of the classic elements of the Fantastic Four mythos was actually inspired and smart, but it mostly falls apart in the execution, especially when over two-thirds of the way through the movie it stops being a sci-fi film and falls back into the same tropes of every typical comic book movie out there.
But really, do we need any more "Fantastic Four" movies? People say this one is too dark and that is why it failed because they didn't go for fun and ridiculous like the original source material is, and in answer to that I would tell people to rewatch the last two FF movies, which are both colorful and silly and strive for the tone of the original books, and that shit didn't work either. I just think there is no need to make any more movies about Dr. Stretchy Nerd, Invisi-Dork Lady, or the boring rock monster guy (seriously, who needs The Thing when we have The Incredible Hulk?). The only character who is remotely interesting on the surface is the Human Torch, and even then what's his deal, he's a wise-cracker? So he's Iron Man with fire. I just think it is time to put these characters to bed for a long time. There are plenty of comic book movies being made, plenty of characters to pull from, we don't need to keep going back down this well.