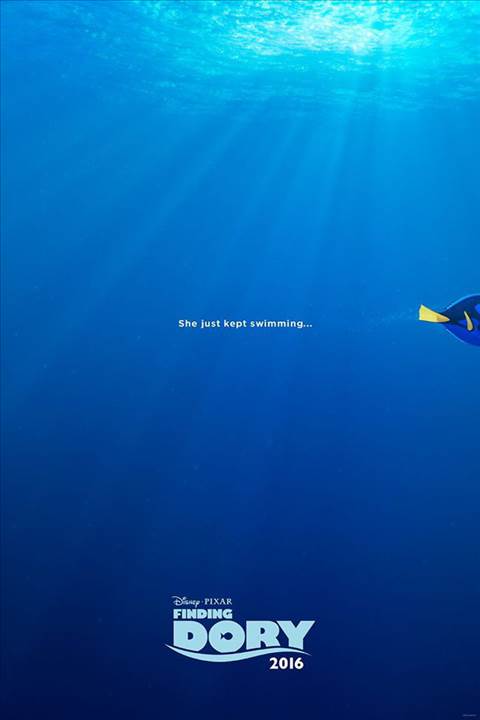 After an initial viewing, it doesn't appear that there is anything "wrong" with the newest movie from Pixar and Disney, "Finding Dory," the sequel to the smash hit "Finding Nemo" that no one was really asking for, and yet here it is, and you know what? It is pretty damn good, which of course we should be expecting from these fine artists, who have now spent decades crafting finely made and expertly tuned feature length movies, many of which seemed ridiculous at the outset, only to end up being deeply moving and effective pieces of art. If this were coming from another studio, it would feel like a cash grab, but since this is from Pixar, it is more of a chance to revisit some beloved characters and introduce new ones and tell a solid story with some familiar pieces and some new pieces.
There are a couple of similarities between "Finding Dory" and its predecessor. In the first movie, Dory (Ellen DeGeneres), the blue tang fish with short term memory loss, helps the clown fish Marlon (Albert Brooks) find his missing son Nemo. This time around, Marlon and Nemo agree to help Dory find her parents, whom she got separated from at a young age and naturally forget them over time. But she remembers them suddenly and wants to go find them, and it is important to note that this movie isn't called "Finding Dory's Parents" because really the story is all about Dory finding out who she is and really gaining a sense of self worth as she uncovers her past, and they manage to get quite an emotional journey out of this set up.
This may have something to do with the other thing that these two movies have in common, which is how they are both very much about living with some sort of disability, and both how those with disabilities are often discounted or doubted by others and also how disabilities don't need to be a hindrance to a life worth living. Nemo's underdeveloped fin made his dad doubt his ability to live out in the ocean, and Nemo proved to his dad and to himself that he wasn't going to let his little gimpy fin hold him back. Here, Dory's short term memory problem is a huge setback for her in many ways, and this story is in many ways about how she overcomes this and goes out in to the world and achieves anyway.
It is because they obviously put a lot of work into this story and these characters that "Finding Dory" doesn't feel cynical or crass but instead like a movie in which everyone involved truly believed in what they were making, a film that is funny and charming as well as thoughtful and touching. They balance out the silly with the melancholy in a way that seemingly only they can do, and like old school Disney movies, they aren't afraid to get a little dark and introduce some danger to the proceedings, as evidenced by some of the literally dark underwater scenes in which Dory gets lost and that one scene in which Marlon, Nemo and Dory have to run away from a crazy giant squid (in probably my favorite scene in the whole film). And on top of that, the movie itself looks gorgeous, and it feels like with every movie that comes out the animation can't get any better but then something new comes out and man it just looks better than ever.
"Finding Dory" is yet another solid entry in the Pixar canon, and another great example of how a movie can be made that can appeal to everyone with comedy that works and a story that is grounded in real emotion.