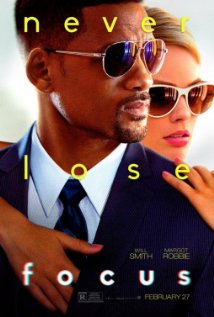 "Focus" is a movie about a con man and his elaborate operation of conning, but it is also about the relationship this con man develops with a much younger con woman, so the story is about this con man making a big score but it is also about whether or not two people who make their livings ripping other people off and being deceptive could actually get together and have a trusting relationship with one another. And since this movie is about both of these things, it actually isn't really about either of them, as neither story line gets enough time to grow into something special. Instead it is all kind of perfunctory and by the numbers, and that leaves the whole thing falling just a little short.
Nicky (Will Smith) meets Jess (Margot Robbie) when she very randomly decides to try to rip him off through some elaborate con that Nicky knows all about and sees right through. He explains that he let himself get "conned" out of professional curiosity, tells Jess she sucks at what she does, and leaves her, only for her to track him down and beg for some help. He shows her a few quick pointers without really teaching her anything that she couldn't learn from a book or watching Youtube videos, and then he leaves her again, only to have her track him down, pretty much forcing her way onto his team of con artists. He eventually agrees because she is attractive (no other reason is offered so this makes the most sense), she joins the team, and despite being told by Nicky initially that she is a terrible pick pocket, she turns out to be extremely skilled at it after only a little bit of practice.
So then Nicky introduces her to his massive team of several dozen people, all of whom have different jobs within his con artist enterprise, they make a bunch of money in one week in New Orleans during the week of a fake Super Bowl (for some made up league called something like the American Football Association of America or something stupid like that), and then without explanation or reason, Nicky cuts off Jess by paying her some good money and then just abandoning her. He seems depressed about it, she cries, and then SMASH CUT TO three years later. Nicky is working on a new scam involving Formula One racing in Argentina, and he is ready to go when Jess comes walking back into his life, mucking things up. From this point forward, the movie is about Nicky trying to pull off this score while also trying to convince Jess that he is different and he loves her. Also Major Dad (Gerald McRaney) is in this and he is a total dick.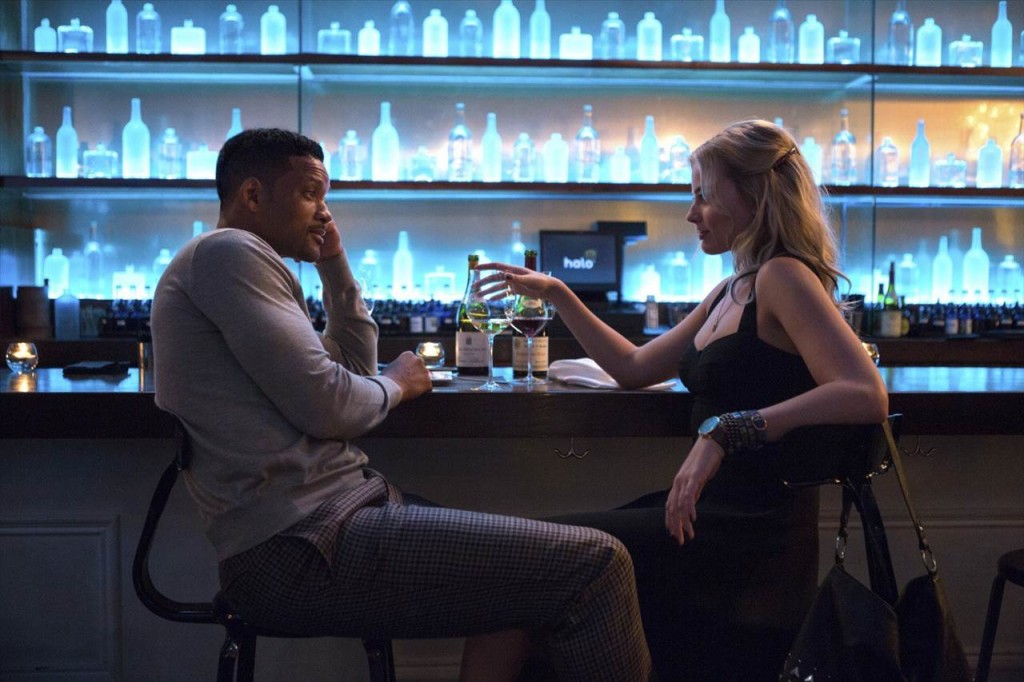 "Focus" is the kind of movie that is good enough. You know, for a lazy Sunday afternoon, or for catching on HBO or renting on Redbox. No need to get your hopes up for some great movie because quite frankly this movie is not great because it ironically did not focus enough on either aspect of the story – the love story or the con. Jess and Nicky meet very arbitrarily, and their relationship develops very quickly. There is one point in which Jess asks Nicky for an evaluation of her skills as a con woman and pick pocket, and he goes on about how she overcomes adversity and improvises on the spot and rises above and all this shit, and the whole time he was saying this to her, I was thinking to myself that it would have been nice to have seen these traits in her instead of having him tell her (and us) about them. He is talking about her improv skills (and I am not talking about her ability to make jokes while wearing silly hats and getting suggestions from a crowd of drunken alternative comedy fans) but we never, not once, see these skills. Maybe these scenes were cut out to get this thing under two hours? This is definitely the kind of movie that needs that extra fifteen minutes to find ways to establish these characters and make us actually care about them.
Really, outside of a story told by Nicky about his grifting grandfather and father, we know nothing about this guy and we never learn anything about him. Hell, he lies about so many things throughout the whole movie, so there is never any reason to believe anything he says about who he is or where he came from or what he really wants in life. Why is he so stricken by Jess? Does he want to settle down at all? And then we know even less about Jess. She says in one line that she was a foster child and she is lucky she is not "hooker pregnant." And that's it. So when they come together, we have no baselines for them. We do not know WHY they might feel drawn to each other or what they really want from this odd relationship that they build up out of nothing.
And then it doesn't help that the big score of the movie is set up about halfway through, which doesn't make it feel special or unique at all, it just feels like yet another con job for Nicky, and the details of the job do not tie into the first half of the movie in any way, so it is not like there is some big fall out from the events that started the movie, and there is nothing that happens that ties it all together. The movie starts with one con job, spends 30 minutes or so on it, moves on to another con that takes about 15 minutes, and finally moves into the final BIG CON, which has nothing to do with all the scenes that came before. Instead of building to this job and giving it importance, it is just another week in the life of Nicky, except this time there is some romantic entanglement that is really hardly worth caring about.
The thing about "Focus" is that between Will Smith and Margot Robbie (and Major Dad, BD Wong, Rodrigo Santoro and Adrian Martinez) there is a lot of solid acting going on, with enough charisma to go around, and all of these people are very watchable and enjoyable in this film. On top of that, there is some great looking cinematography and interesting music choices on the soundtrack and a number of fun and interesting scenes throughout the movie, and all of this together means the movie is not a waste of time at all. And while the short runtime means there is a lack of character development and plot development, it also means the movie never outstays its welcome. Before you know it, the movie is over and that is both a positive and a negative in this particular instance.
An entertaining if kind of insignificant blip on the radar that is the long and impressive career of Will Smith, "Focus" will go down as one of his minor films, a rainy afternoon kind of thing. He won't be remembered for it and it will not redefine him, but it also is not really bad and won't hurt his image. This almost feels like an extended AMC television series pilot, like the real character development and crazy story are yet to come, this is just an intro to these folks, but we all know better, we know this is the last we will see of Nicky and Jess, and that is not a bad thing.
Also it should be noted that the below trailer gives away one of the most exciting and interesting bits from the movie, and that is super annoying.