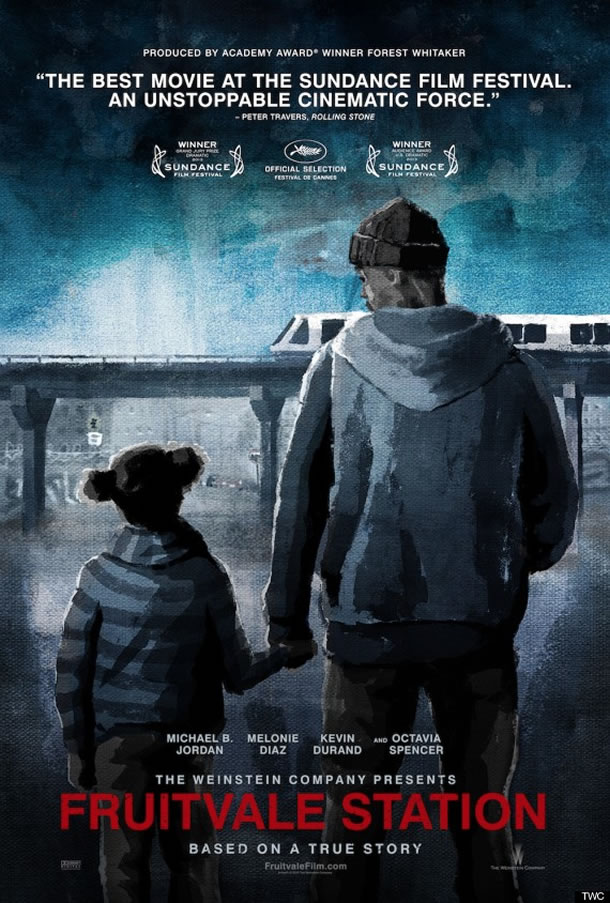 Starting out as a "slice of life" type of movie and ending as a brutal tearjerker (a two-hanky movie, they used to call 'em), "Fruitvale Station" is a small movie about a big issue, and the timing of this particular film couldn't be any more perfect. Just as a gigantic mirror has been held up to this great nation so we can see just how racist we still are as a whole, this movie comes along and openly questions the perceived value of the life of a black youth in today's America.
You have two choice right now: you can do a Google search on "Oscar Grant" and read about the tragic event that this movie is based on, or you can just go into the movie and let the shocking events fold right in front of you. Now, while I am sure it would be interesting to watch this movie play out without really knowing what the story is really about, I think it actually does the movie a great service to know ahead of time how the story is going to end. And since "Fruitvale Station" starts with real-life cell phone footage from a very fateful and horrendous night on a train station platform in Oakland, California in the early morning of New Year's Day in 2009, it is apparent that writer/director Ryan Coogler knew this and wanted to make sure the audience indeed knows what this movie is going to end up.
When you know how the story of Oscar Grant ends, then watching this movie about the final day of his life gets an added layer because while the audience watches scenes of him taking his daughter to school and brushing his teeth with her and preparing for his mother's birthday dinner and so on, there is an electric and dread filled tension that runs through all of these scenes, as we know that these are the last times he would do these things, and something as simple as saying goodbye to someone for the night takes on such a larger resonance because unlike the characters in the movie, we the audience all know that this is the final goodbye.
So as a "slice of life" movie, we just follow 22-year old Oscar Grant (Michael B. Jordan, Chronicle) through his day, and like every other "slice of life" type of movie, we are suspiciously checking in with this character on what appears to be the most meaningul and important day of their life. In this case, since it's a real story this happens to be quite true, since what happened to Oscar can't be downplayed as non-important, but to bring everything home and to make the themes of the movie pop out more, several aspects of Grant's life were seemingly shoe horned into this final day (I am assuming shoehorning and embellishments at this point, as even though it is common knowledge that Mr. Coogler interviewed family members and friends to get an idea of who Grant was and what he did on that final day, it is still hard to believe that so many coincidences indeed happened during that one day). For example, it is probably a huge coincidence that Oscar quit selling marijuana that same day in an effort to get his life in order, and it MUST be coincidence that so many people in Oscar's life converged on one train car in one night, causing the ruckus that caused the police involvement that caused Oscar's death. I can easily see this stuff being change and inserted just to add a little more dramatic satisfaction to the viewing experience, helping things come around "full circle" so to speak. Was this necessary? It actually comes across as a little too much, but hey, maybe this is what REALLY happened after all, in which case, who am I to make any complaints about possible embellishments?
And really the details aren't so important, because this movie is about the bigger picture, and I think it can be summed up by one particular scene in this movie. At one point during the day, right before Oscar decides to dump all of his pot and stop with the illicit drug sales, Oscar sees a random stray dog get his by a car. Oscar tries chasing the car down, but of course the guy speeds off, leaving Oscar there with the bleeding and dying dog. Oscar scoops up the dog and carries it to the sidewalk, calling out for help, but no one comes to his aid, and the dog dies in his arms. So what can Oscar do at that point? He simply puts the dead dog on the sidewalk and begrudgingly goes about his day. Because even though the death of this dog made him sad, he has no recourse against the person who killed it, nor did anyone come to help him or claim the animal, and what could Oscar do anyway in thios situation? Call the police? They don't care about a dead dog. They'd probably just kick it into a ditch and move on. Take it to a morgue? Or a pet semetary? So he just leaves it there.
This must be an allegory to the value of the life of black youth in this country, because how often do we see something like this? Black men and women cut down in their primes, before their primes even, but no one tries to hold anyone else accountable. We just have to look at the outcomes of this story as well as a certain recent racially charged murder trial to see that justice is not served equally in this country, that even though Lady Justice purports to be blind, she's actually sneaking peaks and the scales of justice get calibrated depending on the color of people's skin. The racial empathy gap is evident everywhere we look, including in the justice system, and due to this gap, it becomes difficult for people of other racial backgrounds to understand what the black youth of America experience on a day to day basis.
So hopefully when someone sits down to watch this movie, by the time it is all over, they don't see how a 22-year old black man was murdered, they just see a person, regardless of race, and the horrible injustice beset upon this person. Ryan Coogler pointed out in an interview that most people wouldn't spend any time at all with someone like Oscar Grant, obviously because of prejudiced notions about what it means to be black in this country, so when they watch this, they are going to spend a whole day with this guy as he eats breakfast and goes to the store and meets with friends and family, we actually get to know him and we learn of his hopes and dreams and worries and all of a sudden, he becomes an actual human being, one that can be related to, and this is the reason why when this movie was winding down, the theater I was in was filled with sobbing people, who all felt the pain of losing someone close to them through this movie, because we grew to know Oscar Grant throughout this movie, it is pretty hard not to like the guy as portrayed, and we'd like to see him success, at the least for the sake of his very young daughter.
This portrayal of Oscar Grant has come under fire here and there, as people accuse this movie and by extension Ryan Coogler of trying to portray Oscar Grant as some sort of saint, going over the top to make him seem like a nice guy in order to make the end of the movie that much more potent, but this seems like such a wrong-headed reading of this movie. How saintly is Oscar Grant when he tries to hide his marijuana use from his daughter, or when he tries to make money by selling drugs? Or how about how he lost his job because of tardiness (one of the LAMEST reasons to every get yourself fired from any job) and how he snapped on his former boss and even threatened him when his boss said he couldn't give grant his job back? The movie STARTS with Oscar trying to convince his Baby Mama that he cheated only "one time" and he was sorry and it wouldn't happen again, how is this a saintly vision of this person? He was on parole after a stint in prison (not jail, mind you, but straight up prison), and we see a flashback of a visitation from his mother, which he essentially ruined because of his temper flairing up against a fellow douchebag inmate. This is whitewashed portrait of this person? Seems more like a real-look at a person's life, foibles and all. Oscar Grant was just a guy, he had problems, he was looking for solutions, he had the support of his family and friends, and in the end he just wanted to provide a better life to his daughter. If anything, the complicated look at a complex person like Grant only helped this movie and made him seem even more real, which in turn helps the audience connect with him even more.
"Fruitvale Station" may be a small movie in terms of story and scope, but its a huge movie thematically, as it says more about the current state of this country then a thousand CNN specials about "the N-Word." and you will likely have to have a heart of stone to not feel the emotion and pain of this movie when it is over. If you are paying attention, "Fruitvale Station" will haunt you for awhile, and hopefully it will open your eyes and help you understand what all of the Oscar Grants in this country have to contend with on a day to day basis in this place that we all take for granted and have dubbed "the land of the free."