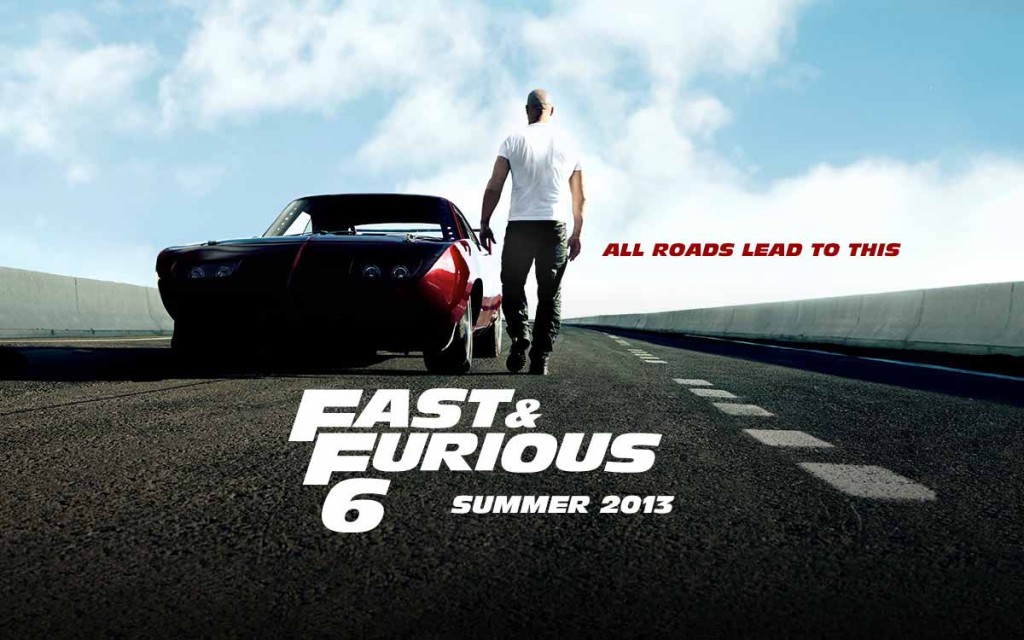 Following the over the top ridiculousness of "Fast Five," the fifth installment in the increasingly popular "The Fast and the Furious" series, comes an action spectacle that veers on the edges of satire, loaded with plot holes and logic leaps and bits of human action that defy all known laws of physics, and proving that rampant disregard for human life is a hot commodity at the box office. "Furious 6" is here, and it is going to get in your face with all of its action and stupidity and you it dares you to not enjoy any of it.
For those who don't know, "Furious 6" is the continuing adventures of a group of thieves who get together to rip off drug cartels and crooked cops and all sorts of bad guys, all the while evading capture by the authorities. And for some reason, they are all about their cars. In "Furious 6," they are compelled to work for a U.S. Diplomatic Security Services agent to go after an international criminal who is putting together the parts for some sort of machine that can do something or other, that's not the important part in this movie. The important part is something about how everyone is a family, and family is family, and "this is what we do, this is who we are" type of bullshit. So there you go, "Furious 6," and essentially the whole series, in a nutshell right there.
Outside of the always great Dwayne Johnson, who plays the aforementioned U.S. DSS agent (and thank god a movie series finally decided to highlight the DSS, because why the hell not?), the assemblage of actors in this movie is not necessarily top notch, though it never has been. Vin Diesel leads the group as always, mumbling nearly incoherently about family over and over, and his buddy is the always bland Paul Walker, of whom I will never get the appeal. Gina Carano follows up her nice turn in "Haywire" with some work here as U.S. DSS agent The Rock's right hand person, and of course they needed someone to fight the returning Michelle Rodriguez, because it would look weird if they had the Rock punch Michelle Rodriguez in the stomach or something, we'd all be like "ehhhhhh, not cool." And they got Luke Evans to play the main bad guy, but where he was compelling as Zeus in the not good "Immortals," here is pretty bland, just some ex-military guy taking down scores with precision. Ooooo, how compelling.
This movie, much like "Fast Five," is not about the characters or the tightness of the plot or how compelling their "moral codes" are in the face of adversity. No, these movies are about action and spectacle and director Justin Lin has gotten quite adept at this kind of thing, showing to everyone that he is ready to play in the big budget summer blockbuster sand box with all the big boys (and his circling of the next installment of "The Terminator" series shows this to be happening). There is a ton of vehicular destruction in this movie, especially when a tank gets involved, and if you've seen a single trailer or commercial for this movie, you know they even use their cars to take down a giant plane (oh, by the way, thank you marketing people for gleefully blowing the biggest money shots of the movie in your trailers, because who the hell wants to be surprised in a movie anymore anyway). The sight of bodies continually flying through the air, leaping from high speed car to high speed car, leaping over freeway gaps, jumping from movie planes, is so continuous in this movie that it is a surprise when someone dies something and actually dies in this film, because everyone is seemingly a descendant of planet Krypton in Vin Diesel's criminal family here.
This is the kind of movie that gets a pass for being a "guilty pleasure," because you feel guilty for excusing the fact that this movie features more than one very long sequence that gets rendered completely meaningless upon completion, padding the runtime with an extra 15-20 minutes and a bunch of unnecessary action. For example, and I would mark this is a spoiler, except it spoils nothing because it doesn't matter (which is my whole point to begin with), there is a sequence in the movie where Paul Walker's character decides he has to not only go back to America, where he is a federally wanted fugitive, but he also has to get himself locked up in a prison because that is the only place he can get an answer to a question that is bothering him. So he somehow arranges to sneak back into the country under an assumed name, gets his buddy to check him into the prison, he gets himself locked into solitary confinement so he can find the guy he's looking for, he gets his answers but then almost gets killed because all of the criminals in the prison know who he is and try to shiv him, and he beats them all up, and someone (without explanation), gets out of solitary confinement and gets out of the country, he goes all the way back to London, meets up with Vin Diesel, he's all like "I got the answer to the big question" and Diesel is all like "That's for you. We need to do our mission now." AND THAT'S IT! ALL OF THAT WAS FOR NAUGHT! So obnoxious.
So you see, people who pay attention to the not so great acting, and shoddily constructed story, and nonsensical action, but STILL get enjoyment out of it, they feel some guilt, because they know deep down inside this movie should be a piece of shit. But it ain't a piece of shit. It's a fun piece of dumb entertainment, and just because some things will make you groan and shake your head, that doesn't mean other things won't make you go "woah shit, that was cool."
Also kind of weird: all the marketing and posters and what not call this movie "Fast & Furious 6," but the title card in the actual movie clearly says it is "Furious 6," which makes sense after "Fast Five," but then leaves one wondering what they will call the next one. Might I suggest that go for that twitter audience and call it "#FF7."
And of course at the very, very end they set things up for "The Fast and the Furious 7," and there is a pretty big cameo at the end that can be very easily spoiled by going to either this movie's IMDB cast list page or by reading the plot description on the wikipedia page, because of course in this day and age nothing can be kept secret, especially a cool set up like this that makes me wish they just skipped 6 altogether and went straight to 7. Oh well, we'll be getting our full of more ridiculous, over the top, physics defying action soon enough.