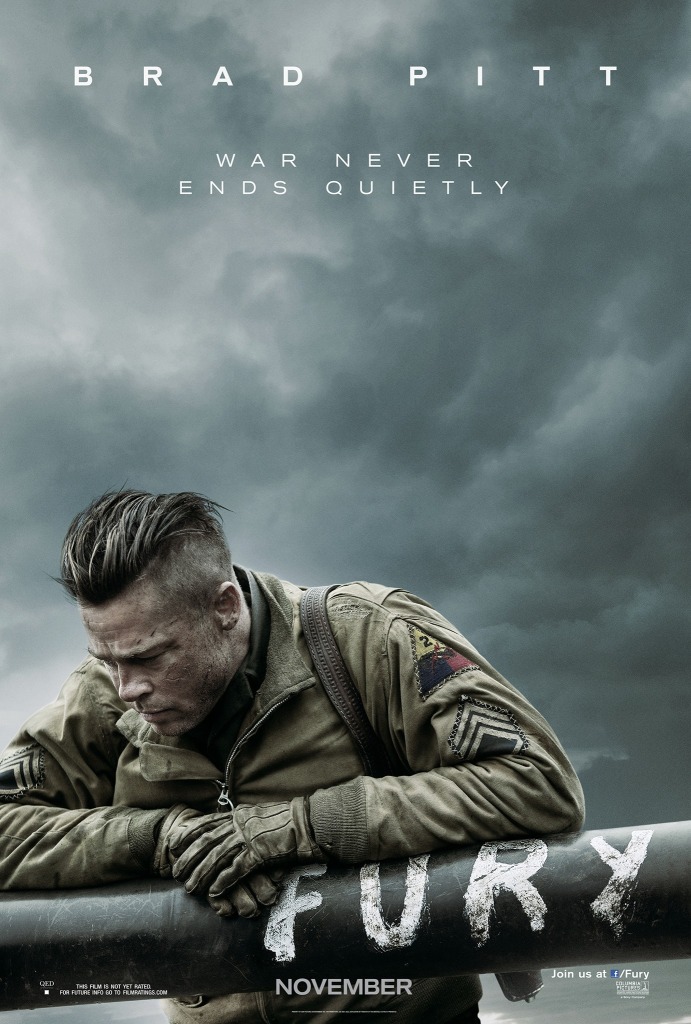 War is bad, right guys? We can all agree on this? Actually, I don't think we can. So maybe we still need to see movies like "Fury," which simultaneously condemns and revels in the iron-forging fire that was World War II, what with all the bodies and devastation and brotherhood and bonding and bloodletting and whatnot.
What sets "Fury" apart from other World War II movies? Is it just the focus on the tank warfare? The emphasis on the violent end of World War II, as opposed to D-Day or Pearl Harbor? The chance to see Brad Pitt and Shia LaBeouf share scenes together? Surely these are aspects of this movie that haven't been emphasized in other war films, but is it enough to truly set it apart from the pack?
"Fury" centers on one tank in particular, the titular tank named Fury, and the five-man crew operating said tank as it makes its way through Germany, beating down every possible Nazi soldier. Right at the start of the movie, this five-man crew is suffering through the loss of one of their men, and then they immediately get assigned a baby faced fresh recruit, enlisted into the Army as a clerk and re-assigned to the German front lines as a tank driver, despite the fact that he has no experience at all with tanks or war. So obviously the rest of the crew of Fury resents him at first, probably because his innocence and wide-eyed look at the horrors of war cruelly reflected their own callousness and battle-hardened psyches, but then predictably the men all bond together by being forced to go through some harrowing situations. Their newest crew member unfortunately has to lose his innocence in order to be accepted as a member of the team, but then again it is apparent that this war left no man untouched.
"Fury" is an unrelenting movie, over two hours of brutal warfare and intense scenes. These soldiers are marching through enemy territory, so at practically any second an ambush could happen, an attack could be triggered and people could be dying. And this movie makes no bones about showing the hardest, most disgusting, most intense products of war. Shit the movie STARTS with a Nazi getting shanked in the eye and within fifteen minutes of the start of the movie we get to see child solders killed, a man set on fire who then shoots himself to stop the pain, piles of dismembered and destroyed bodies being bulldozed into a pit, and a piece (repeat, a PIECE) of a soldier's face left behind on the seat in which he was sitting when he had his head blown off. Oof. NOT pretty.
And as the movie progresses, the violence obviously continues because this is a damned WAR movie. So we get to see legs severed by machine guns, a sustained close-up of a "Looney Tunes"-style flattened corpse getting rolled over by a tank, an old woman harvesting meat from a destroyed horse left on the side of the road, and we get to see what tank fire can do to a human body in various ways. Fun times. Then again, anyone who comes to a war movie and gets upset by the abundance of violence and the brutally honest depiction of it quite simply is not seeing war for what is truly is, in which case then movies like this are still obviously and absolutely necessary. No one should approach a movie like this with a "Kill them all!" kind of attitude, a rah-rah here we go America sense of righteousness, or any kind of blood lust. A war movie like this, or say "Saving Private Ryan" or "The Hurt Locker," these type of movies are not for patting ourselves on the back, and they are not meant to be viewed as simple action entertainment. This is not a John Wayne "Go USA!" war movie to pick our spirits up, this is not an 80's Stallone or Schwarzenegger shoot-em-up for us to luxuriate in, and this is not a super cool revisionist history war movie like "Inglourious Basterds." This is a "holy shit, war is fucked, look what it does to us" kind of movie.
And to emphasize this the entire film is practically monotone, permeated by shades of grey in the cloud-filled sky, and everything is dirty, mud caked and blood stained and just all around unpleasant to look at. A lot like, oh I dunno, WAR.
Okay so I guess I am saying that this movie is heavy handed. Because it is. Grey, brutal, ugly and gross. Writer/director David Ayer is not interested in holding your hand through this thing or letting you know that everything is going to be okay, or that the war is serving a purpose and we should all abide by it. Maybe war is indeed a force that gives us meaning, it does indeed develop strong bonds between both the sufferers and perpetrators of war alike after all, and whole countries and governments have been birthed and strengthened by wars, but that does not mean we can't or shouldn't see it for what it truly is, right? That being ugly and gross. A nightmare of humanity. The absolute pit of horror and unholy terror. "Fury" definitely gets that across in spades, and in case you don't catch it, the score will swell and get weepy at all the right moments, helping you to understand precisely how you are supposed to feel at that moment. Not to say that the music is bad, it is not in any way at all, it is actually a very good score, they just lay it on a little too thick in a couple of scenes.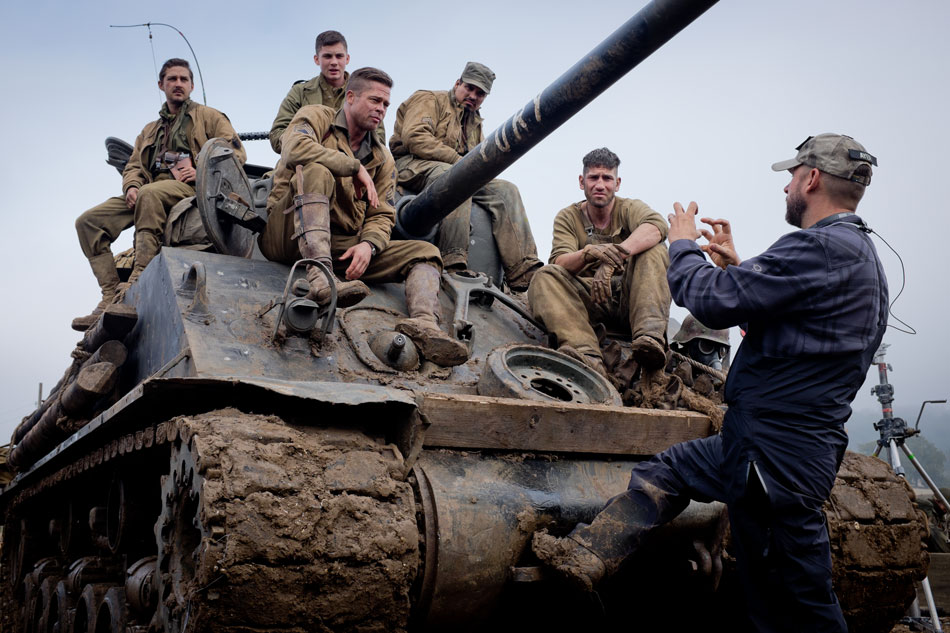 But the real problem with this movie is probably how they were really striving to tell this emotional story about the transformative power of war through the loss of innocence of the newest member of the Fury crew, but there was something missing because it felt like he went from "I don't want to kill anyone" to "fucking die goddamned Nazis!" in the space of essentially two sequences. I think the problem is that this character is supposed to represent all the people who go to war, how so many of them do not know at all what they are getting into and they come out the other side hardened and emotionally destroyed (if they come out at all), and this character for the most part does go through this transformation, but it does seem to also happen over the course of maybe 48 to 72 hours?
As a matter of fact, thinking back on the movie, it seems like the events of the story take place very quickly. Like, they never even showed them shacking up for one night to sleep. How did they sleep? Did they sleep in the tank? At a camp? They were always on the move, and the sun only went down once, and that was at the very end. Could this story have taken place over the course of only 36 hours? That is possible. And that is a problem. Not enough time passes on this movie for this one character to really change all that much, so when he is gunning down German and yelling "Die motherfucking Nazis!" it feels a little false. Like there needed to be more time for this change to take place. And not even THAT much more time, just a little more. The passage of time seems like such a small thing, but really it means a lot in something like this, especially since they do make mention of the fact that the Fury crew has been together for so much longer than the average tank crews, yet the character with the biggest arc has the smallest amount of time in which to go through his changes and it just feels unfortunately rushed, we needed more time to marinate in the horrors of the war for this character to do the 180-degree turn that he does.
So "Fury" is a good movie, though it feels like it aspired to be much more. For a film that is over two hours, it actually goes by pretty quickly due to the unrelenting nature of the specter of danger and violence that hangs over the whole movie, and even the one scene in which some people try to act civilized and enjoy a quiet moment in the midst of all the shit ends up being filled with tension and horror and dread, so there really isn't a dull moment in this thing. It feels like they wanted this to be a pretty definitive war movie about how it changes people, but really it exists somewhere between gritty war movie realism and war thriller action movie, and the end result is something is more than watchable, even enjoyable in its own way, but still not the classic that it wants to be.