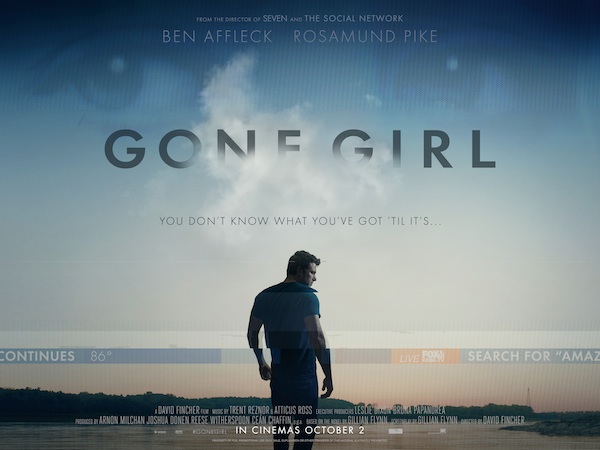 What does "Gone Girl" have in common with other movies like "Conan the Barbarian," "Robocop," "Starship Troopers" and "Jackie Brown?" They are all pulpy B-movies made with A-movie level commitment and talent. What could have easily been a fumbled, ridiculous attempt at a Lifetime Movie of the Week instead is a very adult, smart, twisty-turny, potboiling, corkscrew turning thriller of a movie that just manages to get crazier and crazier until the very final frames.
Based on a very popular book and adapted into a screenplay by the very author of said book, "Gone Girl" is an extremely darkly humorous look at American married life in this day and age, at least an extreme possibility of the results of such unions between people throughout the world. Nick Dunne (Ben Affleck) comes home one day to discover what appears to be a crime scene and his wife Amy (Rosamund Pike) missing. He calls the police and the investigation starts with a couple of detectives taking a tour of his house and ends up being a nationwide media sensation involving streets filled with news vans, lawns covered with reporters, lots of shouting and yelling and television talking heads, all rising into a collection din that just puts more and more pressure on Nick, whom becomes the prime suspect more and more as the story progresses.
The story of Nick and Amy's five-year marriage is told through facts being revealed via the investigation of the crime along with a narration by Amy, reading excerpts from her diary which provide her perspective of the marriage prior to her disappearance. And in the beginning it is a very honest and real portrait of such a relationship, filled with a lot of love and caring and stolen kisses and long nights, and then as they get comfortable and fall out of that typical "honeymoon" period, things start to change slowly. Then when the financial world comes crashing down around them, they quickly find themselves in a place that has blown up countless relationships, that place being the realm of money troubles. They argue and fight about expenses and Nick being out of work and all the normal things that many people fight about everywhere.
Then there is the disappearance and subsequent investigation and added media scrutiny due to Amy's connection to a popular line of children's books and then the skeletons really start coming out of the closet and Nick finds himself plastered all over news programs, where people make allegations about him based on fractions of a second of footage from a press conference, the one still image that fuels their narrative the best, and as the story goes national, the public eats it up, no one caring for a second that this crime and investigation has turned into mere entertainment. This story would be considered satire if it wasn't for the media spectacle that surrounded the very sensationalized cases against Case Anthony, George Zimmerman, Jodi Arias, and the king of all media trials, O.J. Simpson, in which case "Gone Girl" is much more of a reflection of the times we live in then a "Network" style look into the future.
Then there's the writer's (Gillian Flynn) bleak outlook on marriage and the things people put themselves and each other through to both enter into such a union and then try to keep it going for as long as possible. And in this story, when the secrets that were kept hidden finally come out into the light, it proves to be more destructive than anyone thought in more ways than one. These secrets and dramatic turns are doled out with precision, ramping up the tension and pressure at regular intervals, as things slowly yet surely become more unbelievable and over the top. This movie is not surprisingly made so well that even at two and a half hours the story zips by, with each turn of the script making things even more compelling. It also helps to have a throbbing, precise, atmospheric score like the one provided by now frequent Fincher collaborators Trent Reznor and Atticus Ross, who have produced probably their least showy score yet, but also their most effective, as the dread and angst and horror are amplified by the devilishly good music subtly laid underneath.
I love this movie, it is exactly the kind of high-minded, low-brow adult entertainment that does not get made nearly enough, probably it is deceptively harder than anyone realizes. "Gone Girl" has the perfect mix of tension, dark humor and well timed twists and reveals to make for an endlessly entertaining movie, and one that will make marital partners look at each just a little differently.