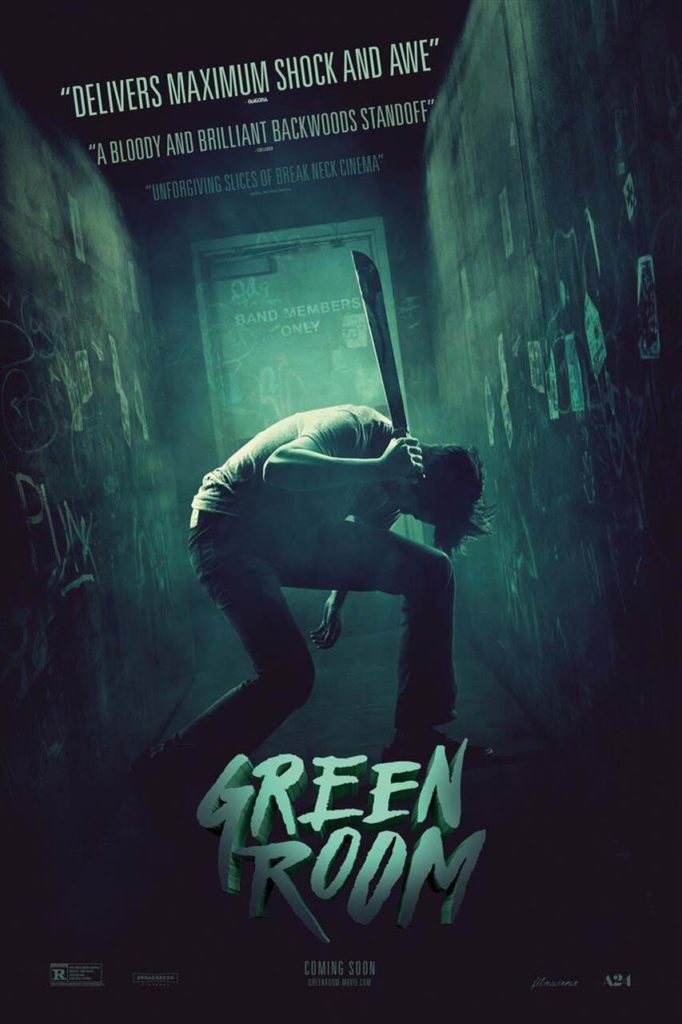 "Green Room" is quite simply not for the faint of heart. Intense and foreboding, with the constant specter of gruesome violence hanging palpably over every scene, this is a movie that gets to a point in which every move and decision can lead to something unimaginably disastrous. A simple set up leads to almost unbearable tension which eventually explodes, leaving an impressive body count in its punk rock wake. In this story, no one is safe and everything is on the line, and when it gets down and dirty, watch out.
A struggling band takes a gig somewhere in the Pacific Northwest, and they take it knowing that they would be playing for a bunch of skinheads and racists. But they need the money so they accept the gig, and just try to get in, play their set and get out. Those first two parts went down just fine. Getting out becomes impossible when one of the band members (Anton Yelchin) walks into the green room moments after a murder; he sees the dead body, tries to call the police on his cell, gets stopped by the people running the club, and it is on from there. They put the whole band in the green room while they sort it out, and the band turns the green room into their holdout, knowing that these backwoods racists wouldn't just let them walk away.
And the tension builds. And builds. And builds. Until…pop. 
When the shit really starts going down about halfway through the movie, it starts out in such a horrifying way that it leaves you on edge for the rest of the film. There are two brutal acts of violence in fairly quick succession, and then the rest of the movie doesn't HAVE to go that far because you know it is WILLING to at any moment, and the anticipation of the violence is far worse than the violence itself (unless you are the one being attacked with a machete or trained killer dogs). And of course the four band members are in way over their heads, as they are stuck squaring off against a large group of people who have all obviously done stuff like this before.
Oh, and their leader is an older, cold and exacting man played by Patrick Stewart, and he naturally brings an intensity and gravitas to the role that plays so well. It would be so tempting for anyone to play this character big, make him a raving maniac, but in "Green Room" that is not the case, as he is calculating and smart, and when he needs to he can turn on the warmth and friendliness and seem like a very reasonable person, even when we know he definitely is not. Getting someone of Patrick Stewart's caliber was a huge coup because he elevated this role, and thus the movie, in a big way. He could have been a cartoon character, but instead he is chilling and scary and all too real because he seems so competent and smart in what he's doing.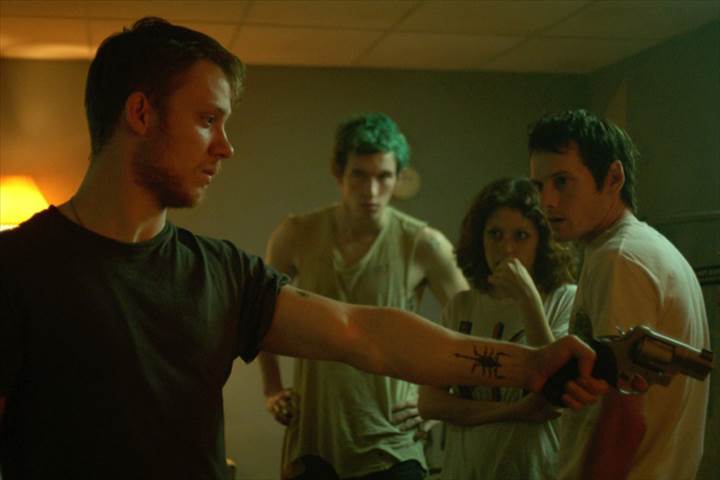 Also his character is important to the movie thematically because he is raising and training the next generation of horrible racists, and not surprisingly this group is made up largely of men, young men with intense anger issues. And like the killer dogs used to attack people in this movie, these young men are just dumb animals that have been trained to hate, and they have been trained well. They are told straight up that this is a movement which they are part of, and trust me on this, these guys are part of the Silent Majority you always hear about. Many people optimistically think that racism and bigotry will slowly die out as the older generations die and the younger and more enlightened people take their place, but the sad fact is that there are still plenty of young people who are being fed garbage and lies and they believe it wholesale, and the cycle of hate and violence then continues through a new generation. This shit will go on, and sometimes you have to stand in front of a crowd of these assholes and play a cover of the Dead Kennedys' "Nazi Punks Fuck Off" right to their dumb, bigoted faces.
But then, like those killer dogs, too dumb to realize they are being used, you also have to feel a little sorry for these people, because they were likely hurt and in a bad place when they came across this crap and they were mostly easy to manipulate and turn into something ugly. If they had fallen in with a different group, maybe they would have been better people. This kind of hatred is learned, it is not natural, and it is easy to blame the pit bulls when you should really be blaming the asshole trainer who turned the dogs into killers.
If you've seen "Blue Ruin," and if you haven't then you should, you know that this writer and director Jeremy Saulnier has a kind of understated style, and he's quite good at crafting lean and mean stories, as both his last movie and this one are tight thrillers that unfold at a methodical and brilliant pace. He never rushes the story, there are no tangents, we aren't given any extraneous moments or scenes; his movies are basically all killer, no filler, and that is something that can not be taken for granted when it comes to low budget movies like these, as there is such a temptation to pad out these movies and try to make them seem longer or more important than they are. Instead "Green Room" just does its thing, and it does it well.