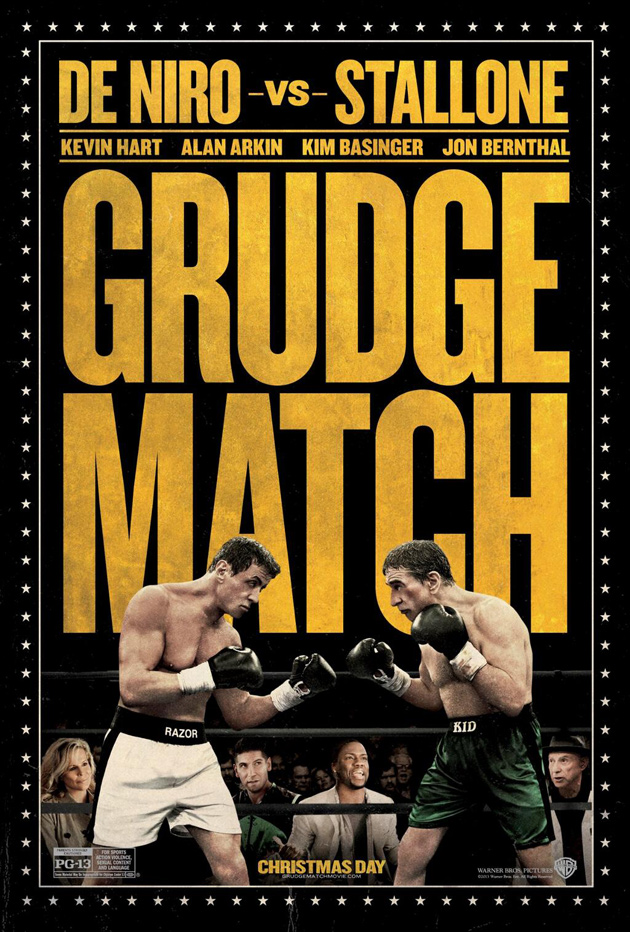 It's "Rocky Balboa" meets old "Raging Bull." Surely that was the entire pitch to whoever decided to green light this movie because this is pretty much what we got here. Two retired boxers get together for one last fight, and everyone laughs at them until they see the fight itself and realize these guys are for real. Meanwhile both old men recapture some of their lost youths while also finally moving their stalled out lives forward, and everyone lives happily ever after. The end.
No, really, that's about it. Rocky Balboa himself Sylvester Stallone plays retired Pittsburgh-area boxer Henry "Razor" Sharp, and Robert De Niro plays his old rival Billy "The Kid" McDonnen, and there is a little mystery about why Razor retired early from boxing, robbing The Kid and the boxing world of the rubber match that everyone wanted to see, but that gets cleared up halfway through. Otherwise, we have a typical movie about older men being both nostalgic for a bygone era and also regretting past mistakes while still being very slow to actually learn from them.
This is a very middle of the road comedy, meant to be as crowd pleasing as possible, which means lots of jokes about people being old and out of touch, and which also means having Kevin Hart play an aspiring boxing promoter and allowing him to improve as much as possible and just be himself in order to punch up the laugh quota in this thing (and if you like jokes about the differences between white people and black people, you've hit pay dirt here).
There's nothing really bad or off-putting about this movie really, it just doesn't seem to try too hard overall. Most of the plot turns are predictable and 90% of the "revelations" in this movie are big reveals only to the characters in the movie, as all the big connections are obvious immediately. The only thing in this whole film which did work for me and actually had me wondering was the final boxing match between Razor and the Kid. This final match was done pretty well because come on let's face it between these two actors there's a total of seven boxing movies under their belts, so they know how to put one of these things on, and despite the predictability of the story itself leading up to the match, I honestly had no idea who was going to win, and that's a good thing because it made me interested in the outcome.
However, a bad thing was that I wasn't sure which of the two guys I was actually rooting for to win this match. Both are presented as normal yet flawed people, with De Niro's Kid character definitely being the more flawed and aggressive of the two characters, but then again he's also the one with the subplot involving a precocious grandson which humanizes him and makes him even more likable automatically because "oh look at him, he's trying to show the kid a good time and be a good granddad, even though he sucks at it." And Stallone's Razor is the more virtuous of the duo, what with him paying for nursing care for his old buddy (Alan Arkin) and living a modest life and working a blue collar job and all that good stuff, but he's shown as being pretty selfish in thought and action sometimes, even unnecessarily putting people's lives at risk as he hides certain things, so he ain't perfect, but he's still the more likable of the two.
So who is the bad guy in this movie? Father time, for making these guys old? Addictions, for turning The Kid a womanizing drunk and for making Razor put his boxing career ahead of his personal life? The practically unseen boxing promoter who took all of Razor's money during the film's opening montage? The general public in the movie even doubts these guys and their credibility initially, but after a few public promotions with these guys go wrong and then go right and then "go viral" (ugh), interest gets drummed up and the people seemed genuinely interested in seeing this fight actually happen, so even the whole "the public is laughing at us" vibe doesn't feel palpable by the time the fight rolls around. At least in "Rocky Balboa" (the REAL Rocky as an old man fighter movie) the people doubted Rocky's abilities at least until the 2nd round of the fight itself; here everyone seems to be pretty much on board except for Roy Jones Jr., but he gets turned around pretty quickly anyway.
So there's kind of no bad guy or antagonist, just a couple of older guys trying to make something happen, and one guy happens to be a bigger dick than the other one, but he's also funny and likable anyway so who cares, right? At one point "Grudge Match" may have been a project that had some big aspirations and was going to be a big, character heavy sports comedy thing, and instead it's a movie good enough to be half watched on a long airplane flight, a decent enough way to pass the time but nothing you are going to really remember long after watching it.